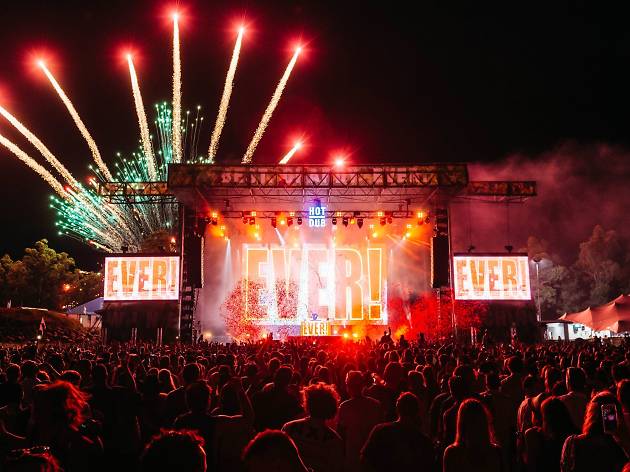 The Presets headline an epic New Year's garden party at Victoria Park
NYE in the Park is a massive New Year's Eve party for those want to stay relatively inner-city without going full-fledged CBD. You've probably spent many a summer arvo and evening at Victoria Park in Camperdown but now you can luxuriate on the green with food trucks, booze and two stages featuring some of Australia's biggest party starters. As far as full blown music festivals go this one seems pretty laid back, it's like a picnic in the park that winds up into one big grassy dancefloor with their own special fireworks crescendo. If you're an electronic party music fan, this is the New Year's for you.
This year, The Presets will be churning through their hedonistic electro past through to their most recent dance world offerings and the much hyped and mysterious Confidence Man live show is sure to delight YouTube trawlers. There's also indie jingles from the Jungle Giants plus the genius chronological set of Hot Dub Time Machine at the lead-up to the countdown. The resy of the day is packed out with sets from Thundamentals, Hayden James, Luke Million, One Day DJ's, Thandi Phoenix, The Meeting Tree, Fleetmac Wood, CXLOE, Kinder, SOSUEME DJs, Sideboob.