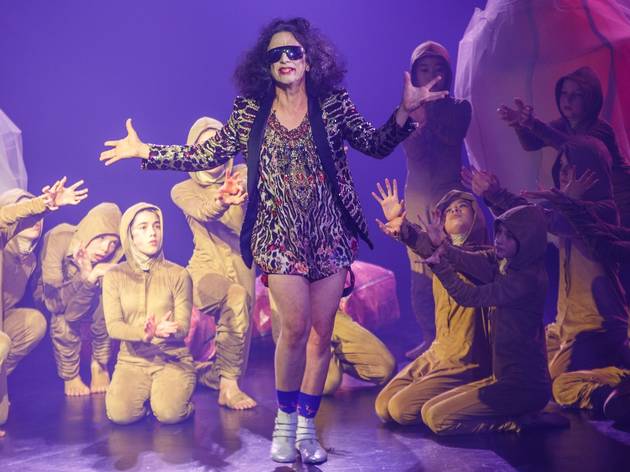 Time Out says
A new twist on Vivaldi sees Pamela Rabe and Paul Capsis tackle the climate crisis
Taking inspiration from Vivaldi's Four Seasons, Force Majeure's latest work, The Last Season, takes on the major themes of ageing, environmental destruction and our future as a species.
Choreographed by artistic director Danielle Micich, this blend of dance, music and story, as commissioned by Carriageworks, is divided into four parts. The piece opens with the sound of loud static and a curtain of hazy green light that divides the audience from the stage. Once the light fades and the buzzing quietens, a series of hanging white cocoons are reveale. They sway as 13 young performers gradually emerge from within them. We witness the 'birth' and growth of this young group, clothed in brown, as we are introduced to the central theme of this reflective narrative: one that takes us through the continuing cycle of birth/death/renewal, as marked by the change of seasons.
The first 'season' is played by Pamela Rabe as Summer, who in a regal period gown makes a commanding presence on stage, teaching and guiding the young. They move as one, until a rebel emerges and a new season is heralded, with the arrival of Paul Capsis as Autumn. He brings lightness and humour, wearing a bedazzled jacket. An ageing cabaret star who seems aghast at the idea of the new 'YouTube' generation, Autumn can't let go of the idea of itself, or care much to pass on any valuable wisdom to the young.
The next to arrive is Winter, played by Irish actor Olwen Fouéré. An imposing, white-haired and icy figure, Winter unflinchingly breathes cold over the world, describing the extinction of all life, taking in all forms, rocks, plants and eventually the air itself in a booming dialect.
The final scene brings all three actors back to the stage, sitting at a table playing cards, smoking and oblivious to the young ensemble, now with their brown-hooded suits removed as they learn to move together again through an extended dance sequence set to a pulsating beat. The piece concludes with these performers piercing the green light veil through to the audience, seeming to ponder their future fate.
Presented as part of Sydney Festival and written by Tom Wright, The Last Season features impressive visual features too, through Damien Cooper's lighting and Marg Howell's set design. The youth ensemble give an enthusiastic performance throughout the 75-minute show, aided by lucid performances from the main actors. The live score by Kelly Ryall and fellow musicians aptly underscores the movement, and accompanies the Vivaldi. If it is let down a little, it is in that the themes The Last Season attempts to explore never quite move from beyond the abstract. They are more nihilistic statement than conversation point, which can make it difficult to connect with in the end.
Details