In 2016 Solange Knowles released her third album, A Seat at the Table – a career-defining record exploring themes of femininity, race and self-empowerment in the Black Lives Matter era. On June 1, as the musical headliner for this year's Vivid Sydney festival, Solange brought her idiosyncratic brand of funk-laced R'n'B to the city's most iconic venue.
This was Solange's first Australian performance in over four years (not counting her DJ set at the opening of the Pitt Street Mall H&M in 2015), so understandably there was an excited hubbub in the stalls before she came on stage. In the lead up to her shows, social media had been abuzz, with numerous fans flying from interstate to see the gig, many of whom were people of colour, excited to see a celebration of blackness in a world-famous venue. The night opened with an extended version of 'Rise,' and within ten minutes she had the entire audience on their feet and dancing to her calling card, 'Cranes In The Sky.' "This is church!" she exclaimed, before delivering a note-perfect rendition of the Grammy-winning track.
Thanks to pyramids either side of the stage, the earth-shattering basslines and a giant orb suspended above the musicians, there was more than a touch of P-Funk about Solange's whole stage set-up. With her and the band all dressed in white and the stage lit simply in a single hue, Solange delivered a masterclass in vocals and dance, drawing excited yells from the crowd whenever she let loose. Halfway through the set, she paused to reflect, informing us that she first visited Sydney as a teenage backing dancer for Destiny's Child, before revealing that Kelly Rowland was present in the audience. She also said that after a tough 2017, she was unsure as to whether she'd ever perform again (Solange has struggled with health issues), and that this opening night at Vivid was her first performance of the year.
You wouldn't know it. She segued into Sol-Angel and the Hadley Street Dreams track 'TONY' before turning up the tempo with a raucous version of the lead single from her 'True' EP, 'Losing You', encouraging the rapturous audience to turn the Sydney Opera House "into a middle school dance". While audience members were out of their seats for most of the gig, there were more serious, introspective moments too. An impassioned performance of black empowerment anthem 'F.U.B.U' was delivered offstage, with Solange electing to mix it with a group of fans in the aisles. Given the track's origins (it's a reference to the clothing brand FUBU, historically popular with the hip-hop community, and an acronym meaning "For Us By Us"), it's no surprise Solange's diversion into the crowd was received with such urgent joy. 'Mad,' her collaboration with Lil Wayne, was stripped down and sung sweetly, but shorn of its guest verses, it sounded a little flat and struggled to match the energy of the other songs.
After a one-hour set that was equal parts power and party, Solange departed while her band kept the mood going with an Afrofuturistic instrumental. Solange flooded the stage with black pride for the encore: a 15-minute version of 'Don't Touch My Hair'. Backed by a 12-strong brass band, she stood stage front with around 20 women of colour, in an unambiguous statement of empowerment.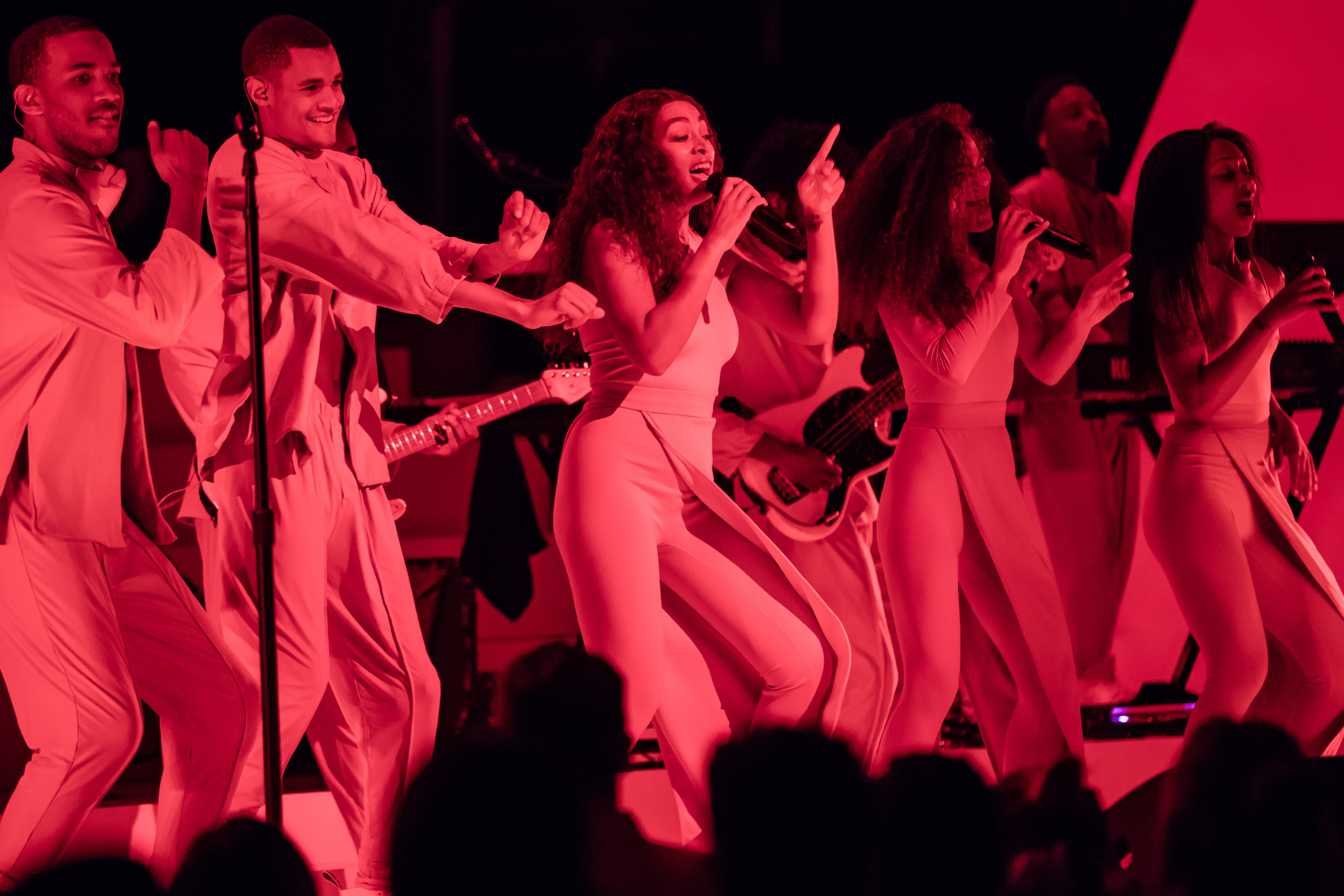 The set ended with Solange, whose choreography was precise throughout, truly letting go and dancing freestyle until she fell prostrate and frantically kicked her legs in the air, overawed by the sheer power and cathartic joy of it all. She departed to thunderous applause, and more than 2,000 Sydneysiders excitedly made their way into the cool Friday night of a city buzzing with people and the shining lights of a festival well and truly launched.
Make the most of the rest of the festival with our guide to Vivid Sydney.