On Sunday night at Carriageworks, indie ingenue-turned-art-rock vamp St Vincent eschewed the formalities of a support act and instead elected to screen her short film before her gig. Annie Clark directed and co-wrote The Birthday Party as part of the XX horror anthology which debuted at Sundance in 2017. Given her burgeoning reputation as a visual artist, it's no surprise that St Vincent has turned her hand to film. She's due to direct an upcoming female-fronted adaptation of Oscar Wilde's The Picture of Dorian Gray, and there are definite parallels between the film and her music, from the themes of trouble in suburbia and keeping up appearances to the interspersion of jet-black comedy.
After the film, St Vincent walked onto the edge of the stage without fanfare and, simply backlit, took us through a tender version of 'Marry Me', from her 2007 album of the same name. No band was visible throughout the set and for the first 45 minutes there was no backdrop either. Your attention was entirely focused centre stage where St Vincent was wearing her MASSEDUCTION signature outfit: a neon pink PVC bodysuit with matching thigh high boots.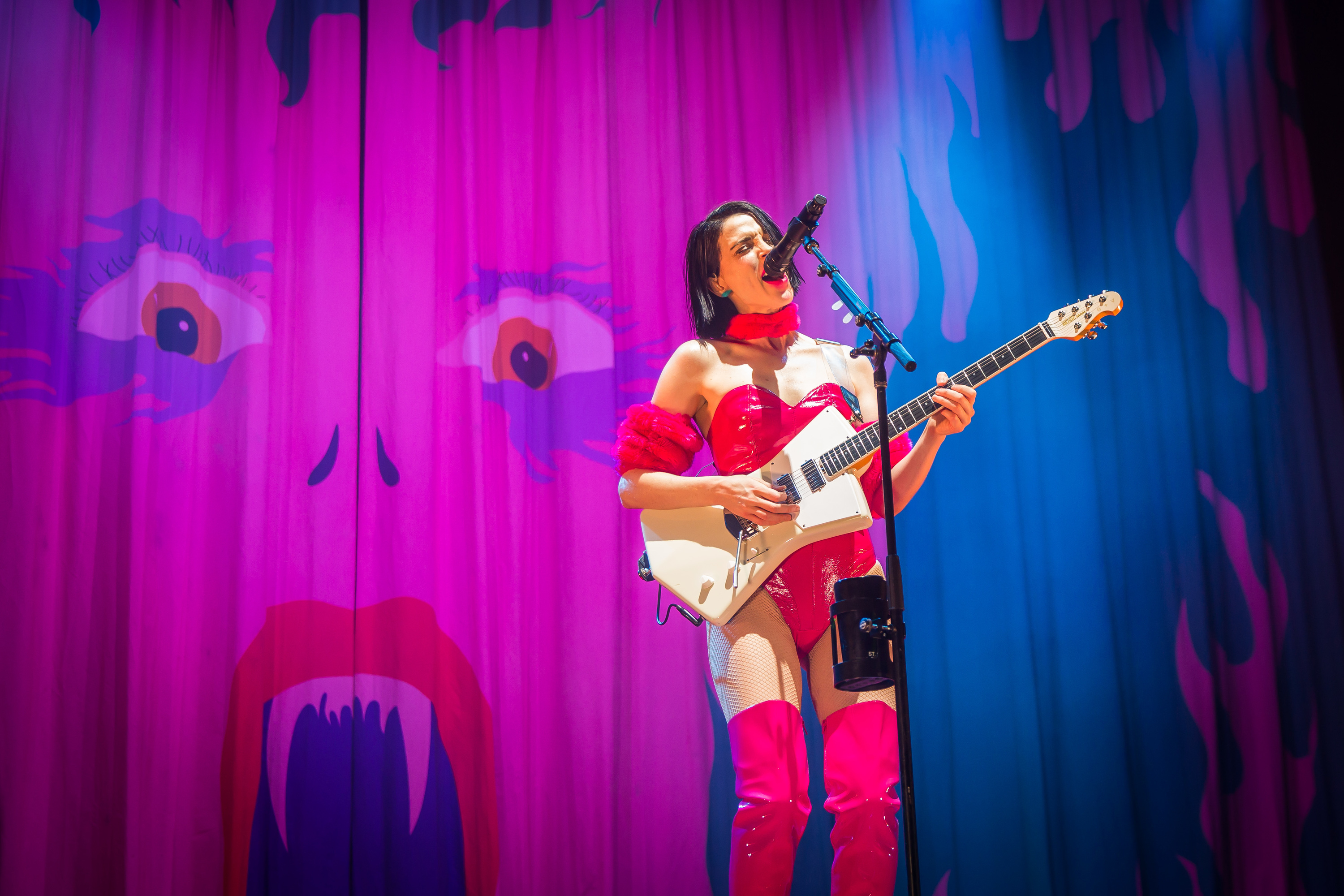 Her fifth album, MASSEDUCTION, features more of an electronic influence than her previous work and is also paired with striking video clips – blocks of colour, analogue electronics and hints of something not quite right behind the artifice of the American Dream. However, during the opening half of the show, St Vincent played two or three songs from each of her first four studio albums in chronological order, which seemed an odd choice for an artist who has grown in popularity with each release. It resulted in a slow burn, where each song was better received by the crowd than the one that preceded it. Highlights came when St Vincent lost herself in the music, becoming one with her guitar and showing that she can shred with the best of them. Frenetic light shows added to the manic energy.
The subtleties of some of the tracks were lost in the cavernous space of Carriageworks, particularly anything that made heavy use of bass or drone. A lot of these earlier songs had been fed through the MASSEDUCTION filter, which meant they now had more of a driving, electronic pulse, which worked well on tracks like 'Birth in Reverse', which managed to retain the spiky edge of its angular guitars but on others, such as 'Rattlesnake', the twitchy funk had been smoothed over, and now there was now something that more resembled an industrial rave.
As the show had truly got into a groove, the curtains closed and St Vincent left the stage. When they reopened a screen appeared with a giant picture of her face: eyes wide, hair perfectly straight and a piercing magenta background. St Vincent reappeared in a new outfit – a metallic silver mini-dress – and slipped into 'Hang on Me,' MASSEDUCTION's opening number. It became clear she was playing the whole album in sequence, taking in fan favourites such as 'Pills', 'Los Ageless' and 'New York.'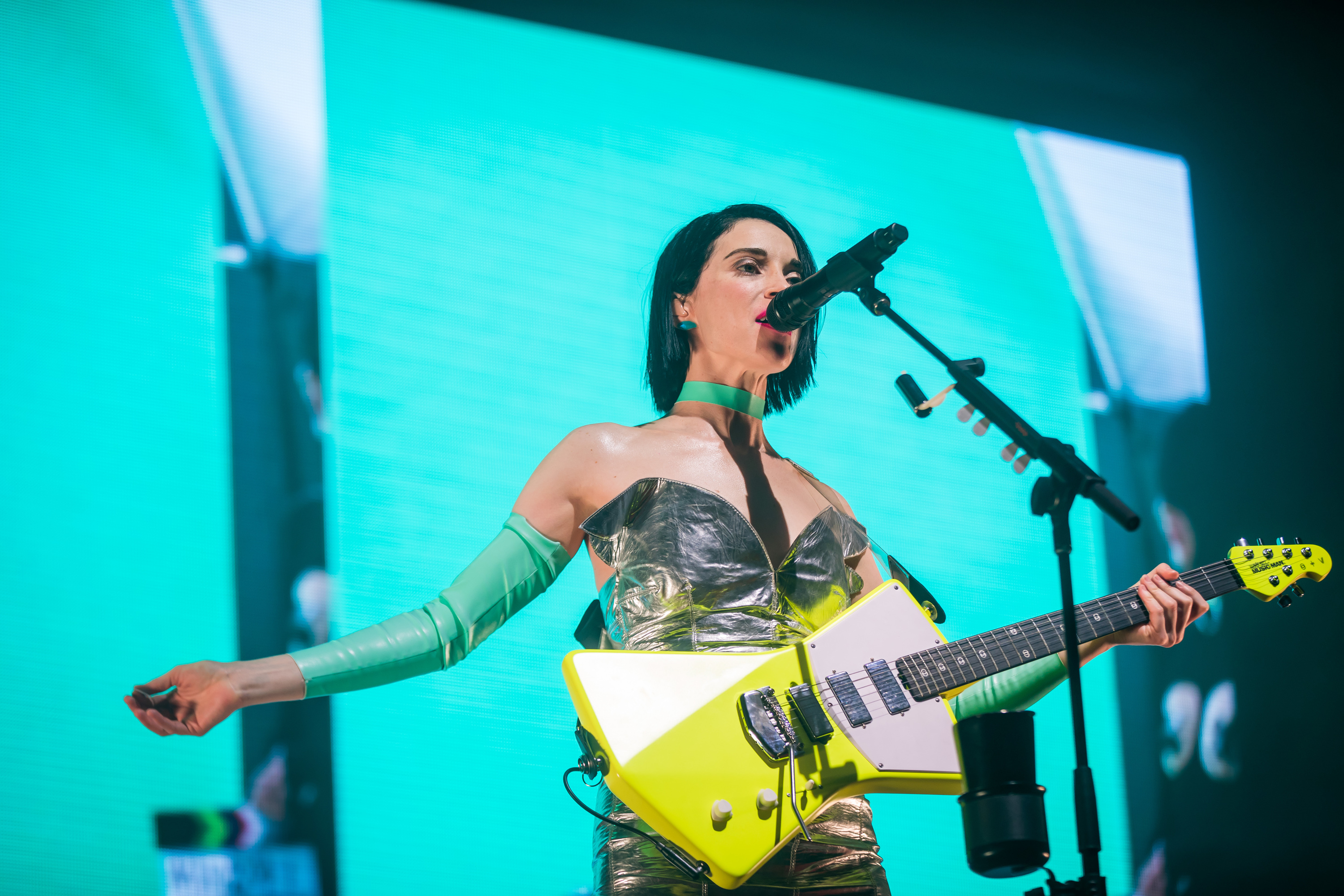 In this second half, St Vincent relied less on her guitar and seemingly more comfortable in her persona. There was more crowd interaction, more movement, and she fully inhabited her tales of power, drugs and sex. She's previously said that MASSEDUCTION is her most personal album to date and for both her and the crowd, it felt like the show had properly begun.
Each track had its own video clips playing on a loop at the back of the stage, all consistent in aesthetic. We saw bare legs in high heels coming out of a CRT television screen, St. Vincent mashing the keys of a corded telephone which turned out to be a cake, and her shredding reams of lurid pink paper printed with a single word: NO. These displays were a boon for some members of the crowd, given Carriageworks' flat floor and large posts meant an unrestricted view certainly wasn't a guarantee.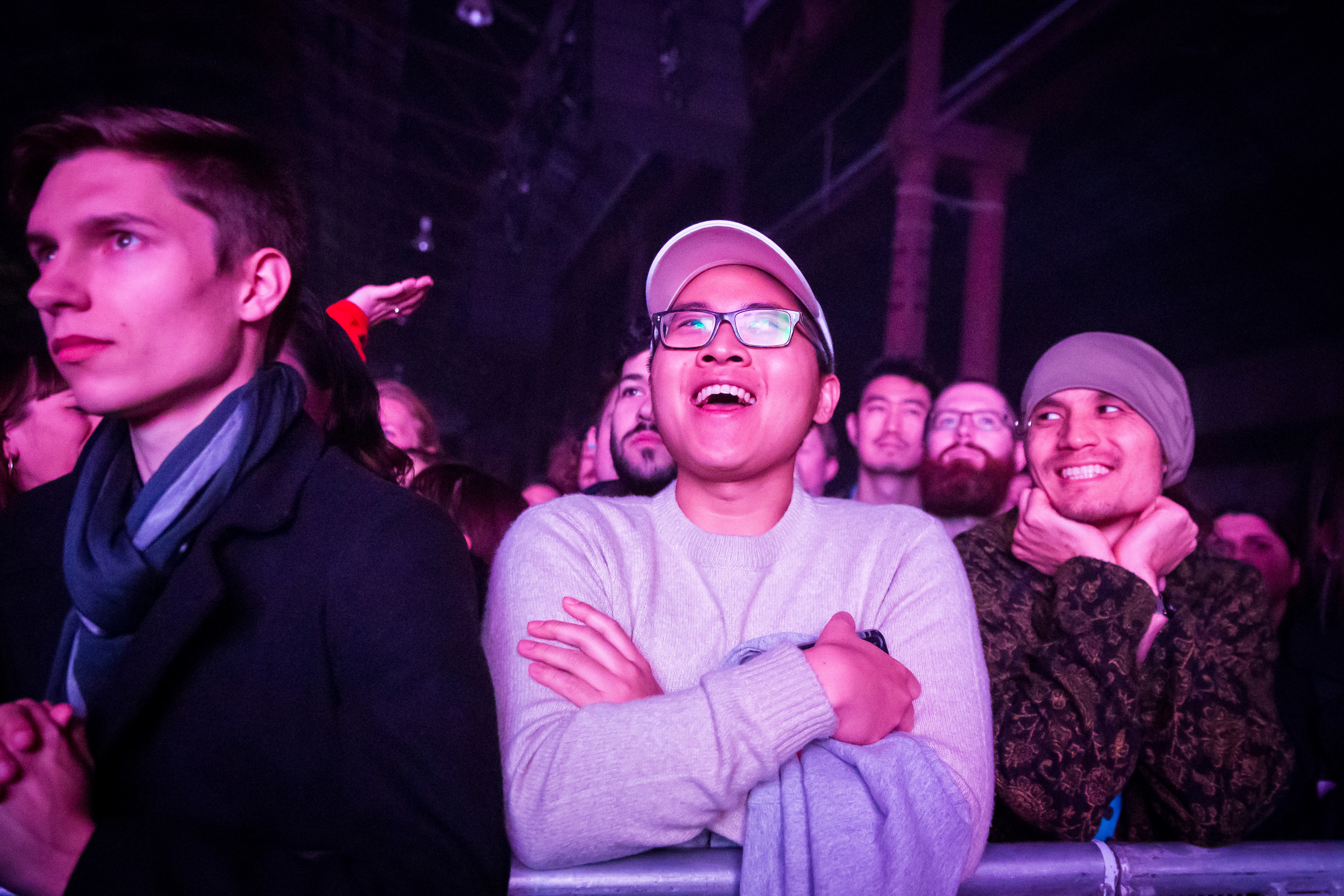 After two hours of superhuman riffing to note-perfect ballad renditions, it was time for MASSEDUCTION's closer, 'Smoking Section', a track that finishes with the repeated incantation, "It's not the end." But it was the end, and St Vincent departed the stage for the final time having delivered a set showcasing her incredible artistry and breadth of ideas. Whilst she played all the songs you'd want and delivered a strong one-woman show, the lack of a live band coupled with the strange choice of song sequencing meant it was difficult not to feel a little short-changed.
Did you hear? David Byrne is bringing his American Utopia tour to Australia.