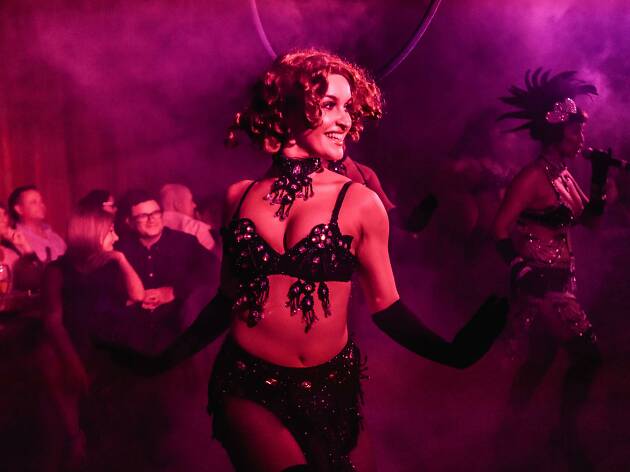 Catch a burlesque show at Whirly Bird Sydney
Va-va voom! Scratch your burlesque itch with a glamorous performance at Whirly Bird in Pyrmont
In addition to being a stylish restaurant and bar specialising in poultry and fine liquors, Whirly Bird in Pyrmont is showcasing the sensual and spectacular art of burlesque.
Burlesque has enjoyed a worldwide revival in the last decade thanks to the likes of supervixen Dita Von Teese and a renewal in interest in the nightclub entertainment of yesteryear. Australia boasts a large variety of independently produced burlesque shows, and Whirly Bird is the ideal venue to experience this eye-catching and sexy art form that's the perfect night out for couples and groups alike (aged 18 years and older naturally!).
The Birdcage Sydney is a weekly burlesque dinner and show, and Wanted and Wild: Rock'n'Roll Follies is rock'n'roll burlesque performed to the sounds of a live band.
The tradition of dinner and a show for grown-ups is alive and well in Sydney, as every Saturday evening visitors to Whirly Bird are invited into the Birdcage.
A unique evening of vintage burlesque highlighting the glamour and glitz of the 1920s, the Birdcage is a three-course banquet and a show plus a glass of Mumm Grand Cordon Champagne on arrival, all for just $99 per person.
As soon as the lights go down audiences are ushered into the tantalising world of the Lady Birds and their extraordinary fellow artists. Produced in collaboration with WB productions, a multi award-winning company specialising in burlesque, the Birdcage is a sensual and thrilling experience for men and women alike.
The menu is produced under the creative direction of Whirly Bird head chef Joel Robinson and includes a shared starter platter, mains, sides, dessert and shared cheeses. Vegetarian and vegan banquets are also available.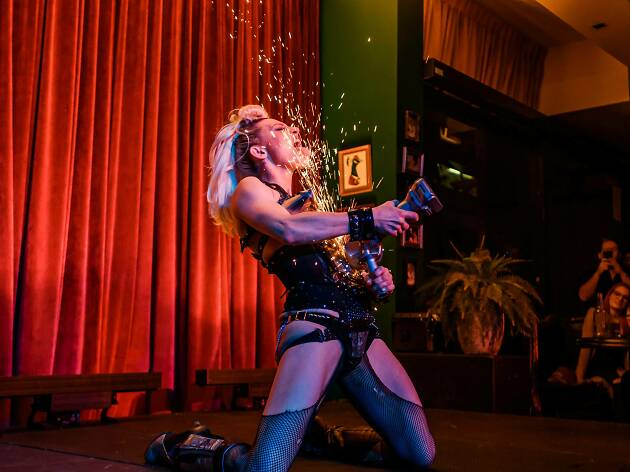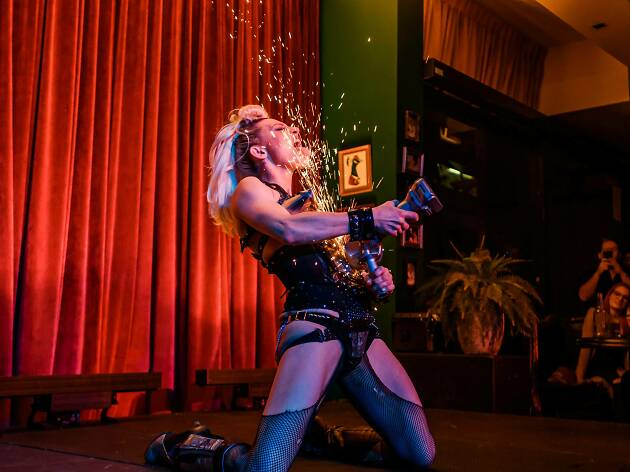 Photograph: Jamie Gilmore, Studio DC3
Wanted and Wild: Rock'n'Roll Follies
On the first Friday of every second month, Whirly Bird erupts with Wanted and Wild: Rock'n'Roll Follies. A fierce and fabulous cast performs a rock'n'roll burlesque to the sounds of a live band playing rock classics – everything from Alice Cooper, Metallica and Jimi Hendrix to David Bowie and the White Stripes. The band is loud, the dancers are hot and the danger is real.
Wanted and Wild: Rock'n'Roll Follies is produced by two of Sydney's most prominent burlesque artists, Porcelain Alice and Diesel Darling. Sydney showgirl Porcelain Alice is constantly in demand for her brand of high end burlesque and sideshow tricks including bed of nails, broken-glass walking, fire-eating and flame manipulation. Diesel Darling, aka the Danger Barbie, is best known for her signature 'Serpentease' with her beloved pet python, her bubbly take on the classic Champagne glass act and her notorious Grinder act.
The next Wanted and Wild: Rock'n'Roll Follies takes place on Friday April 5, 2019, with entry starting at just $32 and VIP tickets at $48. The bar stays open late and dinner is available from Whirly Bird's Kitchen.