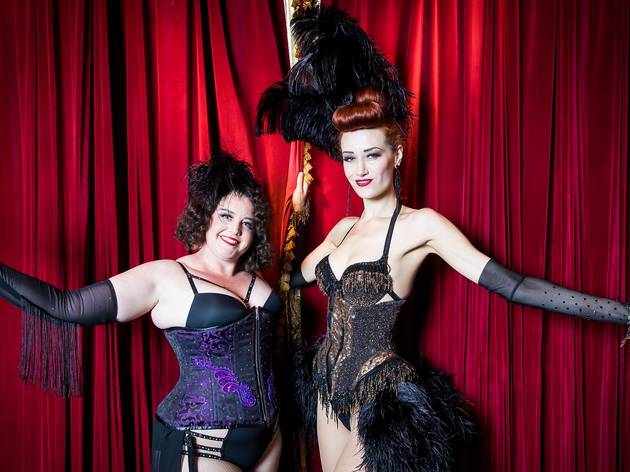 Sydney's burlesque scene is about more than getting your kit off
We talk to Sydney's burlesque queen, Porcelain Alice, and up-and-comer Lottie Lamont about burlesque and community
Burlesque has some problematic roots. Emerging from America's minstrel culture, it was once entirely about the art of titillation; bawdy music, alluring glances, lurid glamour and glitzy costumes peeled away like layers of a seductive onion. The "golden age" of burlesque, when it's most recognisable aesthetic – corsets and pasties and tassels and ostrich feathers – was cemented, was from the 1910s to 1930s. But while its looks may have remained largely unchanged over the ensuing century, its essence has greatly evolved.
In the 1990s and early 2000s, figures like world-famous burlesque star Dita von Teese championed neo-burlesque, spearheading the retro revival of American pin-up style. The contemporary burlesque scene continues to diversify, with performers from all walks of life using the art form to celebrate bodies, reclaim sexuality and explore femininity, masculinity and identity. The subculture has transformed into a progressive political statement.
"Burlesque is a very femme identifying industry. Most of the time women are in charge," explains Porcelain Alice. "When I first started I liked that I could create these dreamscapes where I could be very feminine, but still be in control and strong."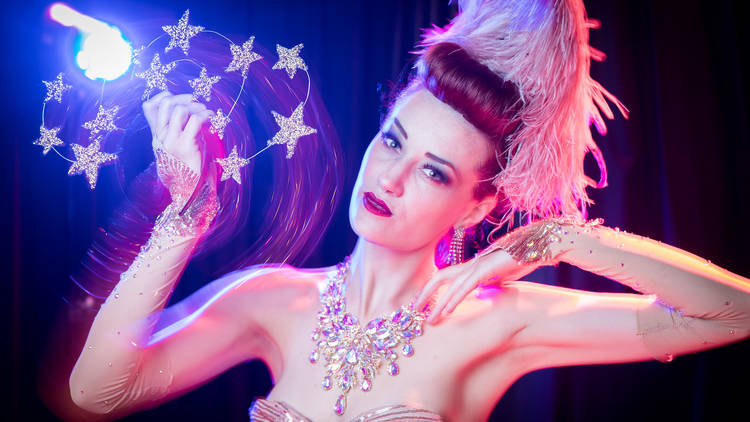 Porcelain Alice. Photograph: Anna Kucera
Burlesque is something Alice came to "by accident" several years ago, when a friend talked her into doing some improvised fan dancing for a performance. She began channeling her passions for making costumes and telling stories into the craft, and once she realised she could get paid for it, she became obsessed. She has now been a full time burlesque artist for five years, performing, producing, teaching and community building.
She says that the main difference between her stage persona and her "real self" is that "Porcelain Alice is much better dressed". When you see her take the microphone when hosting a showcase at the Vanguard, or a bar – tall, alabaster-skinned, exquisitely made up – and her broad Australian accent and quick-witted humour tumbles out, you realise there isn't anything being put on.
"Burlesque is such a broad artform and you can really find such a huge range of shows because even within those shows there's a huge range of performers," says Alice. "Burlesque performers come from all different backgrounds, they can come from circus, they can come from dance, they come from comedy, acting, or strip tease. They can come from nothing, they can just be like "hell, I really have a great idea"."
For Lottie Lamont, it was her background in musical theatre, love for MGM classics and her affection for all that glitters that drew her to burlesque.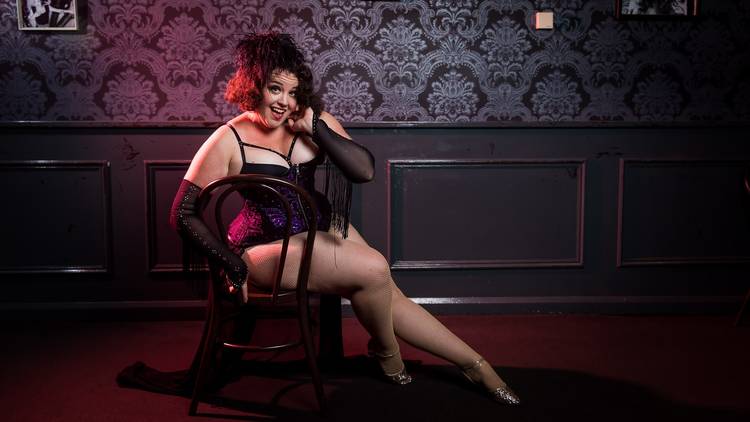 Lottie Lamont. Photograph: Anna Kucera
"I love that you don't actually have to be a very good dancer. You don't even have to be particularly 'sexy'," she says. "You can be funny. You can be political. It's about constructing a narrative and how you express your character during your story. And everything else is secondary."
As Alice explains, the one thing you can expect every burlesque act to have in common, is an element of strip tease. "The idea is that the performer is 100 per cent in charge, and they are telling a story that they have chosen to tell."
For many women, and other people across the gender spectrum, exploring burlesque can be an act of claiming or reclaiming one's femininity and sexuality. You learn that it's not about what you take off, but rather how you take it off. A stage persona can help a performer shed inhibitions or hang ups, whether or not that performance makes it onto a stage. For Lottie, the body positivity aspect isn't even what drew her into it, but the unexpected ego boost has carried into all areas of her life.
"When I started burlesque, I wasn't looking to feel better about myself. I didn't want to feel better about myself. But it just kind of happened because I was in this environment that was so supportive and all about empowering you and making you feel great. And so now I feel really good about myself, despite trying really hard not to – they got me!"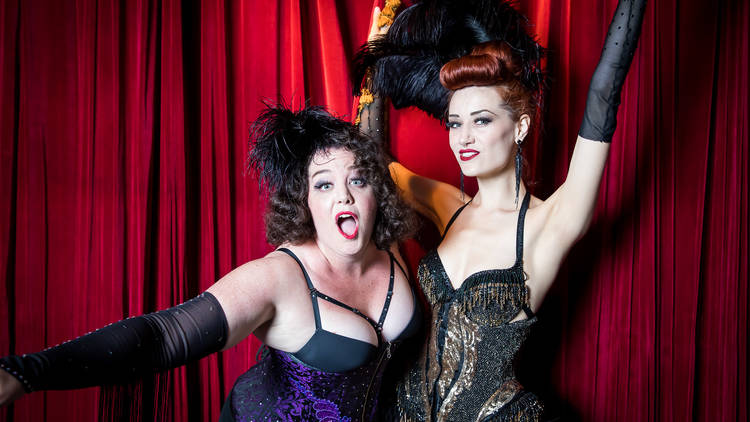 Lottie Lamont and Porcelain Alice. Photograph: Anna Kucera
Lottie cultivates her stagecraft under Alice and other performance professionals at Sky Sirens academy of burlesque, pole dance and aerial arts in Surry Hills. In Marrickville, Sydney Vintage Dance Studio also offers an inclusive environment to learn burlesque skills from those in the know. Both studios run terms throughout the year, with sessions starting in early-mid March.
At 37 years old with a full-time job, dabbling in burlesque isn't something that Lottie expected to be much more than a hobby. However with two paid gigs already under her garter belt this year, she's keen to lock in more opportunities to fund her newfound lingerie habit.
While a lot of talk around Sydney's nightlife has focussed on its decline under the recently lifted lockout laws, the burlesque community has consistently packed into bars, pubs and any venue with a stage big enough to twirl some tassels on. There are typically two kinds of burlesque shows you can see in Sydney. On one end of the spectrum there are pricier, more refined productions with established performers where you can often also enjoy a sit down dinner. Then you have your cheaper (sometimes free) community events where a melting pot of performers of all levels will stage cheerful showcases.
Aside from big budget travelling productions that tend to roll through over times like Sydney Festival or Mardi Gras, Sydney doesn't see much in the way of big productions with a cast serving choreographed group routines. This is something Alice and her collaborator Bella Louche are seeking to change with La Femme.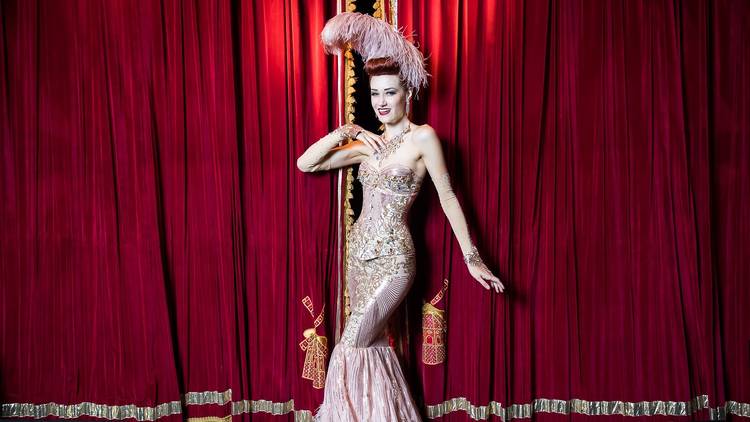 Porcelain Alice. Photograph: Anna Kucera
Rather than a collective of performers bringing in their own acts, La Femme is a full production with a troupe of four performers joined by a guest star each month. The show endeavours to portray a diversity of ways to be feminine and express femininity, while also giving a nod to Australian icons and culture. The core performers are the show's founders, Porcelain Alice with the "glamorous and horrifying" Bella Louche; the reigning Miss Burlesque Australia, Betty Bombshell; and vogue star Karlee Luna. The special guest for the first shows is bearded drag queen Lady Fur.
Alice compares the dynamics of the burlesque scene to stand up comedy. You've got your big headliners and known names, and you've got your mixed bag of amateur performers working out their material, and in either case you might just see something really special. Also just like comedy, the performers will only really know what's working if the audience is responding. "Please cheer, because we are alive and we do want to hear you. This isn't theatre, you don't have to sit there in muted silence. Give us the love that we crave," she says.
Just don't be the creepy guy who yells "Take it off!" or the audience member who can't keep their hands to themselves. Respect the art, and respect the performer, because what they're doing is a helluva thing.
See twirling tassels and flying feather boas
We've consulted with those in the know about where to go for a fabulous night of burlesque, from cheap and cheerful showcases where you can cheer on some enthusiastic newcomers to luxe nights with bejewelled, seasoned showgirls that Champagne dreams are made of.
Sydney's got more than one kind of showgirl
Drag queens aren't just fabulous: they're the political powerhouses of the Pride movement.