The globally recognised Mardi Gras Parade is known nowadays as one great big, sparkly, televised party (with a lot of corporate and political interests riding its sequined coattails). So, it can be easy to forget that it all began in 1978, with a moment of defiant protest. Getting back to its activist roots, this year's theme – "what matters" – asks everyone to consider the less shiny yet vitally important things beyond the Mardi Gras spectacle, from respecting the pioneers that came before us, to affirming all the diverse identities under the rainbow, and inspiring the community leaders of tomorrow.
Throughout queer history, drag queens have often been the loudest agitators of the Pride movement. It may be true that today, drag has become pop culture catnip, but in decades past, queens were the courageous trailblazers of queer culture, intersectionality, and the complex spectrum of identities we now acknowledge.
Sydney's drag matriarch, Miss 3D, has been involved in the Mardi Gras since its origins; this showgirl turns 70 in 2020 and she's rarely missed a parade since the fateful protest in '78. She has lead the procession multiple times – once on rollerskates, another time in a wedding dress – something she's extremely proud of: "We were marching to state that we're gay and we're here to stay," she says.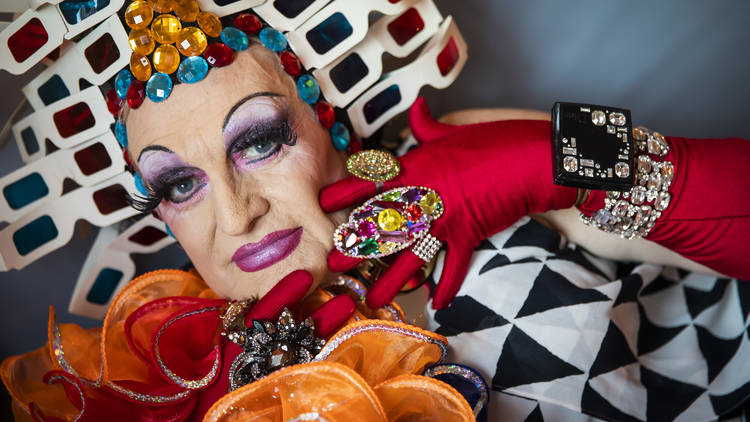 Miss 3D. Photograph: Anna Kucera
Miss 3D has also performed at many a Mardi Gras after-party, whether she was a headlining act or part of a chorus-line of drag queens in a choreographed number. The most memorable was the tenth Mardi Gras in 1988, where she was one of ten Diana Ross impersonators performing to 'Chain Reaction' on two halves of a giant cake that were wheeled in from opposite ends of the Government Pavillion at Sydney Showground.
Two close personal friends of the legendary Sydney drag star were instrumental in elevating Mardi Gras parades and parties to the next level: artistic director Peter Tully, a Melbourne-based jewelry designer who worked with fashion pioneers Jenny Kee and Linda Jackson, and Doris Fish, a famous Sydney drag queen. "Peter and Doris were so artistic, they had lots of clever ideas. They really made the parade bigger and better than it ever was," she shares.
But like many people in 3D's life on the Sydney gay scene in the early '80s, Peter and Doris were both lost to HIV-AIDS. After the crisis reached Australia in 1982, Miss 3D believes the parades got even bigger. In a way, they were fighting back. "We all got together, we had to be strong. I lost so many of my friends, it was shocking. All these gifted artists and people from all walks of life," she says.
Sydney persists as one of Australia's – and in fact, the world's – most internationally attractive queer hubs. The city may be ever-changing, but the same community that drew Miss 3D here more than 40 years ago still resonates today. In 2016 that same energy brought a young queer person to Sydney who would become the queen known as Etcetera Etcetera. Bumping into the throngs of the parade night crowd at 17-years-old, Etcetera thought "I want to be part of whatever this is".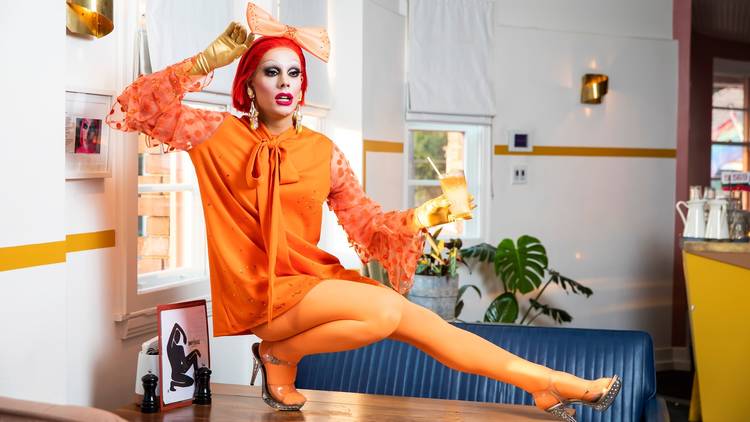 Etcetera Etcetera. Photograph: Anna Kucera
"It was just really eye-opening to see that many openly queer people in a public space. Growing up in Canberra, you see LGBT people but you don't see them loudly expressing their right to proclaim their identity in such a, some would say, excessive way," says Etcetera. "I think Mardi Gras has that dichotomy. It's always like, is it too much? Is it too flashy? Is it too loud?"
While cultural phenomenons like US reality TV series RuPaul's Drag Race (which is due to start an Australian season in 2020) have thrust drag into the mainstream, Mardi Gras is also an event where performers from the margins of society, and the safe spaces they exist in, are put under a more public spotlight.
"Drag exists in this beautiful liminal space between identities. We're playing with gender or playing with ideas. And it offers the alternative of 'what if nothing was real and everything was dissected and taken apart and deconstructed, reconstructed and played with?' And for me, drag is so important to discovering identity, forming identity and also preserving identity," says Etcetera.
As a gender non-binary person as well as a full-time drag queen, Etcetera has a multi-layered relationship with balancing the flashiness of Mardi Gras season with its political past. "I just want to make sure that whatever my involvement is, I'm existing in those spaces as a non-binary drag queen. I'm making sure that I'm recommending and asking if they have space to include more trans people or people of colour. I think when looking at throwing events and being at events during Mardi Gras, that should be really key in people's minds: what is your idea of representation?"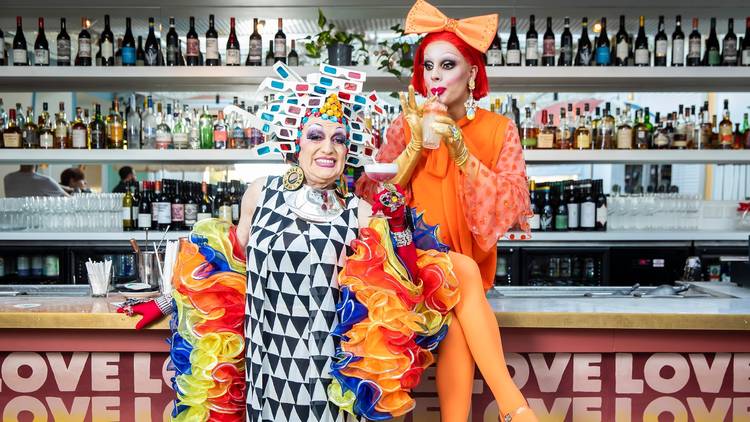 Miss 3D and Etcetera Etcetera pose with their namesake signature cocktails at the Imperial Erskineville. Photograph: Anna Kucera
There are plentiful options coming up for parties where you can see some quality drag and have a liberating boogie over the Mardi Gras 2020 season, from February 14 to March 1. Head to mardigras.org.au and stay tuned for updates from Time Out Sydney.
You can see Etcetera Etcetera hosting drag n' dine throughout the week at the Imperial Erskineville, Mystery Box at Universal on Thursday nights, and Conspiracy Theory on Saturday nights also at Universal.
Miss 3D performs regularly around Sydney, you can see her strut her stuff at Slay 4 Pay on Wednesday nights at Universal and with Pollys Club fundraiser parties, the next event is Saturday December 7 at Marrickville Town Hall.