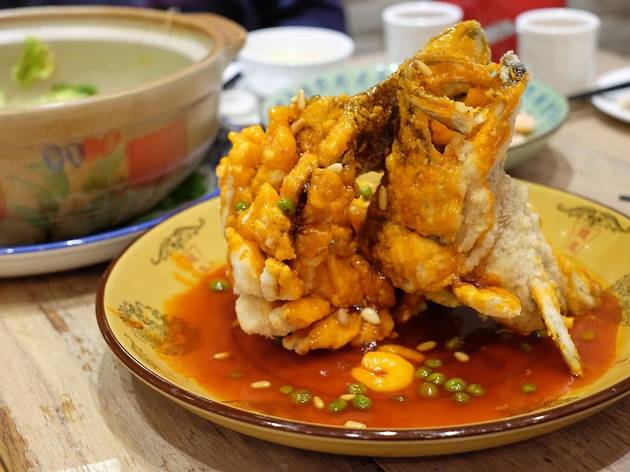 Time Out says
It's grandma's cooking, but not as you know it
This is the first time we've heard of a Chinese restaurant enforcing two sittings at dinner time. We're kinda glad they do because otherwise you'd never score a table - even with a booking. Locals have jammed this Eastwood newcomer, dishing up Chinese fare with an emphasis on Shanghai cuisine.
257 Home Kitchen looks more like a hip cafe – exposed brickwork, copper pendant lighting and bentwood chairs – but the menu is serious, with 120-plus dishes proving there's more to Shanghai cuisine than xiao long bao soup dumplings.
Take the Shanghai-style baked bran for instance, a sentimental homestyle favourite made from wheat gluten. It looks like a deep-fried tofu puff but is actually a steamed mixture of gluten, bran and yeast. The resultant sponge is perfect for soaking up sweetened soy sauce and sesame oil, braised with wood ear mushrooms, bamboo shoots, dried lily flower buds and peanuts in a combo known as "Four Happiness".
If you're looking for more familiar territory, the crisp house-made spring onion pancake is a winner. So is the deep fried pork chop in a golden panko crumb. And yes, they do dumplings, everything from pan-fried pork dumplings to fancy egg dumplings, pork wrapped in an omelette skin that arrives in a massive tureen of combination soup.
The ruckus of Chinese families and friends is likely to be hoeing into Shanghai classics rarely seen in Sydney. That means the glossy and tender stir-fried crystal shrimps or the whole raw crab boozed up in Chinese rice wine, "grandma's style". We want to hang out with grandma more often.
Rice crust is a new kind of awesome too, a deep-fried rice cake that you can get smothered in salty egg yolk or drenched in a tomato sauce with fish. The live barramundi in sweet and sour sauce is pretty darn spectacular, the whole fish deep-fried so it curves back on itself.
Pork knuckle comes salt-and-pepper style or doused in black pepper sauce. Don't forget dessert either, easily missed in the dim sim menu at the front. The sweet rice pudding is a festive bonanza of red bean paste, Chinese dates and sticky rice. And we reckon grandma must have a hand in the mini sesame rice balls in sweet rice wine too.
Details
Best selling Time Out Offers