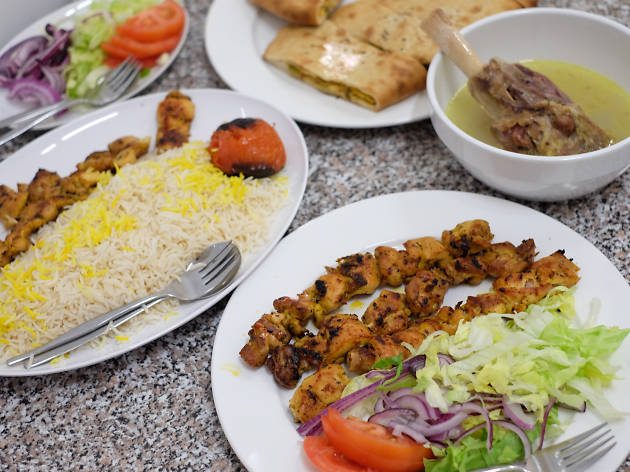 Time Out says
Get it while it's hot
You haven't lived until you've eaten Arabian bread fresh from the tandoor oven. We're talking a round of piping hot fluffiness that's softer than a baby's cheek. They're bigger than a dinner plate and only a dollar each at Afghan & Arab Bakery, one of the latest additions to Lakemba's Haldon Street.
Join the queue of families grabbing bags of bread to take home or get it wrapped around a skewer of charcoal-grilled meat for the ultimate meal on-the-run. A one skewer kebab will set you back $7 or double up on the meat for $12.
You can dine in too, although don't expect much in the way of décor of ambience. This is strictly functional seating with prices to match. Ten bucks gets you a skewer of chicken or lamb with salad, sauces and fresh bread. Upgrade to two or three skewers and swap the salad for rice and you've got one monster-sized meal.
The lamb shanks are a treat too. Simmered low and slow in a clear soup, the meat falls right off the bone. You can order it with bread and salad for $10 or bread and Afghan rice for $16. The Kabuli palaw combines long grain rice with raisins and cooked grated carrots.
Eat with your fingers like the locals do – a sink in the corner lets you wash your hands before and after the carnage – or use cutlery as you please.
If you're looking for spice, check out the bolani ($5), an Afghan flat bread stuffed with potato, spring onion and a good whack of chilli. Grab a bottle of ayran salted yoghurt drink from the fridge if your tongue needs cooling.
And for something different? Try the sheermal ($3.50), a round of slightly sweet flatbread made with milk, wheat flour and sugar.
Details
Best selling Time Out Offers