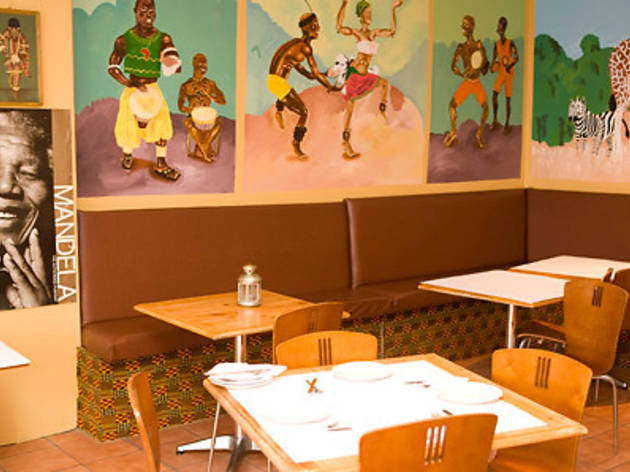 Time Out says
Just as eclectic as the décor is the food, a mix of Africa's greatest hits
A bright neon sign welcomes you to a dimly lit room plastered with African motifs, a random Australian flag and a poster of Nelson Mandela.

There's doro wat (Ethiopian stew), a lamb tagine from Morocco and everything in between. Our journey begins with the snack platter - three entrées, of which the Nembe triangles are the standout. Mildly spiced lentils deep fried in pastry triangles are seriously crunchy, their squishy innards very satisfying. The vegetarian pyramid is filled with a spicy carrot mix while the kpoff-kpoff (Nigerian puffy dumplings) are made with only flour, yeast, and salt. Best to use these for dipping.

The egusi is the star of the menu. A melt-in-your-mouth beef stew with shrimp powder and ground almond, its nutty-yet-tart taste comes from ground egusi, a west African seed like pumpkin or dried watermelon seeds. The sauce clings with dear life to the meat - a real lip smacker.

The bua, a goat stew marinated in powdered shrimp and spinach, has a luscious mouth-feel that goes exceedingly well with the battery of starches on the side. Try fufu (a porridge-like paste), couscous and roti (Indian flat bread also found in Somalia) with each sauce for a carb-tastic roulette. The food is meant to be eaten with your hands. Swirl it around in any of the rich stews, and have it drip down your face. No self-respecting west African takes fufu by the fork.


Details
Best selling Time Out Offers