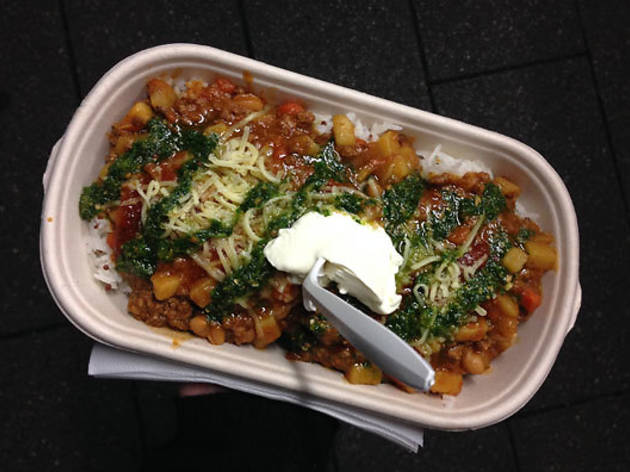 Time Out says
Warning: Organic does not necessarily equal healthy
With the Agapé Organic Food Truck, as at the Botany restaurant of the same name, it may be an all-organic affair, but here that means chilli dogs, nachos and fries.
The "chile on rice" (also available on nachos or fries) sounds simple enough, but the rice is bedecked with little grains of red quinoa, and the minced wagyu beef (grass-fed Gundooee) comes in a sauce studded with cubes of carrot and potato. Which is fine, but it's also strangely – and quite aggressively – sweet, which is not. The chimichurri sauce swirled over the top is lost in all that sugar, but the sour cream (although a bit stingy portion-wise) somewhat helps to balance things out.
Go instead for the beef roller. Two little spelt-flour hoagies (nice crisp shell, fluffy interior) come topped to the brim with light, creamy coleslaw, spicy pulled beef, and a trickle each of chimichurri and barbecue sauces. If you hold the latter sauce, which is again too sweet for its own boots, then this is a pretty good eat. Although it bloody well should be, for $12 on the night we visit.
The restaurant is a fancier sort of joint, and all the ingredients being organic maybe accounts for the high prices, which is reasonable. If you're after an organic feed, upload the Sydney Food Trucks app to find out where the truck is on any given night, have yourself some warming fare, and feel good about eating ethically (even if not exactly healthily) while you do.
Details
Best selling Time Out Offers