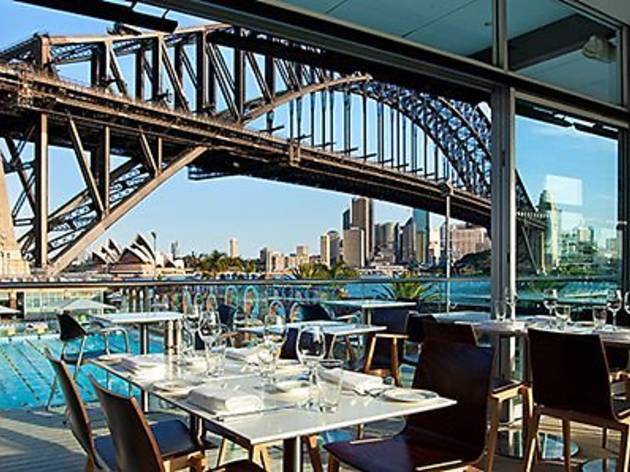 Time Out says
Friendly warning! We're working hard to be accurate. But these are unusual times, so please check that venues remain open.
Italian dining by North Sydney Olympic Pool with a view of the harbour and bridge
Situated next to North Sydney Olympic Pool, Aqua Dining offers a contemporary Italian menu and sweeping views of the harbour, bridge and Opera House.
Zen Jay Ong (then from Aqua Dining) took part in the Time Out Taste Test 2010.
Interview:
Timeout Taste Test 2010 Dish: Compressed Fruit Salad, cinnamon sand, raspberry caramel, vanilla crème fraiche, micro basil.
If you could do an apprenticeship at any restaurant in the world, where would it be and why?
There are three places I would love to work at: Vue de monde in Melbourne, French Laundry in the US, and El Bulli in Spain, all for different reasons. I can only imagine the things I would learn.
What is your favourite restaurant in Sydney apart from your own?
I'd love to go to Marque or Berowra Waters Inn. I feel that the effort behind each dish is hidden and that's what makes them superior.

Who is your culinary hero and why?
It changes all the time to be honest. In terms of desserts Albert Adria is in a league of his own for inventing his own styles and flavour matches.

What is your least favourite job in the kitchen and why?
Cleaning down! After all the hype of prepping and then the adrenalin rush of service, the cleaning down of the grit and mess always sucks.

Favourite chef's tool and why?
The cryvac machine; what it is able to do for food is almost endless, marinating, compressing, sous vide, preserving, and packaging.

Anything you can't/won't eat and why?
There is nothing edible I wouldn't eat. The only reason I don't like something is because no one has shown me how to cook it properly.

What was your food epiphany?
In my first year of my apprenticeship a chef handed me a book, 'Day at El Bulli', and said, "If you want to be a great chef, have a look at what they are doing now". I was only in a small cafe but to see the basic food I'm serving being progressed into foams, airs, crisps and yolks was just mad. I wanted to learn how they do everything and in between.

What would your Death Row meal be?
The full 32 course degustation menu at El Bulli for two reasons; one because I want to see what all the fuss is about and two, it will extend my life by a good 6 hours at least, depending on conversation.

Best food tip for Sydney diners?
Specials at quiet un-ranked restaurants are just scraps made into a meal before they go off. Specials at fine dining restaurants are experimental dishes that could be the new confit ocean trout at Tetsuya's.

What do you cook at home?
Depending on the company I'm pretty easy going with food; stir fries, curries, braises. When I'm at home and bored I like to experiment with new stuff that I've researched.

What was the thinking behind the dish you created for the Time Out Taste Test?
The dish was simply summer on a plate; bright colours, the aroma of fresh melons and fruit, vibrant flavours and technical work to maintain all of it. French Laundry does stuff like this with their fruit. I twisted it by adding textures like the cinnamon sand and other familiar flavours so any one who ate it could relate to it in a certain way.

What was the Time Out TasteTest like to participate in?
The hype and media was absolutely mad, probably the most fun comp so far that I have been in, probably because the other contestants helped out heaps and so I made some pretty good friends. I am interested to see who will be the first one to make a real name for themselves out of everyone. Despite catering for 90 covers and prepping mostly all by myself it was definitely worth it and I would do it all again in a heart beat.
Details
Address:
North Sydney Olympic Pool
Corner Paul & Northcliff Sts
Milsons Point
Sydney
2061

Contact:
Opening hours:
Lunch 7 days from Noon Dinner 7 days from 6.30pm