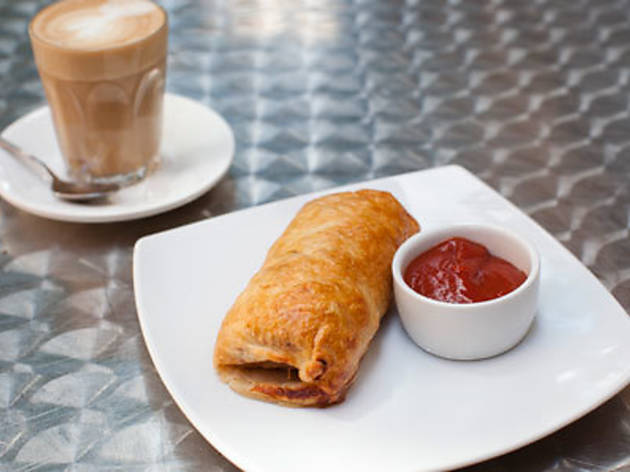 Say goodbye to Plan B by Becasse and hello to Arras Too
Occupying the old Plan B by Bécasse site, Arras Too offers the same café-fueled-by-top-notch-restaurant formula as its former occupants. Daily offerings are delivered by Adam and Lovaine Humphrey's team of chefs and bakers at Restaurant Arras next door, meaning you'll be hard-pressed finding toast and vegemite at this tiny CBD café.

Brace yourselves for a bold, northern English-inspired selection of house-made baked treats, like lamb and fennel sausage rolls, Scotch eggs, and of course, Yorkshire pork pies. They're all delivered hot out of the Arras oven and available as early as 8am on some days, meaning you can stock up for lunch if you know your prospects of a break that day are gloomy.

Leaving the gastronomic wonders to its big bro, the emphasis at Arras Too is on fresh baked treats and coffee. Allpress espressi are pulled by the chatty barista-slash-waitperson (it's a one-gal show here), drawing in droves of sleepy corporate types throughout the day. At just $2.50 for a regular coffee, it's sure to be the cheapest cuppa on the street. On our visit, the pie of the day is lamb and fennel, and it's a far cry from your stodgy pub variety. Braised hunks of meat, salty capers, and a rich gravy are all encased in a beautifully flaky pastry.

Arras Too is light on breakfast options, but you'll usually find pre-packaged tubs of granola topped up with thick yoghurt and warm, foamy milk for under $5. There's banana bread too, though it teeters on the brink of banana cake – fluffy, buttery and spiked with walnuts. We finish it just as a tray of custard tarts and
brownies are delivered from next door. Next time.

If you're after a decent coffee and baked treat on the run, then Arras Too will satisfy your belly and your budget – it's restaurant-quality food at bakery prices.
Venue name:
Arras Too
Address:
Shop 204 Clarence St
2000

Opening hours:
Mon-Fri 7am-4pm
You may be interested in: