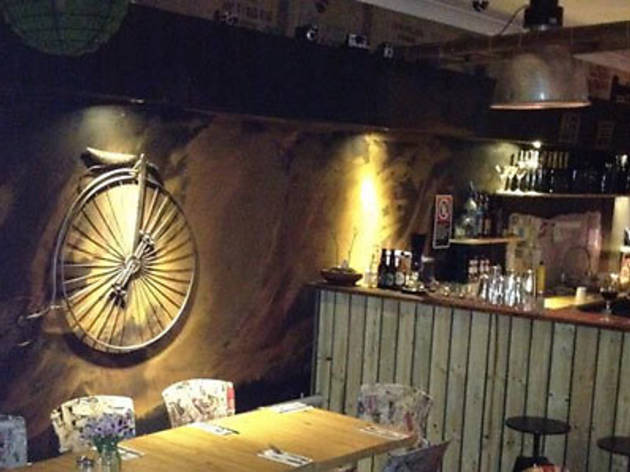 Time Out says
A trinket-laden treasure trove of Cyprian nibbles, gooey milkshakes and some of the best Bloody Marys in town
Mind out of the gutter, Sydney – Marrickville's latest café was not named after you-know-what but draws its name from its plucky young owner, Benjamin Terkalas. And he is young. Terkalas, known as Beejay in primary school, is just 19 years old, and we'd hazard a guess to say one of Sydney's youngest café owners. "It's hard when your mates call you up on a Thursday night for beers at the pub but you can't go out because you have to be up making soy lattes early the next morning", says Terkalas, who opened up shop in May of this year. But that's about the only gripe he has with his lot in life. There's no mistaking this kid's ambition.
His café itself is light and breezy, with trinkets and treasures tucked into every corner. Terkalas' father's vintage camera collection has been recycled to line the shelves, a huge number of mixtape cassettes act as a skirting board and ferns hang overhead. It's eclectic and a little odd, but in an endearing way. We love how the café's front bar opens onto bustling Illawarra Road, perfect for catching a few late afternoon rays of Inner-West sun with a spicy Bloody Mary in hand.
The young owner has Cypriot blood in his veins, and a Mediterranean bent is evident throughout the menu. The finger-sized Cyprian sausages called sheftalia – where the meat is coated in not a synthetic casing, but slightly thicker (and tastier) caul fat – are teamed with a capsicum purée (which could do with a hit of chilli), warm grilled flatbread and a beetroot and rocket salad. A Greek salad is jazzed up with the addition of tender, slow-cooked lamb in a wonderfully fragrant rosemary marinade.
Like Cornersmith just down the road and a few dairy-infatuated cafés around town (ahem, Reuben Hills), Beejay's take on the milkshake is bringing the boys (and girls) to the yard. The peanut butter and crushed Oreo number with a dash of hazelnut syrup is ultra rich and damn delicious – its days' worth of calories is 100 per cent justified.
For breakfast, order a side of crisp pork belly to replace regular old bacon, and return later on in the evening when Beejay's transforms into a bar. Only a 19-year-old would offer margaritas with a crushed Dorito rim instead of salt, but there are cheese plates, tapas-y snacks and prices are extremely good value. The crowd is made up of mostly friendly locals who are welcoming this influx of Good Times to their neighborhood, as are we. Avancé, Marrickville!
Details
Address:
395 Illawara Rd
Marrickville
Sydney
2204

Contact:
Opening hours:
Mon-Wed 6am-3.30pm, Thu, Fri 6am-11pm, Sat 7am-11pm, Sun 7am-6pm
Users say