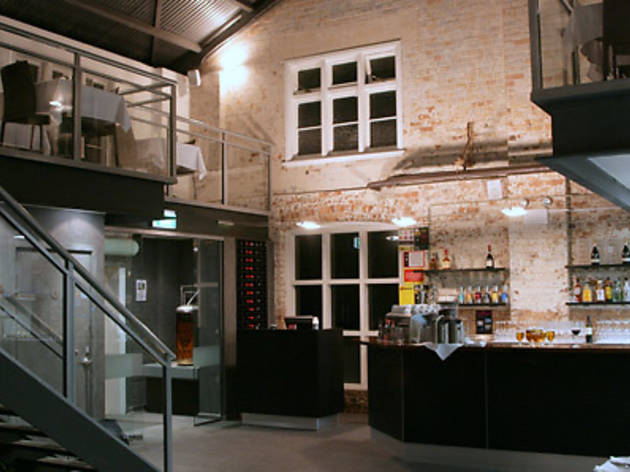 Given the Boilerhouse once housed tanks and pipes to heat water for washing disease-ridden laundry, it's no surprise the original builders ignored the view. But why didn't they put a window in for the multi-million dollar refurb? "Good question," says our waiter, without answering it.

At least the place looks stylish inside. Upstairs on the mezzanine where fascinated diners sit looking down onto the open kitchen below, a corrugated roof and exposed brickwork contrast nicely with crisp tablecloths and smart leather chairs. Cooking smells rise up from below to meet the noses of hungry punters.

Squid and Thai eggplant pappardelle ties into the menu's claim of taking inspiration from the nationalities of people quarantined here (yes, for real). It's a cute idea, but in this instance, the mix of Asian and Italian cuisines sounds confused, and tastes it too. Service is snappy despite wait-staff having to schlep up and down flights of stairs at every turn.

Try the pretty-in-pink-and-green grilled prawn and pomelo salad. Heaped on a banana leaf with shreds of chilli, kaffir lime leaf, cucumber and shallots, it's sharp, refreshing and a happy mix of textures. While the crab and potato cakes are light, fluffy and big on flavour, they could be firmer. Slow-cooked lamb shoulder is sweet and rich and plopped on a bed of parsnip, carrot and baby turnip. A sauce ravigote (traditional French vinaigrette of capers, herbs and onion with oomph from Dijon mustard) served on the side amps it up and breaks up the richness.

Just shy of 8pm the place almost empties, when the Q Station's very good play, Defiance, starts just across the courtyard. No longer masked by chatter, the Grease/Coldplay/Ministry of Sound chillout soundtrack jars in its surroundings.

It's still early days here. Once they overcome a few initial teething troubles and the weather warms up enough to use the outside space (above), we'll be back. In the meantime, if they can organise a ferry service to the city, it will get busier.
Venue name:
Boilerhouse
Contact:
Address:
Q Station, North Head Scenic Drive
Manly
Sydney
2095

Opening hours:
Mon-Fri 11.30am-10.30pm