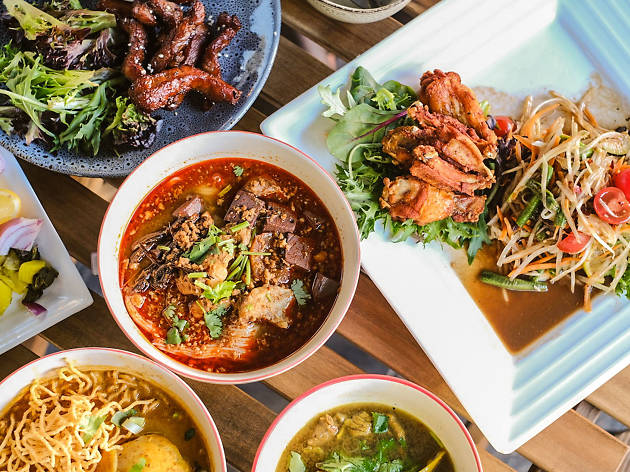 Time Out says
Get acquainted with Chiang Mai's favourite noodle dish, khao soi, at this Northern Thai eatery in Newtown
Picture a hearty bowl of curried coconut broth piled high with egg noodles and tender chunks of chicken or beef. This is khao soi, the one-bowl meal found on every street corner in Chiang Mai in Thailand's north. Dig past the crunchy nest of deep-fried noodles and you'll uncover slippery strands of egg noodles bundled at the bottom, perfect crinkled carriers for the rich and aromatic curry soup. If you like the flavours of massaman curry, we reckon you'll like khao soi, too.
Thai restaurants are everywhere in Sydney, but Northern Thai dishes are less easy to spot. The newly opened Boonchu in Newtown – small, casual and best suited for small groups – looks to be changing that, even if its Northern Thai dishes (found on the menu's 'Recommended' section) make up only a small subset of its broader menu.
Start your Northern Thai adventure with a bowl of that khao soi. A plate of condiments on the side lets you adjust the dish to your taste. That includes raw red onion slices, crunchy bean sprouts, pickled mustard greens, extra chilli sauce and wedges of fresh lemon. You'll score the same condiments if you order the khanom jeen nam ngiaow, a huddle of fermented rice vermicelli noodles in a spicy and sour tomato soup. In addition to mixed vegetables and pork mince, you'll find cubes of pig's blood in your bowl. Don't be afraid – think of the iron boost! – but if it really does freak you out, just ask for them to be omitted.
Deep-fried pork neck is a guaranteed crowd pleaser. Get it with nam prik noom, a mild, roasted green chilli and garlic dip, or turn up the heat with nam prik ong, a more fiery version made from bird's eye chillies pounded with tomato and pork mince. The deep-fried pork itself is sweet and tender.
Ready for high-octane flavour territory? The gaeng om dill soup with beef is a no-holds-barred herbal soup that's heavy on the heat with a bitterness that borders on medicinal. Too much too soon? Refresh your palate with a zingy green papaya salad with fried chicken wings or soft shell crab.
Details
Best selling Time Out Offers