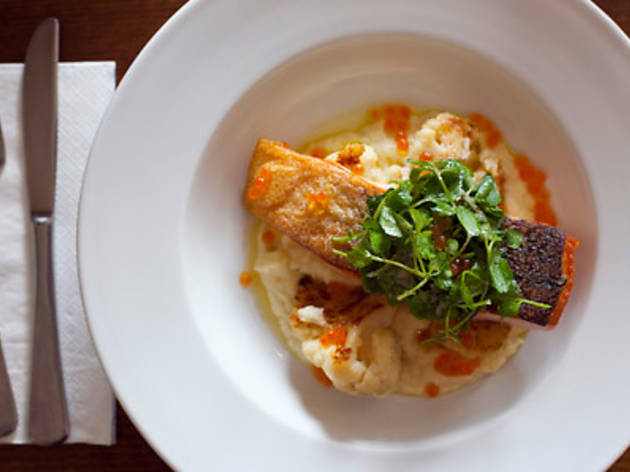 There are 28 different types of cured meats living in the glass cabinet at Café 2042. Sharing the space are 33 different kinds of cheeses hailing from France, Italy, Germany and Australia. From pancetta to jamon, reggiano to Stilton, this Newtown café has it in stock.

Café 2042 serves breakfast (until 4pm), lunch and dinner, with a seasonal menu and regularly changing specials. Head chef Gavin Kells' menu runs from the likes of muffins, banana bread and pancakes to the more creative offerings such as grilled salmon fillet on jamon roesti with a crisp strip of pancetta. Here, the combination of ham and fish is incredibly salty and a sweet bed of pea sauce only tempers it slightly.

With so many options to try there are bound to be hits and misses, but safer bets are the chicken schnitzel off the kid's menu, served with fries and a tangy dipping sauce, and the scrambled eggs with Rodriguez chorizo. For something light, there's heirloom tomato and buffalo mozzarella salad. For something simple, try a sandwich on Sonoma sourdough. If you're after a sweet, the house-made flourless chocolate cake is a winner, while the lemon meringue comes in a close second.

You'll find 2042 just near landmark Sydney watering hole the Sandringham Hotel. They serve Danes organic Caribbean blend coffee, while a modest wine list is boosted with cocktails and beer, including the 2042 signature Margarita – tequila, Cointreau, pink grapefruit juice and lime.

Framed blackboard menus dotting the walls and tall overflowing bookshelves around the deli area. Booth seating lines the walls and a colourful assortment of cushions keep you comfy. A couple of couches up the back make up a kids' play area and for the internet junkies out there, free wi-fi is available.

There are some gems on the menu and you could eat well here – the menu just needs to be a little more focused. That said, 2042 is definitely heading in the right direction.
Venue name:
Cafe 2042
Contact:
Address:
403-405 King St
Newtown
Sydney
2042

Opening hours:
Sun-Tue 7.30am-4pm; Wed-Sat 7.30am-11pm