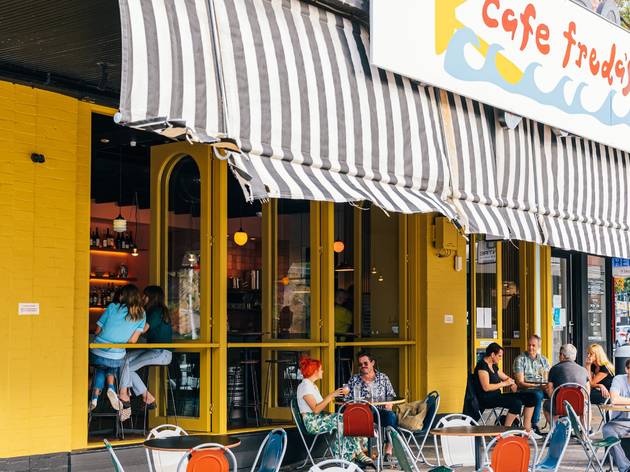 1/5
Photograph: Supplied/Nikki To
2/5
Photograph: Supplied/Nikki To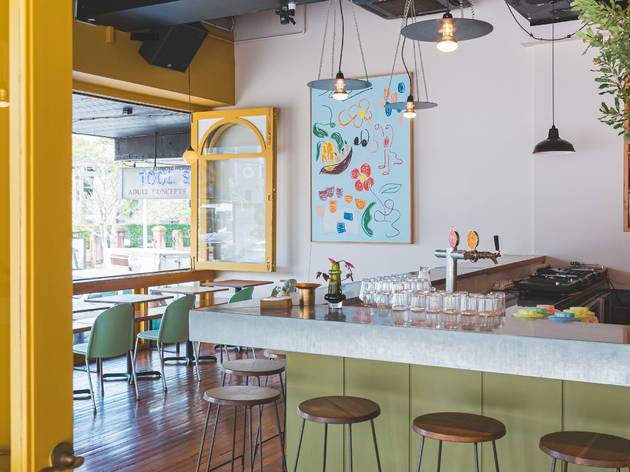 3/5
Photograph: Supplied/Nikki To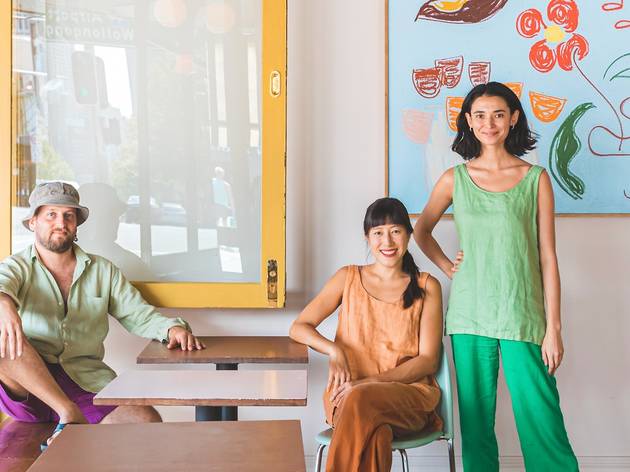 4/5
Photograph: Supplied/Nikki To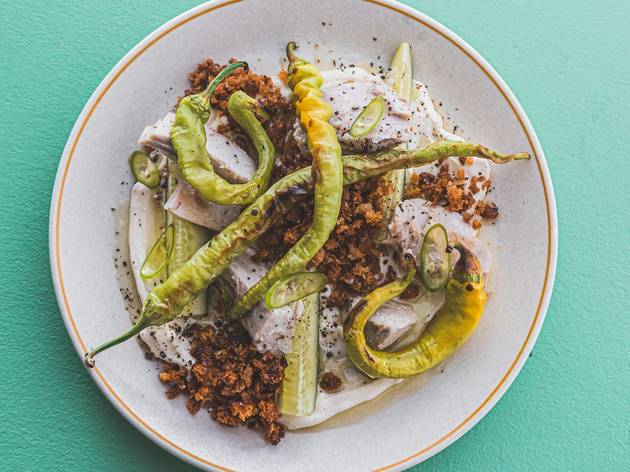 5/5
Photograph: Supplied/Nikki To
Time Out says
Oxford Street is home to a new culinary free spirit that might just herald a new dawn for Sydney's nightlife
No, Oxford Street is not the glittering party parade it once was, but are these the nascent buds of a nightlife renaissance we see popping up on Taylor Square? There's something distinctly European in spirit about the scattering of tables filling the footpath outside Café Freda's, the smiling faces sipping Aperol Spritzes and eating oysters and tomato salads sweetened with slice of yellow peach, warmed with chilli oil and sporting the mysterious, aromatic sharpness of fennel seed and fresh tarragon.
If you clocked any time on the Freda's dance floor when it was a warehouse art and party bar in the wilds of Chippendale you might struggle to recognize her in this new glow-up. But rest assured, the best bits came with her to a new home in one of the best people-watching locations in the city. She still loves art, which is why every three months they're going to rotate what's hung on the big pink wall to the left of the bar like a miniature gallery. The full-sized art experience will be happening in the gallery space next door, which will host exhibitions and events – it's slated to open in late March.
Right now the music is staying at a comfortable, conversational level, but owner David Abram brought the sound system that used to power Italian disco nights to the new digs. In the near future, there might be scope for a little boogie when the hour gets late, who knows.
Abram wanted the new venue to be an amalgamation of the Freda's template – inviting, warm, and tactile, with art and design at the core of the approach – but adjusted for a new life stage: one that is fond of a drink, a snack and some good conversation. On the new crack team is sommelier Darcy Creenaune Ellis, who has put a whole lot of peak Sydney drinking on the list, like the Patsy fiano from Minim that's a refreshing zap of natty texture.

Shepherding a menu that's like free verse for food is head chef Xinyi Lin, who didn't head back to New York during the 'great indoors' and instead sent out sourdough starter kits, supplied ready-made meals from her kitchen and then signed up for Café Freda's where her creations – from a tomato salad to a raft of sourdough toast topped with velvety soft eggplant and a Bunnings barbecue worth of charred onion, to a pandan panna cotta – are already social media stars in their own right.
Currently, the menu only seats 76 people so you absolutely need to book a table for lunch or dinner – you might get lucky and slide in between meals for oysters, some bread and fancy butter, or a sweet little plate of rainbow pickles in the form of a pink egg, white anchovies, and green cucumbers, peppers and tomato.
Taylor Square has always had the potential to be a gathering place, not just a landmark, but we needed venues like Café Freda's to give us somewhere we wanted to stay. The secret involves food that is delicious, local and unpredictable; drinks as varied as a house party chilly bin (yes, VB tinnies. Also yes, Champagne); a default setting of inclusion, right down to the Indigenous place names on the wine list; and a package lined in pink paint with a butter yellow shell and the exact striped awnings featured in your Berlin wine bar daydreams. There's no better vibe in Sydney right now.
Details
Address:
191-195 Oxford Street
Sydney
2010

Contact:
Opening hours:
Wed-Thu 4pm-midnight; Fri-Sun noon-midnight
Best selling Time Out Offers