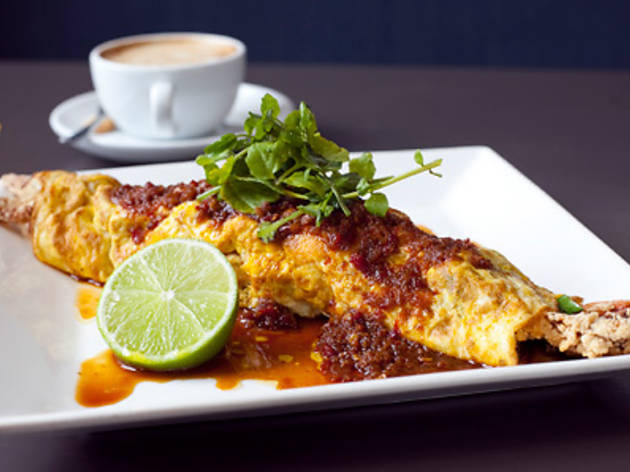 It's not often you see crocodile, emu and soft-shell crab sharing menu space post-90s, but Café Ish is waving the flag
This little café in the Surry foothills is packed with diners getting their Japanese/native Australian fusion on. You won't find sushi'n'fried eggs for brekkie (and there's a sign above the front door to prove it), but you can drop in for a 'quick-Ish' snack of banana bread or some tuna congee, or go all out and feast 'big-Ish' of eggs, bacon, croc sausage, tomato, mushrooms and fried mochi (Japanese rice cake).

Café Ish plies its trade in a quirky but assured menu including the likes of crocodile sausages and emu prosciutto. The trump card here, if the café's groupies are to be believed, is the very Japanese-y soft-shell crab omelette. Crisp-fried egg encases perfectly seasoned crab laced with ginger, green onion, chilli and garlic. It's a riot of flavours that might be a bit much early on a Sunday morning, but a side of avocado balances it out. A plate of different salts arrives - including green tea salt, Japanese seven spices salt and a pink rock salt - but it seems rude to add anything else to such a carefully flavoured ensemble. A breakfast 'trifle' of yoghurt, native berry compote and house-made museli is oomphed up with juicy wattle flower.

Coffee is a real strength. It's roasted by Coffee Alchemy and while latte art falls in the category of 'we don't really care', we've gotta say they do a meticulous job of it here. What really impresses is the signature Wattle Maca-cino - the combination of wattle seed and macadamia is creamy, sweet and nutty. While Ish is well loved for its breakfast/brunch, you might want to check out Wednesday ribs night - $35 for all the ribs you can eat in 90-minutes. Bargain! With the café at full capacity, staff are pleasant and efficient, deftly navigating the teeny T-shaped space. A stencil of pink cherry blossom on the walls is pretty kawaii, but don't underestimate the gravitas in the kitchen - a meal at Café Ish is bound to be more-ish.
Venue name:
Cafe Ish
Contact:
Address:
82 Campbell St
Surry Hills
Sydney
2010

Opening hours:
Mon-Sun breakfast & lunch, Wed-Sat dinner