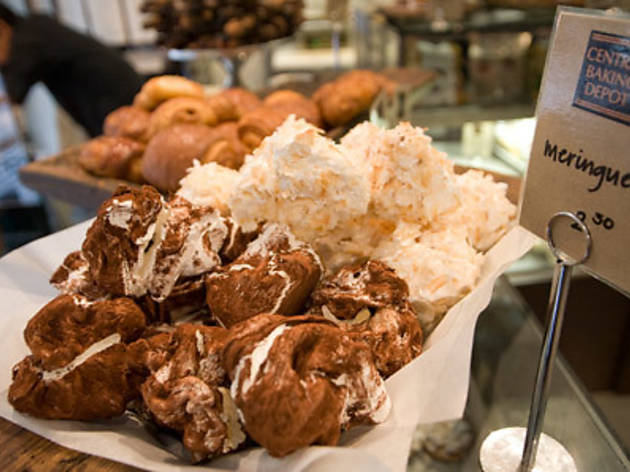 Time Out says
Bourke Street Bakery's Surry Hills branch used to be the only place you could get those sticky, super rich French style bakery treats. They then moved to Waterloo and Broadway, and now finally a cousin store has opened its doors to the city. Open now for a couple of months, you'll find all the charm of their other stores only with a little more room to move as well as a couple of tables inserted to accommodate the crowds.
All the greatest hits of Bourke Street are here at CBD including their burn-your-fingers-in-a-hurry- to-eat-it-all- at-once spicy lamb and harissa sausage rolls as well as an innovation on the pork and fennel with chicken instead. While it isn't quite as sweet and filled with pork fatty goodness as its original and while it's still pretty dang tasty, the original is still the best.
For lunch, we like the pizze that they'll heat for you on the spot like prosciutto and ricotta or smooshy eggplant, mozzarella and tomato. The sandwiches are nothing to turn your nose at, either. Daily specials might include poached chicken, celery and mayonnaise, say, or bresaola (that's air dried beef, for all you bovine nerds out there) on sourdough with bitter greens.
But none of this is a scratch on the sweet stuff, which, if you're a pastryphile, will no doubt be right up your alley. Try the grandma cake - sultanas, heaps and heaps of crumbling bits of brown sugar and enough butter to kill Dom DeLuise - or, our favourite (an oldie but a goody) the hazelnut and chocolate cake which is so incredibly sticky, gooey and chocolaty as well as having that extra oomph from the hazelnuts that one piece can easily go between two or three - especially if you've already been chowing down on other savouries.
The staff aren't as off-hand here as they are in some of the other stores - then again, they're not bending down to Scotchgard your blue suede shoes either. But it's not about the service here (and to their credit, they're so busy getting absolutely reamed every lunchtime that niceties are a luxury long forgotten), it's about the food.
And the food is kickin'.
---
Details
Best selling Time Out Offers