Chicken Institute (CLOSED)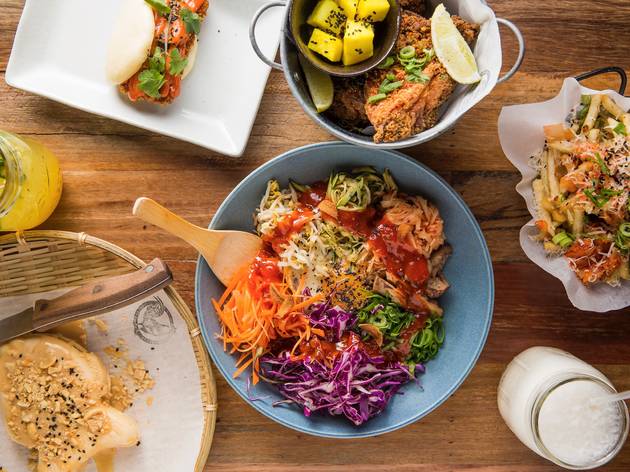 1/9
Photograph: Anna Kucera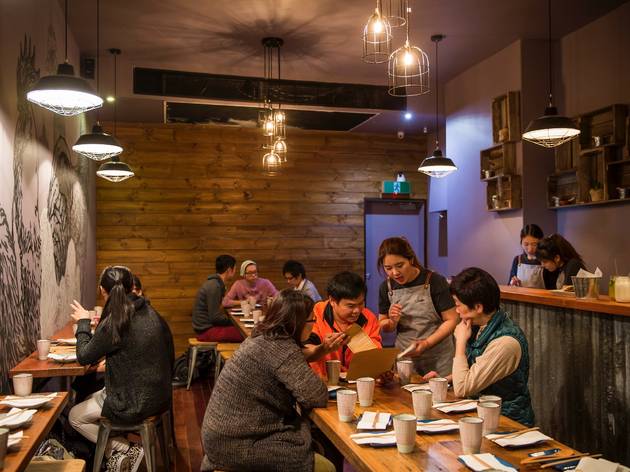 2/9
Photograph: Anna Kucera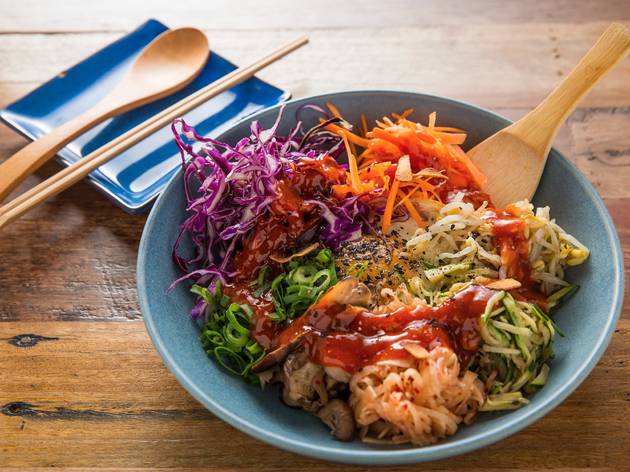 3/9
Photograph: Anna Kucera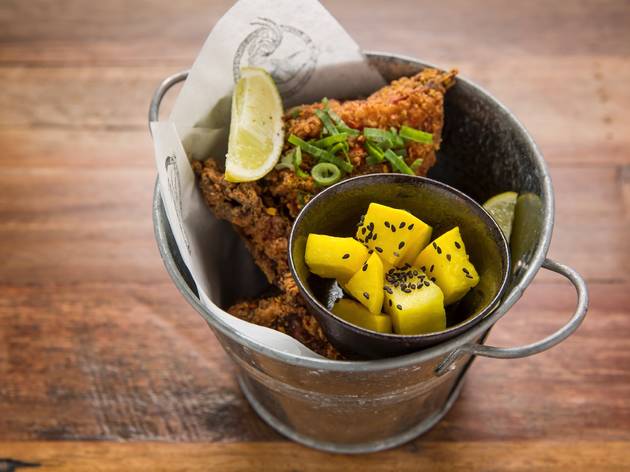 4/9
Photograph: Anna Kucera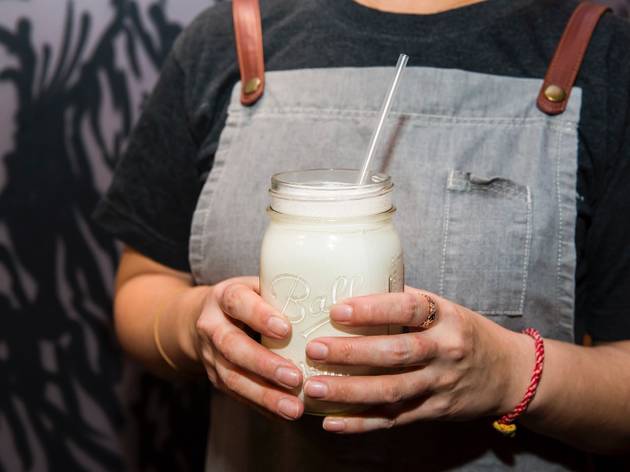 5/9
Photograph: Anna Kucera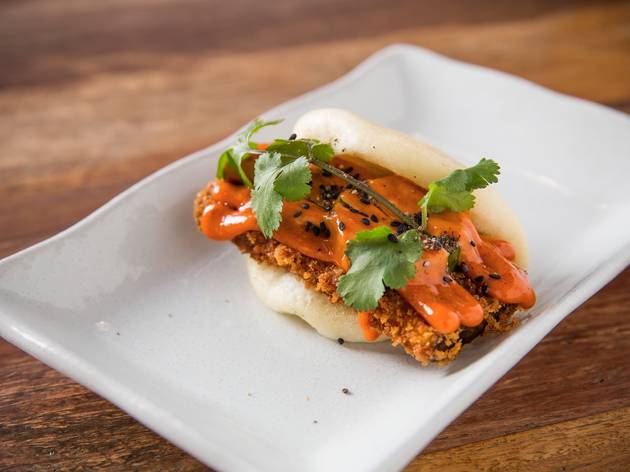 6/9
Photograph: Anna Kucera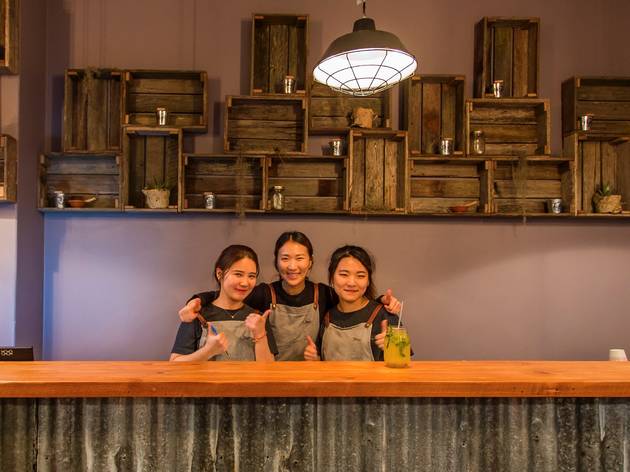 7/9
Photograph: Anna Kucera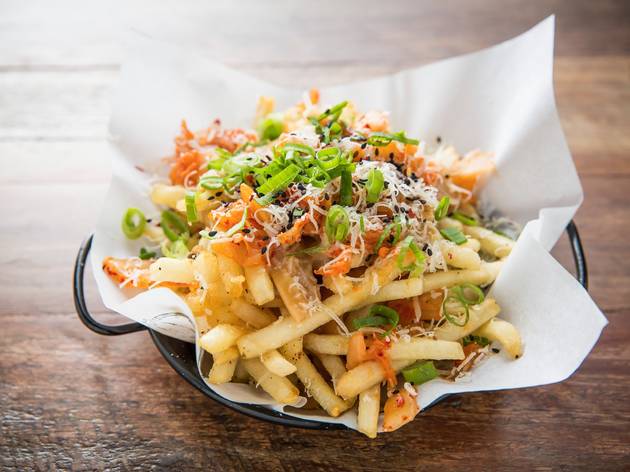 8/9
Photograph: Anna Kucera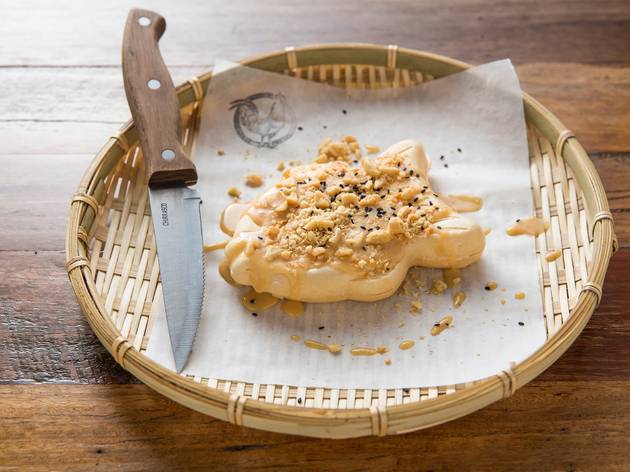 9/9
Photograph: Anna Kucera
A Korean perch is schooling Surry Hills in the ways of fried chicken
Don't let the name fool you. Chicken Institute is not a chicken-only butcher in your local shopping centre, nor is it a school for poultry upskilling. It's a Korean restaurant on Fitzroy Street serving up the surprisingly excellent combination of fried chicken in buckets, bibimbaps and milkshakes.
Fried chicken is definitely the star here. You can have it four ways, but if texture trumps dressing every time, you're going to want the original recipe. Half a dozen chicken portions arrive in a perfectly seasoned, crisp batter spiced with chilli flakes. A good squeeze of lime over the top and little cubes of luminous yellow pickles on the side makes fast food taste fresh and zesty.
If you're going to be eating fried chicken out of a pail, you better be chasing it with a frosty Hite lager or an Asahi – this right here is the good life. Of course, if your fidelity to Australian craft brews cannot be swayed, they've got Little Creatures and Stone and Wood. For more boozy capers they have a South Korean sake on the menu as well as plum wine, and if you don't like the sound of an Adelaide Hills shiraz or pinot gris from Marlborough they do BYO wine for $3 a head.
Or just forgo liquor entirely and order a super sweet, frothy coconut and honeycomb milkshake – a dessert to accompany your dinner instead of following it.
Forget duck or roast pork. Here the pillowy, steamed buns cuddle crumbed, tender crescents of eggplant dressed in a chilli mayo with slender quick pickles, coriander and black sesame seeds. Score one for the vegos! We'd double down on these guys instead of the kimchi poutine next time. It sounds like a gutsy take on a glorious Canadian invention, but the reality is a timid challenger.
The plant-based points keep stacking up when you order the bibimbap. Each ingredient is tucked in beside the next like a nutritious rainbow. There's shredded purple cabbage, carrot, and zucchini, green onion, bean sprouts, kimchi and slices of shiitake mushroom surrounding a hillock of pearl barley and sticky red rice. It comes crowned with a soft fried egg and dressed in a fiery, fermenty chilli sauce. And what do you do when faced with such carefully constructed order? Mix the whole thing together, joyously destroying order to create delicious chaos.
You should definitely book. Chicken Institute is already crazy popular and you don't want to sit out in the back courtyard when you could be perching on tiny seats along the inside bench of this simple, wooden dining room, hoeing into the best kind of KFC to a little Kanye.
The looming shell of the Hopetoun still casts a shadow on this corner of Surry Hills. But
4Fourteen
,
Vacanza
and
the Cricketers Arms
fight the gloom – and now Chicken institute has joined the fray there's way more light than shade.
Venue name:
Chicken Institute (CLOSED)
Contact:
Address:
61 Fitzroy St
Surry Hills
2010

Opening hours:
Tue-Sun 5-10pm