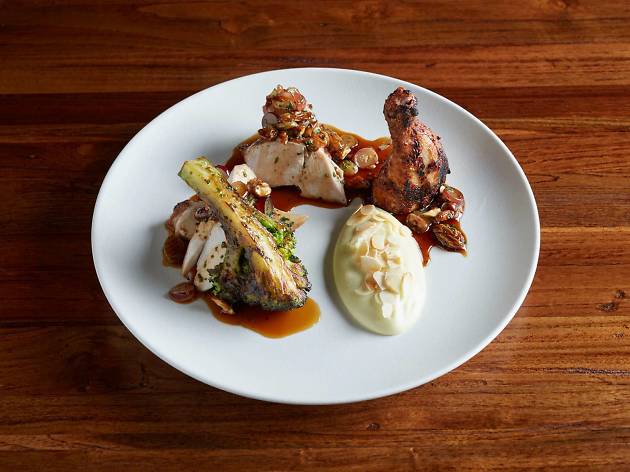 Time Out says
City dining gets another winner with this large-scale, business-minded diner
The term 'corporate dining' doesn't exactly set your heart ablaze. So your expectations for District Brasserie – located inside Chifley Square, a ritzy shopping plaza down the suit-wearing end of town – might start low. Sure, everyone loves a Chinatown food court but eating at a mall restaurant below the offices of sober-sounding businesses like DBC Advisory, Equities First and Adamantem Capital – well, that sounds less fun, doesn't it?
Raise your expectations, then, because the food at District Brasserie is really good and even contains a creative streak. Sure, the business crowd loves its steak and hearty red wines – and the menu delivers some leftfield takes without scaring anyone who likes food fairly straight. The tartare comes with a smoked onion crumble, confit egg yolk and tapioca crisp, while the steak frites is more conventional, but served with triple-cooked chips seasoned with kombu and rosemary. But you can have a fine time at District Brasserie by skipping the steak-eating business lunch clichés (although, go straight ahead, if you feel like shelling out $98 for cote de boeuf or $415 for Pommery Louise Champagne).
The crumbed flathead with pomme Anna is a wry version of fish and chips: the crunchy fish pieces sit atop a crisp plank of beautifully layered potatoes, and are served with a bright-green pea mash and warm tartare sauce. It's comfort food that scores high marks everyone can interpret: a telltale scraped-clean plate (and a table-wide negotiation of the pomme Anna – the thin potato layers are so crusty, wonderful and hard to wave away). Burrata is often slopped onto a plate and lazily accessorised like a last-minute cheese patter; at District Brasserie, it's decorated with many riffs on heirloom tomatoes (dehydrated, blanched, raw, or confited), as well as olive-dust crisps, an olive oil and tomato consommé jelly and a light snowfall of basil powder. So, not your usual tomato salad.
When you see the ricotta gnocchi comes with 'truffle oil', you might back away from ordering it. Good news, the dish isn't dressed in that screechy, overly synthetic truffle oil that can ruin anything it's drizzled on; it's actually a subtle house-made vinaigrette. The rest of the dish makes its point in a bold, satisfying manner: the cloud-like gnocchi is teamed with an ultra-flavoursome mix of sautéed mushrooms, a green flourish of purslane and nasturtium leaves, and Jerusalem artichokes that've been steamed in their skins, crushed and fried again – so they're super crusty and a knockout to eat.
The strong menu by Mark Knox (Black, Public Dining, Est) is let down by scattered service – wait staff can be friendly when they turn up, but can also easily forget you within the 200-seater breadth of restaurant. And a kind gesture of complimentary house sourdough is slightly undone by the fact it's cold; luckily, the bread has a good tang and chew that still translates. And while Paul Kelly's design has lots of glitzy, warm touches (it does feel like a NY-style brasserie), it's tricky to erase the unromantic view of scrolling ads from the mall outside.
There are no complaints, though, about the lemon verbena cream dessert, with its sparkling moscato granita, sticky almond praline and white peach pieces poached in a raspberry syrup until they turn rhubarb-red. This is how to do business.
Details
Address:
Lower Ground Floor, 2 Chifley Square
Sydney
Sydney
2000

Contact:
Opening hours:
Mon-Fri 7am-late
Best selling Time Out Offers