Dopa Donburi and Milk Bar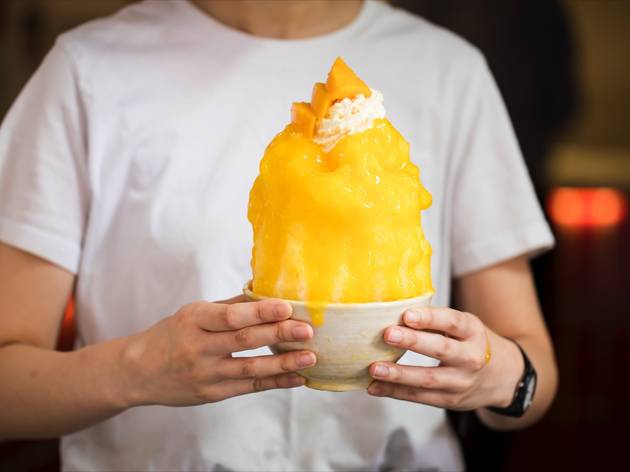 1/20
Photograph: Anna Kucera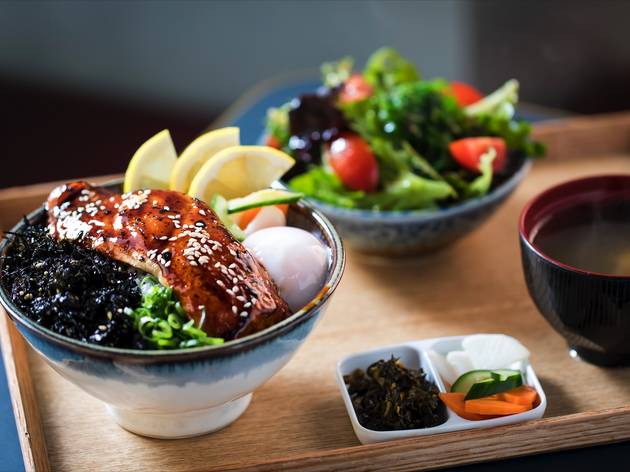 2/20
Photograph: Anna Kucera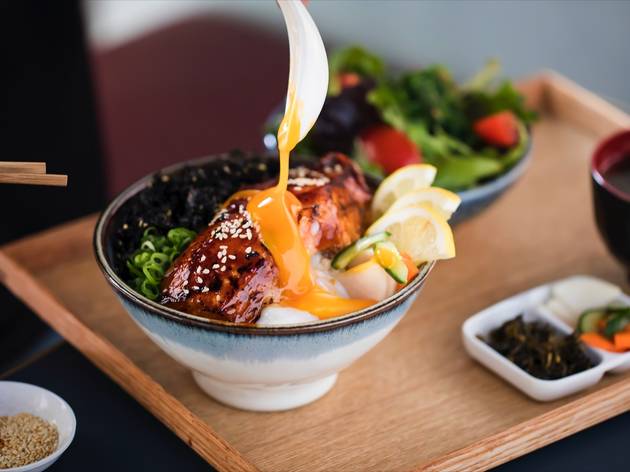 3/20
Photograph: Anna Kucera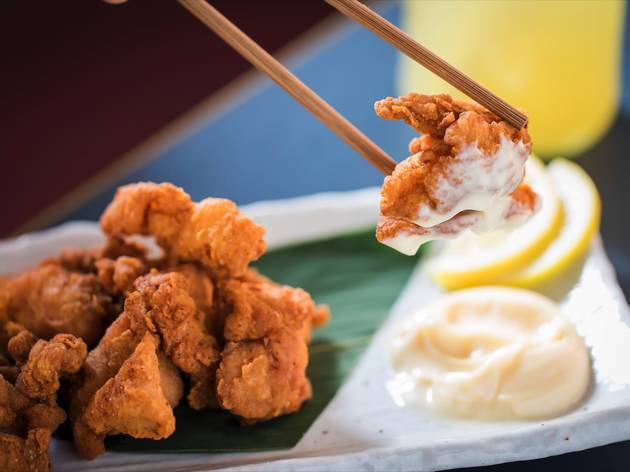 4/20
Photograph: Anna Kucera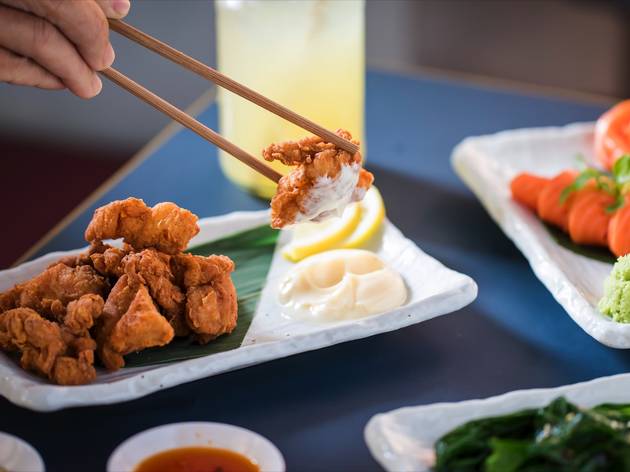 5/20
Photograph: Anna Kucera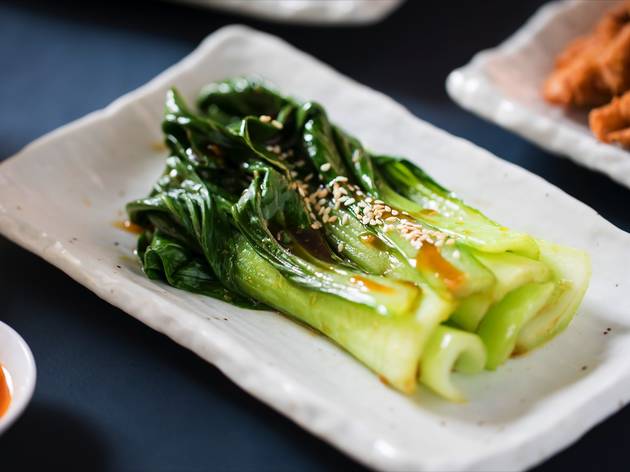 6/20
Photograph: Anna Kucera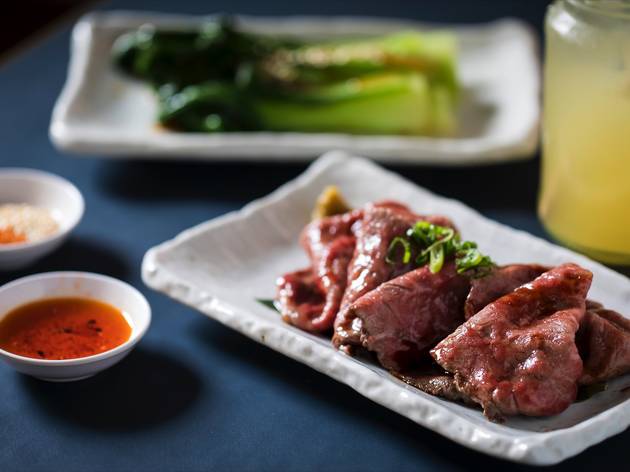 7/20
Photograph: Anna Kucera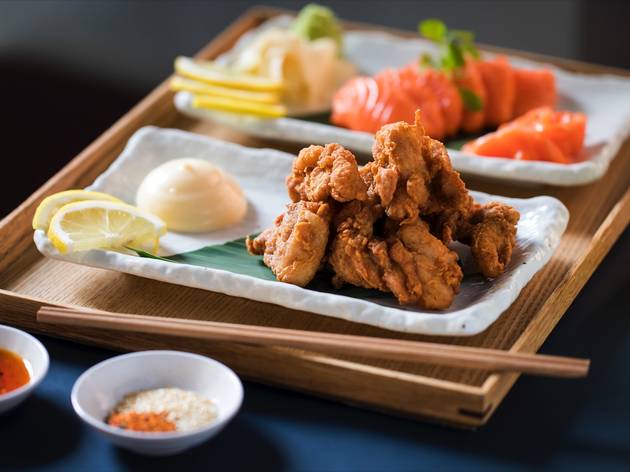 8/20
Photograph: Anna Kucera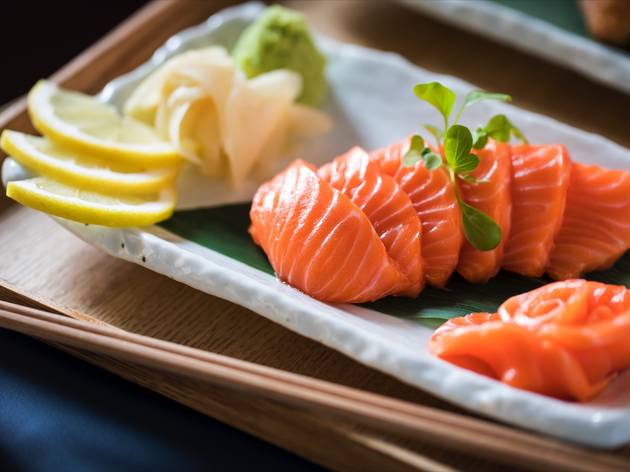 9/20
Photograph: Anna Kucera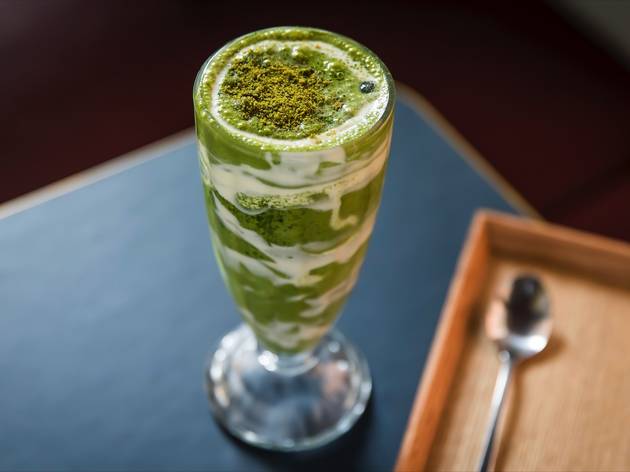 10/20
Photograph: Anna Kucera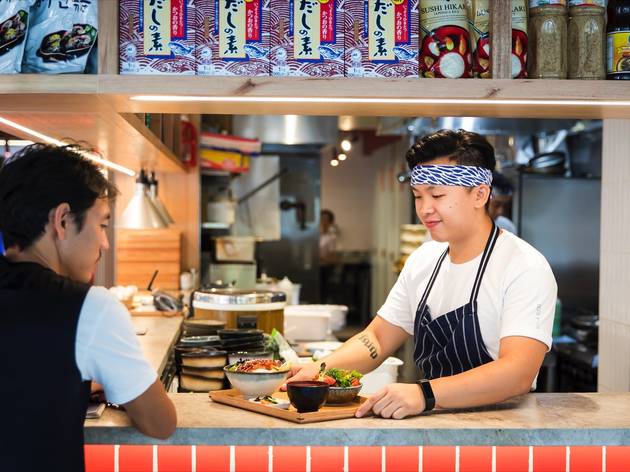 11/20
Photograph: Anna Kucera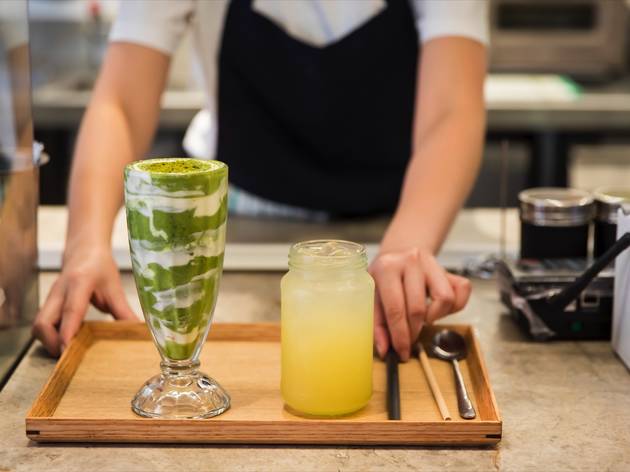 12/20
Photograph: Anna Kucera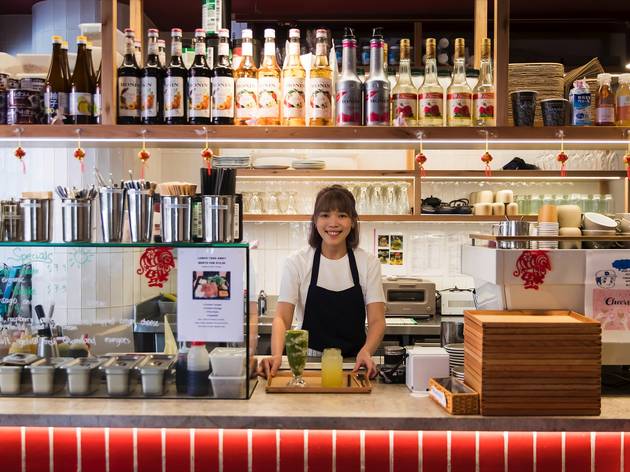 13/20
Photograph: Anna Kucera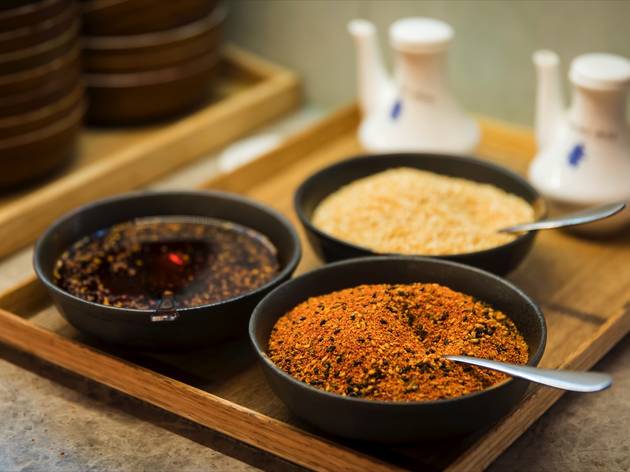 14/20
Photograph: Anna Kucera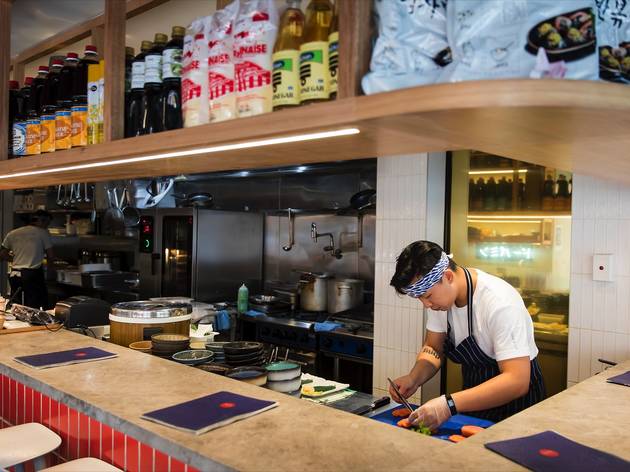 15/20
Photograph: Anna Kucera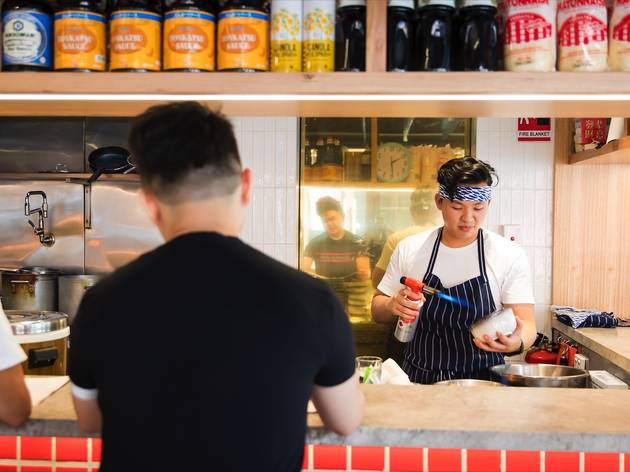 16/20
Photograph: Anna Kucera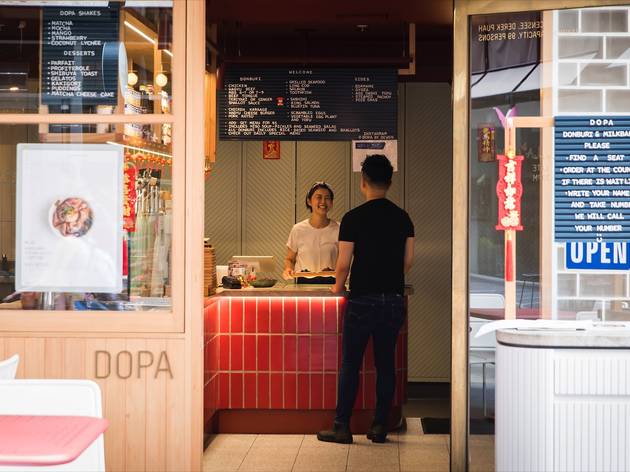 17/20
Photograph: Anna Kucera
18/20
Photograph: Anna Kucera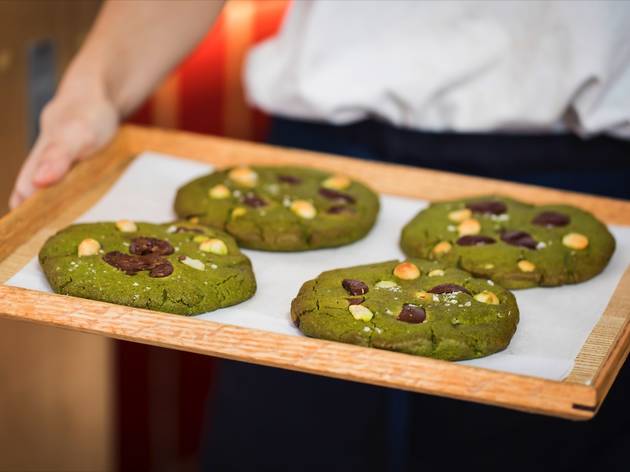 19/20
Photograph: Anna Kucera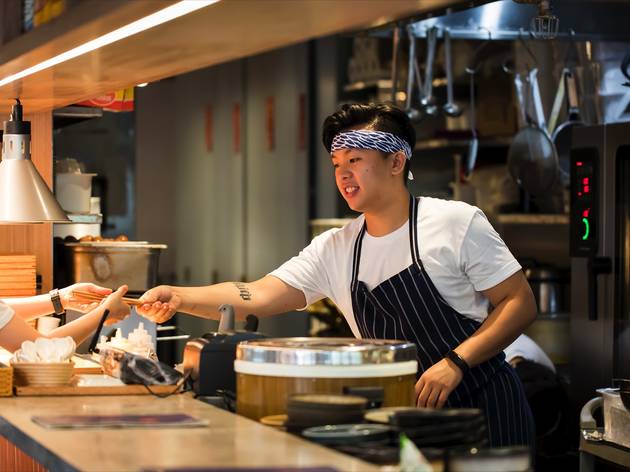 20/20
Photograph: Anna Kucera
Time Out says
Be prepared for your sweet and savoury cravings to butt heads like never before at Dopa, a fun and action-packed Darling Square milk bar
Yep, Dopa's short for 'dopamine', and it's a clear sign that Devon boss Zachary Tan is aiming squarely at our nucleus accumbens. He established his penchant for luxury-grade café fare with Benedicts and croissants at Devon's Surry Hills café (and subsequent Barangaroo and North Sydney siblings), but Dopa is all about the afternoon treats, featuring the sweet visions of collaborator Markus Andrew alongside Tan's donburi bowls and other Tokyo-style snacks.
Dopa is at once both retro and futuristic. Bar stools, timber and rounded edges remind us of a childhood milk bar, but set amongst the colourful lights and shiny surfaces at Darling Square, it feels like Back to the Future dressed in manga. Counter service means you'll be jumping up and down to collect your own food, cutlery and drinks from different stations, and your wait in the queue depends heavily on how indecisive the people in front of you are. At least you can entertain yourself by watching the bar team whip up towering strawberry sundaes, plates of matcha-lashed profiteroles and glimmering bowls of kakigori – a dessert of shaved ice, syrup, fruit and ice cream. Order it first if you're worried about saving room.
Donburi is not so much the star as it is most of the cast here – the menu boasts more than 20 rice bowl options, ranging from classic karaage chicken to high-roller fixins like urchin, Wagyu and foie gras. Your menu opens with a map of where ingredients hail from, a great indication of the behind-the-scenes effort poured into sourcing. The grilled salmon don is a winner – the generous cut of fish is ultra-fresh from Big Glory Bay, NZ, and the charred flesh matches well with Dopa's crunchy, almost-sweet seaweed mix. Stir in the satin-like onsen egg, and you're in serious business. Order your don as a set, and you'll also receive a nourishing miso soup, simple mixed leaf salad and potent little pickles, all beautifully presented on the little wooden tray and worth the extra fiver.
It's possible to order almost every menu element as a side dish, too, so why the hell not get a little plate of scrambled eggs, or add a little urchin surf to your Wagyu turf? Nothing beats lining up a landscape of dishes to hop between with your chopsticks. Plant-based eaters be warned – you won't see many (V) signs on Dopa's menu, and the simplicity of options like steamed pak choi and tofu plays second fiddle to the meat party.
About half the crowd is here strictly for the sweetness, and it's not hard to see why. Other than the cubic tonne of matcha that the venue must belt through weekly, seasonal fruits provide a thinly-veiled impression of balance to the sugar extravaganza. The shakes are thick, full-fat, dusted with cookie crumbs and yet don't get too sickly. For best results, order one on arrival. The monstrous kakigori is ideal for sharing on a hot day – actually lighter than it appears, thanks to its deep, refreshing layer of shaved ice and mango.
The Devon empire has succeeded by filling a crucial gap – offering casual, beautiful menus that strike a chord with both the young international student crowd and Sydney's local foodie scene. Dopa has successfully expanded this formula with its formidable dessert offerings and afternoon snack appeal, and fills us with an undeniable urge to keep visiting and tasting our way through the rest of the menu every time we're a little low on dopamine.
Details
Address:
Shop 5-6
2 Little Hay St
Haymarket
2000

Contact:
Opening hours:
Sun-Thu 11am-9.30pm; Fri, Sat 11am-10pm
Best selling Time Out Offers