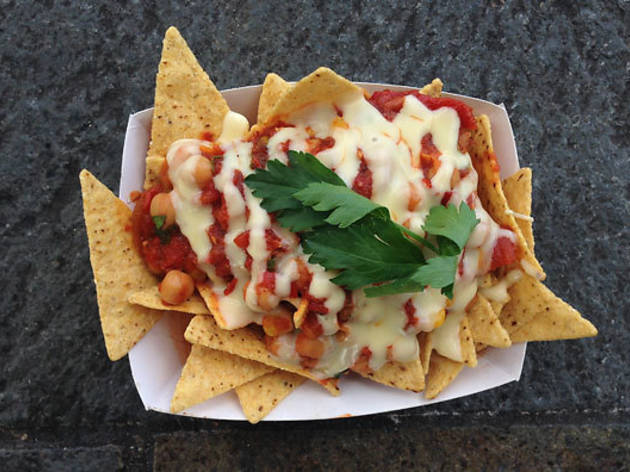 Time Out says
Culture and sangers collide at this American-style food truck
Before the same guys opened Middle Eastern restaurant Thievery in Glebe earlier this year, Eat Art Truck had been roaming our streets for a couple of years already, serving up American barbeque eats like pulled pork rolls and Tex-Mex nachos. But today, now that you can barely escape a menu without some kind of meat being "pulled" on it, is food like this still hitting that sweet spot?
Find out where the truck is up to a week in advance via the Sydney Food Trucks app. On the menu when we visit are the predictable pulled pork and pulled beef rolls, but there's also another one on there that goes against the American theme of the van: a chicken tonkotsu bun. It comes as two big folds of flattened chicken breast fried in breadcrumbs until crisp (and sadly, a bit dry). These are then stuffed into a warmed white hotdog bun with red cabbage slaw, and a drizzle each of mayo and sweet tonkotsu sauce. The coating goes limp very quickly, so eat this guy fast. As long as you do, it's a pretty solid meal in one.
But we say order the pulled beef brisket roll, which is one of the best around. The tender meat is tossed in a paprika-dense hot sauce so that it tastes almost like shredded, beefed-up chorizo. It's greasy and salty and really packs a punch flavour-wise, and heaps of it is stuffed into the roll, along with more of that slaw and some sweet onion mayo action to boot. It's pretty damn delicious: imitators be warned.
The nachos here are the veggie option, and are covered in a generous layer of chickpeas and sweet corn tossed in a well-seasoned, spicy tomato sauce, topped off with a squiggle of cheese sauce. It's simple fare, and although you can order it on its own for $5, it's also only $3 extra to add it as a side to your roll, along with a soft drink. We say make a meal of that sandwich and go for it.
While you're munching, have a wee wander round the truck itself to check out their latest commission. The guys behind the business organise for different artists to decorate their truck, the resultant works being collected and sold off for charity on a regular basis. Past commissions include the work of on-point street artists like Phibs, Skulk and Pencil Jedi. Tasty eats with a little kulcha thrown in on the side? Now that's a lunchbreak.
Details
Best selling Time Out Offers