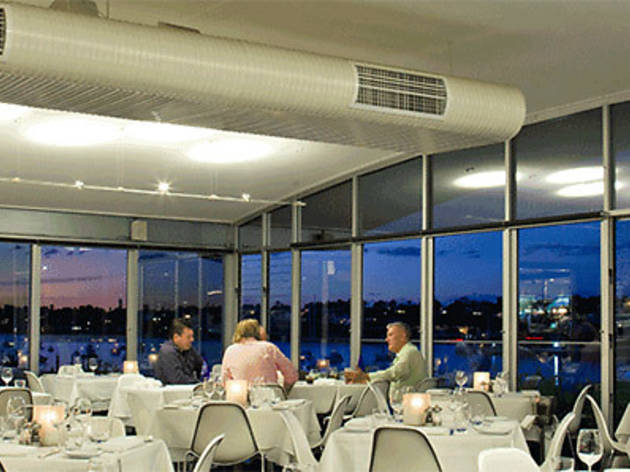 Time Out says
A classic Italian menu in classic Sydney surrounds
Rivers of rainwater are running down the tiles at the Drummoyne Sailor's club, but the luminous Ecco sign shines out of the murky darkness like an Italian beacon of hope. The waiters take our sodden things, hand us a pile of cloth napkins to mop up and put drinks in our hands before anyone can gurgle "aperitivo". The room is large, light and airy by day and bathed in a subtle candlelit glow by night. Sections of it look custom-built for functions (something they specialise in) but there's plenty of room to stretch out amid the heavy white cloth surrounds.
For the most part, Ecco is a smooth operation. Where it falls down is a series of absent-minded errors – a side of broccolini is so al dente it seems it only butterfly-kissed the steamer, and although the almonds are advertised as toasted, they stood up the sauté pan and come to the party nude and chewy.
The menu, while classic and simple, could do with a spit and polish. These guys have been in business for 13 years – makes you wonder why they don't have seasoning down pat. Take the quail, for instance – deboned, stuffed with pork sausage and served with smashed cannelini beans (those creamy white beans you often see in Italian dishes) and braised cavolo nero (a dark, bitter green). All the elements are there but it falls flat because of unsalted meat. The same goes for the abbachio alla romana (milk-fed suckling lamb, wet roasted with white wine and plenty of olive oil) – this dish should by all rights be succulent and more-ish. Instead, it's like eating empty protein.
The pasta hits a bullseye. Orecchiette (that pasta shape that looks like inverted belly buttons) comes with a homesy style sauce of spring peas, tomato ragu and pancetta. The sauce is rich but doesn't overpower the pasta and it all works harmoniously.
For dessert, a fluffy, creamy zabaglione (an Italian custard, whipped to an inch of its life and spiked with marsala) sits on a bed of chestnuts and is served with a cluster of tiny, sugared doughnuts. Light as air, it's like eating mouthfuls of cloud. The quince and apple crumble with its biscuity, crumbly powder-like crust with vanilla gelato is a winner, too.
While there are hiccups here, there's also lots to like and there's no shame in double entrée-ing. It's a lovely, clean-lined, stylish space, the water views on a clear day are stunning and the service is great.
---
Details
Address:
2 St Georges Crescent
Drummoyne
Sydney
2047

Contact:
Opening hours:
Lunch; Thu-Fri & Sun 12-3pm<br/> Dinner; Tue-Sat 6pm-10pm
Best selling Time Out Offers