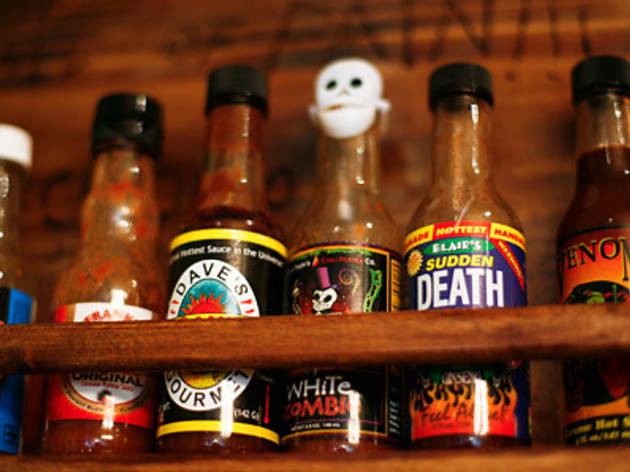 Time Out says
Never mind the burritos, here comes the hot sauce
Casual, rustic and rambunctious, this Glebe Point Road favourite is full to bursting with locals after burritos, tacos and cheesy dip. The glassware leaves something to be desired – the wine glasses are thick and cumbersome with a hare lip rim that makes them hard to drink out of and any ideas of sitting comfortably (the squat tables and chairs are all bundled tightly in together so searing hotplates and salt crusted margaritas are constantly being passed overhead) are immediately dismissed once you're seated.
But while the space is a bit cramped at the height of dinner service, it thins out later in the evening which means you can make room for your massive belly which'll no doubt be filled with chimichangas (a type of fried tortilla). Ours is filled with pulled pork – yum. Speaking of food, don't go too hard too soon and avoid eating too much melted cheese (queso fondido) first up – tomato salsa is melted with heaps of cheese which you scoop up with house made corn chips – incredibly moreish but also incredibly filling.
The servings are all generous and great for sharing – you'll want to get around two or three for four very hungry people and stick with beer or tequila – wine is a waste of time with this type of spicy food. They do all the usual crowd pleasers like nachos and tacos but we're more interested in the build-your-own Flying Fajitas – a house specialty – with spiced rice, black beans and seared prawns or the burritos filled with rice, beans, beef and onion.
To take things up a notch, look to the restaurant's fourth wall. Little cameos of Frida Kahlo, chunky crucifixes and tin framed mirrors line three of the brightly coloured walls while adorning the fourth is a cabinet filled with the most deadly hot sauces known to man. Approach with extreme caution – they're not your common or garden variety – they're so hot you'll feel like you've rubbed your tummy with Drano. If in doubt about which one to pick, ask one of the brightly dressed waitresses: "Anything with the words hell, burning or death are pretty good indicators" she tells us. You can also buy them from the restaurant if you take a particular fancy to any of them (we took home a bottle of the Widow Maker, complete with plastic spider on the label).
Desserts are forgettable – the Mexican Brioche translates to sweet bread with lumps of caramel and rancid pecans smattered throughout and the coconut crème brulee is fine but not interesting.
These guys are going to go great guns in Glebe. With plenty of food for cheap (not to mention the awesome range of hot sauces) they've got the goods.
---
Details
Address:
65 Glebe Point Road
Glebe
Sydney
2037

Contact:
Opening hours:
Daily 5pm-late (Saturdays during summer noon-late)
Best selling Time Out Offers