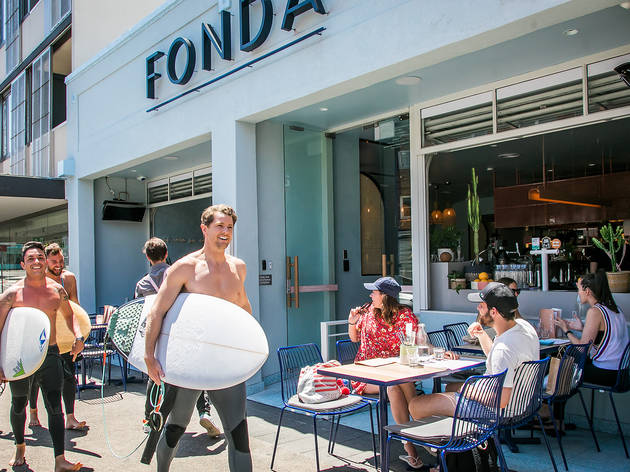 1/9
Photograph: Anna Kucera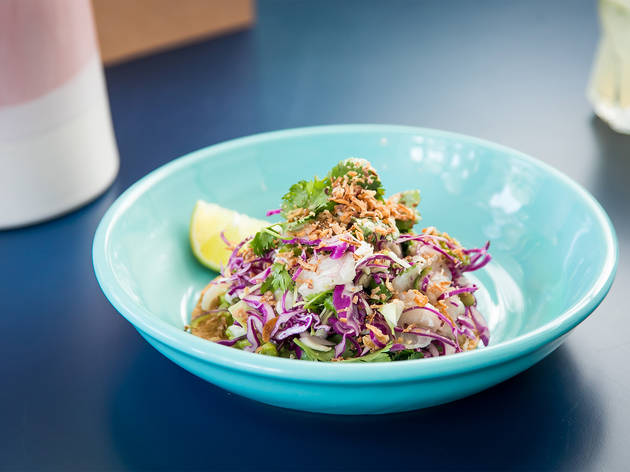 2/9
Photograph: Anna Kucera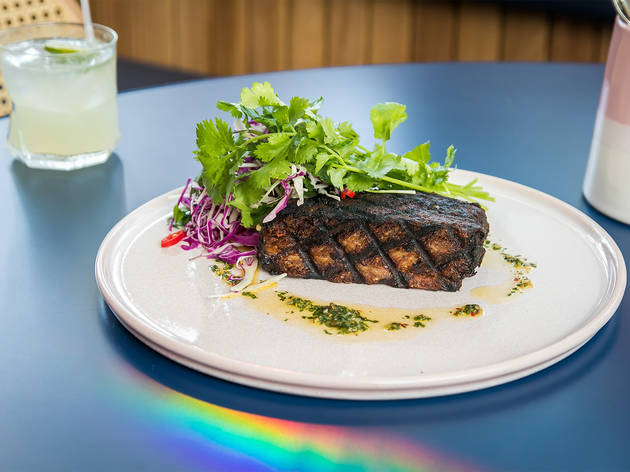 3/9
Photograph: Anna Kucera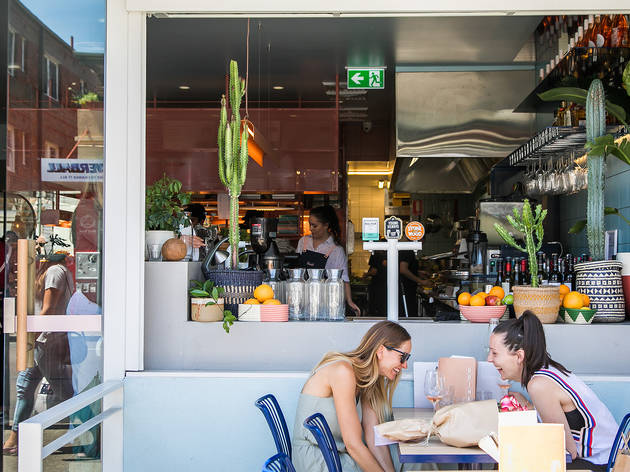 4/9
Photograph: Anna Kucera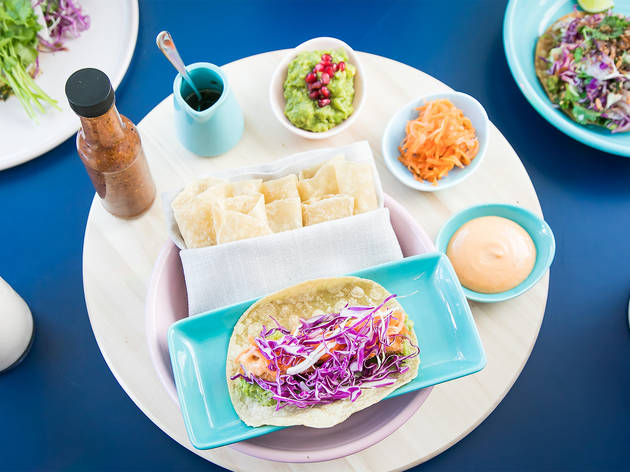 5/9
Photograph: Anna Kucera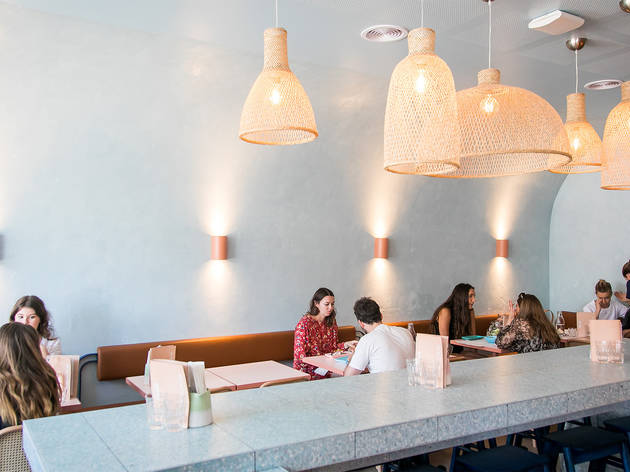 6/9
Photograph: Anna Kucera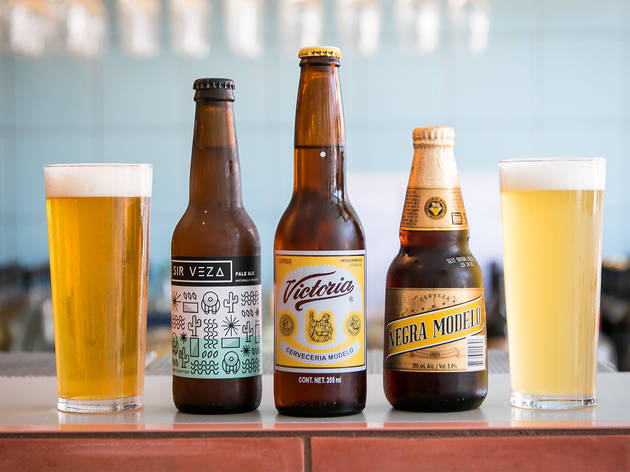 7/9
Photograph: Anna Kucera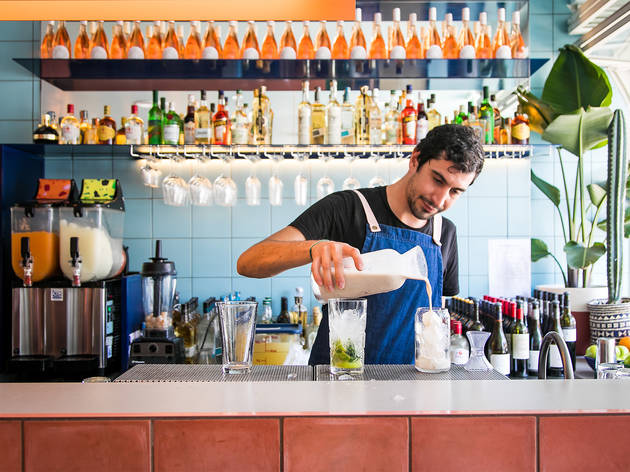 8/9
Photograph: Anna Kucera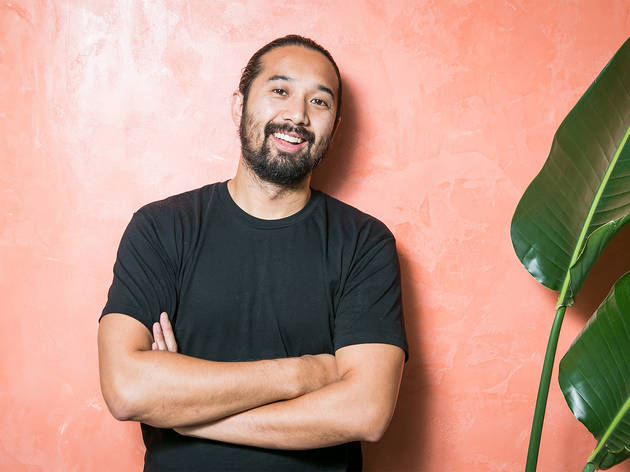 9/9
Photograph: Anna Kucera
Time Out says
New wave Mexican dressed by Palm Springs is Bondi's latest scene
Melbourne's new wave of Mexican venues saw Fonda's bring sunny, holiday dining to Richmond, Windsor, Collingwood and the CBD. Now the momentum of that tequila-powered breaker has rolled all the way to Bondi's golden shores for the first Sydney edition, and it's already trending.

In fact, weekend wait times have been reaching the two-hour mark, so consider dining at 6.30pm on a Monday. At that sedate hour you can walk right in, sit down and order a jalapeño kombucha Margarita (#Bondi). Orange juice and pomegranate give it a tropical sweetness, but the extra sour quality from the fermented tea, combined with gentle, insistent heat from the fresh jalapeño slices makes this a worthy remix of a classic Margarita.

What wrapping would you like your rock ling to arrive in? Would you like the crunchy, fried fish pieces as a soft taco in a corn tortilla with guac, pickles, aioli and lime? Or would you prefer it swaddled tightly as a burrito with added cabbage, quinoa and black beans? Like many Mexican offerings in Sydney, at Fonda it's a case of the same ingredients assembled in different orders so you don't have to think too hard about anything.

Raw fish comes as a tuna ceviche bowl and a salmon poke, but the kingfish ceviche on a tostada reigns supreme. It's our pick of the whole menu, in fact. Although it arrives with toppings piled on a crisp base, simple physics means you cannot eat this as you would a piece of toast. Break up the crunchy tortilla chip so that each bite is a texture party of soft, just-cured kingfish, the snap of raw cabbage, crunchy pepitas and chilli heat.

Sweet potato quesadillas have a comforting carbiness that is at odds with the rest of the menu, and the vibe of the place in general. All those blonde top knots, catalogue-ready families and date nights are here for easy drinking sessions and food that makes you feel like you're in an Instagram destination shot. The ochre pink and pale blue colour scheme support the mirage, conjuring visions of the red rocks and blazing skies of the Colorado Desert. The extremely friendly service, including name introductions and enthusiastic table clearing, also feels like it's taking its cues from the US.

Treating it like a two-hour minibreak is actually the best way to approach Fonda. Gather a group and slide into a booth for afternoon drinks and snacks you can eat with your hands. That's when to order a four-person share plate of 300g of yielding beef rib that you can pack into delicate flour tortillas with guac, a chilli spiked cabbage salad, pickled grated carrot and chipotle aioli. But approach the chimichurri with caution: your first pour is at risk of being an oil slick instead of the zippy herbal topping you were expecting.

Hot nights, cold drinks, party food and your best white T-shirt is the right pace and approach for this new Bondi scene that has landed just in time for a summer of fun.
Details
Users say