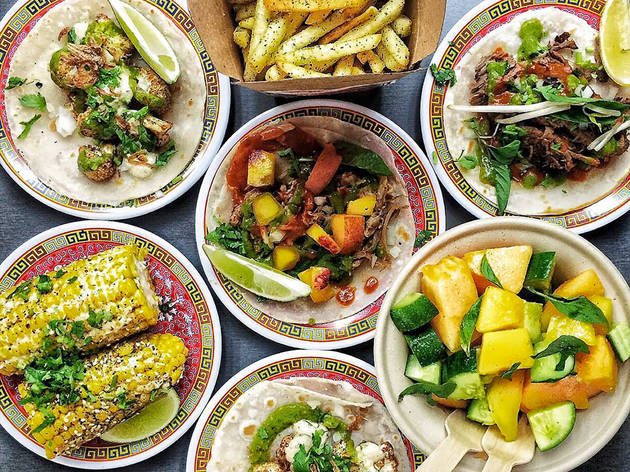 Time Out says
[CLOSED]A taco party has made its way to Chinatown
[CLOSED] When you wander into Chinatown's Dixon House Food Court, you're greeted immediately with the charcoal-dense, seafood-infused, spice-rich smells of an Asian market. Your appetite aroused, you want to eat something that reflects what you're already breathing in. So what is a taco stall doing here?
Ghost Boy Cantina is the brainchild of Wedge Espresso owner/barista, Toby Wilson. Tacos are around $5 each, and are pretty small, so you're going to need at least three per head, plus sides for dinner. Which means this is not as cheap an eat as you might hope. Try the pork number. The meat is tender and shredded, tossed in a light salsa, and served with pieces of (under ripe) peach and Thai basil. The wraps are not your usual Mexican fare, instead they use the Chinese pancakes you get with Peking duck, which are so brilliantly chewy and soft we're set on throwing out our fajita wraps and just using these from now on.
The beef taco boasts bean sprouts for crunch and lots of Thai basil and coriander, and the vegan cauliflower option sees deep-fried cauli paired with cashew and macadamia cream, salsa verde and crispy shallots. They are both flavourful with good textural contrast, but neither sing with chilli or spice, which is a shame in an environment already humming with it. There's sriracha to heat things up or a sauce labelled 'chilli oil' that tastes shellfishy to us, but according to its ingredients only contains soybean oil and red chilli powder. Sometimes soybean oil itself can taste a bit fishy, so it could well be that.
The corn on the cobs come sweet and crunchy, rubbed with Kewpie mayo, sesame seeds and chipotle chilli. Order the shoestring fries – they're generously seasoned with seaweed salt. The 'salad' on the day we visit is a bit of a curveball. It's a mix of rockmelon, mango, cucumber and Thai basil, with the barest sprinkling of sesame seeds. It's refreshing but doesn't have a lot of flavour outside of the fruit itself – again, more sesame, salt and chilli could make this a fitting contrast to the rest of the food. As is, it just feels like dessert got served too early.
For nearby worker bees tired of Asian flavours (you maniacs) Ghostboy Cantina will offer welcome relief. All it needs is an amping up of spices. That and the willpower not order a tonkotsu ramen at Ramen O-San on the way in.
Details
Address:
Dixon House Food Court
413-415 Sussex St
Sydney
2000

Contact:
Opening hours:
Tue-Sun 12pm-late
Best selling Time Out Offers