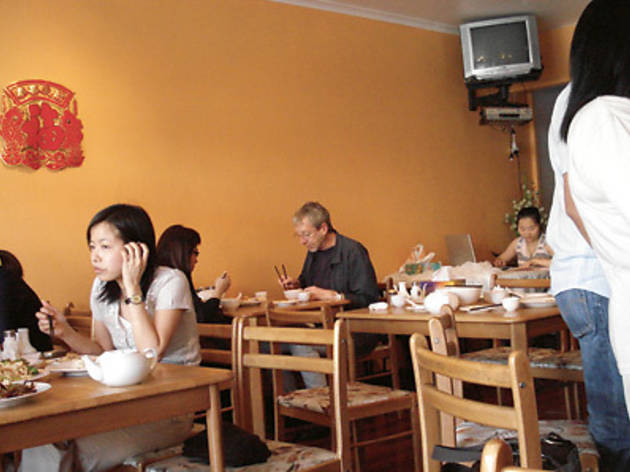 When your food gets served with disposable gloves, you know that things are getting serious. Relax. There's nothing kinky here. Each diner gets one when they order the boiled pork bones ($13.80), a mountain of assorted pork pieces simmered in aromatics. Abandon any notion of cutlery and get straight into it with your hands. It's a treasure hunt to get to the meat as you nibble, chew and suck your way through, but your plastic glove will help you maintain some dignity by the time you've finished. Maybe.
But then that's half the fun of Hong Fu – everyone is too focussed on their own food to care about what you're doing. The wood-panelled restaurant is fancier than most Chinese restaurants, filled with a mix of couples, friends and families. Every second table is busily hoeing into crisp slices of shallot pancake ($4.50) or plates heaped high with chewy ropes of stir fried hand-made noodles ($10.80).
The menu has a northeastern Chinese bent, characterised by pickled vegetables, called suan cai, that pop up in everything from stir-fried pork ($14.80) to stewed pork hot pot ($14.80) and pan-fried dumplings ($9.80).
Whatever you do, don't miss the toothpick lamb ($18.80). It's an impressive pile of miniature lamb kebabs painstakingly pushed onto toothpick skewers, heady with cumin and resplendent with dried chillies. You'll need to take mouthfuls of plain white rice as you go. Kick on with soft sticky pillows of deep fried eggplant ($14.80) or deep-fried battered prawns coated in a rich sauce of salted duck egg yolk ($28.80).
Venue name:
Hong Fu
Contact:
Address:
6/103 George St
Parramatta
2150

Opening hours:
Daily 11.30am-10pm
You may be interested in: