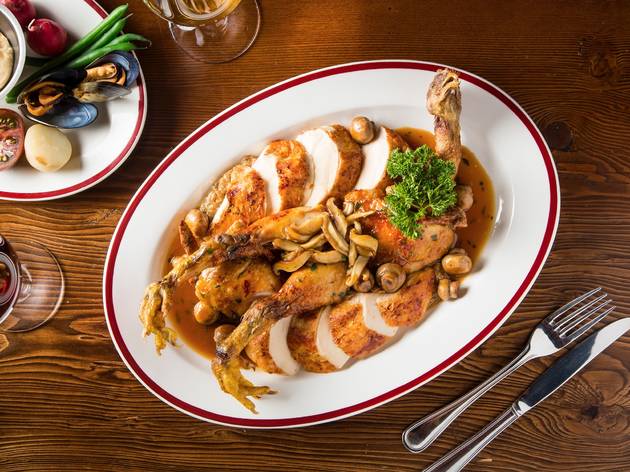 1/17
Photograph: Anna Kucera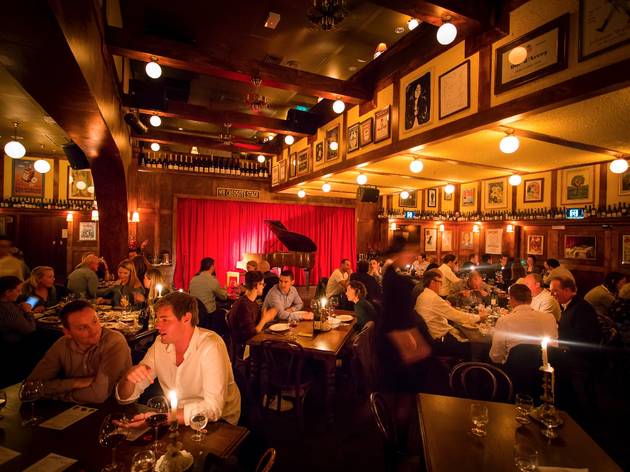 2/17
Photograph: Anna Kucera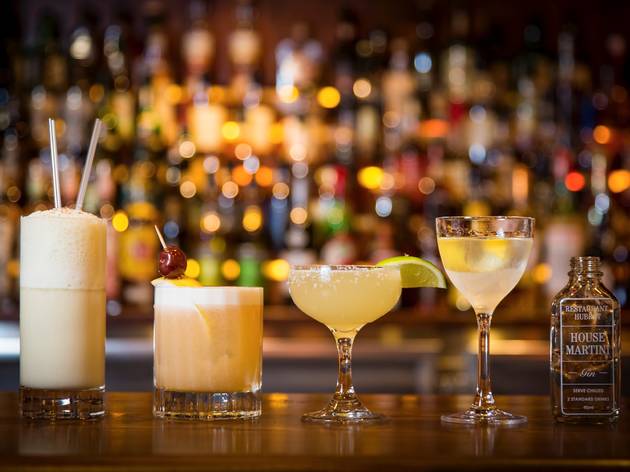 3/17
Photograph: Anna Kucera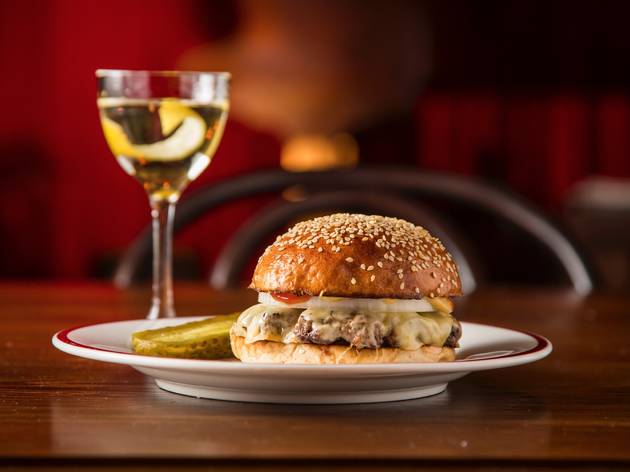 4/17
Photograph: Anna Kucera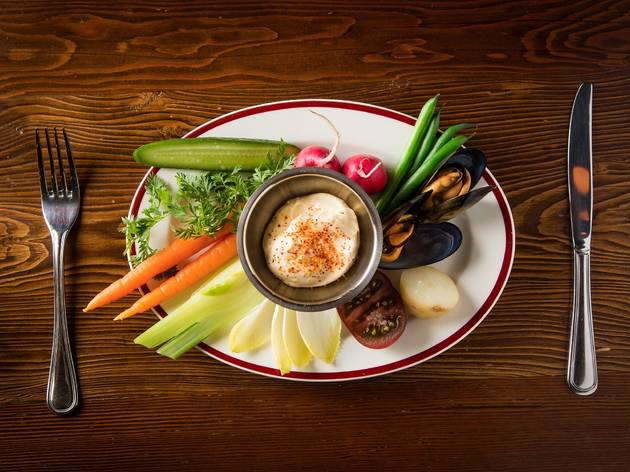 5/17
Photograph: Anna Kucera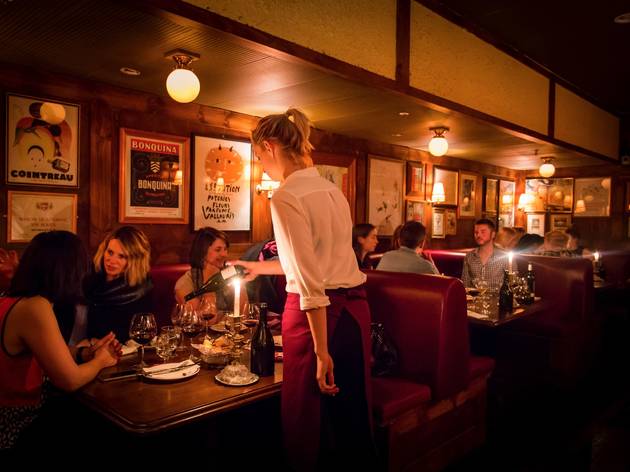 6/17
Photograph: Anna Kucera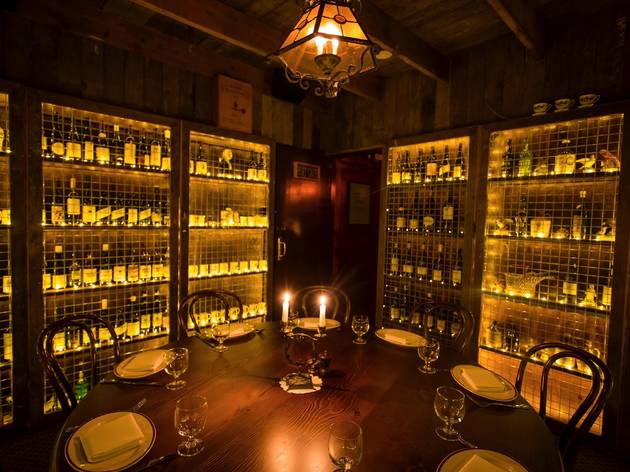 7/17
Photograph: Anna Kucera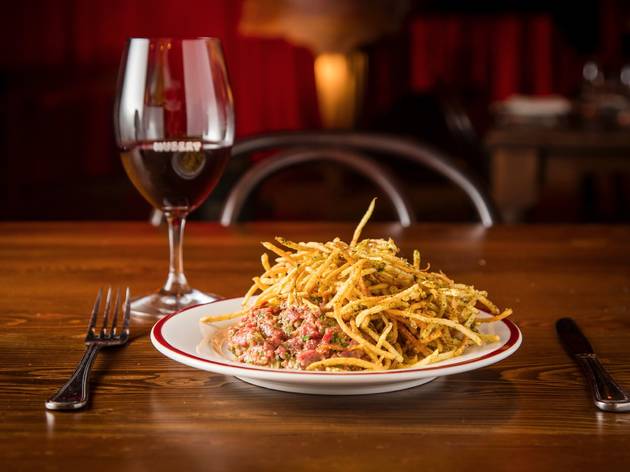 8/17
Photograph: Anna Kucera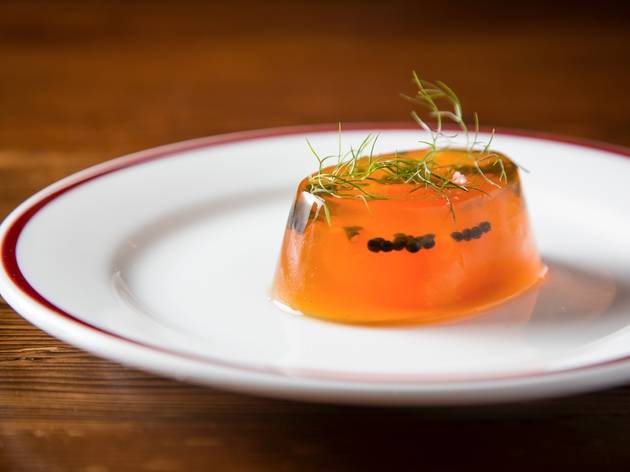 9/17
Photograph: Anna Kucera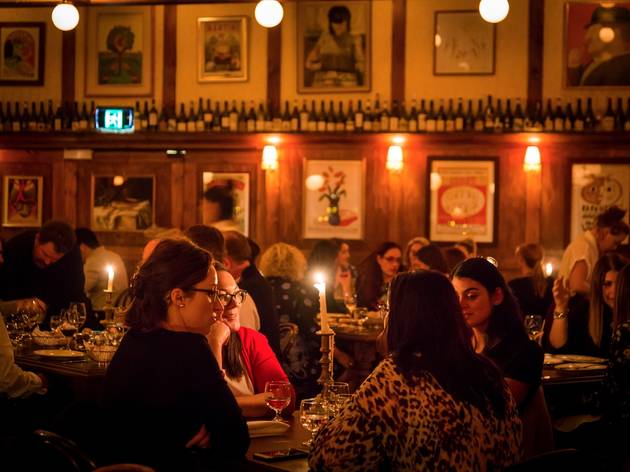 10/17
Photograph: Anna Kucera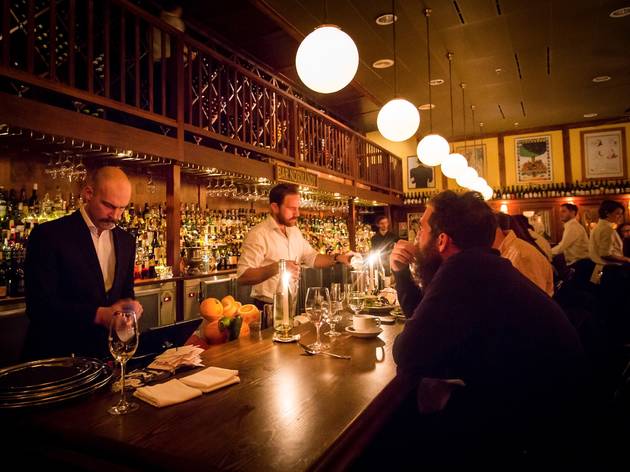 11/17
Photograph: Anna Kucera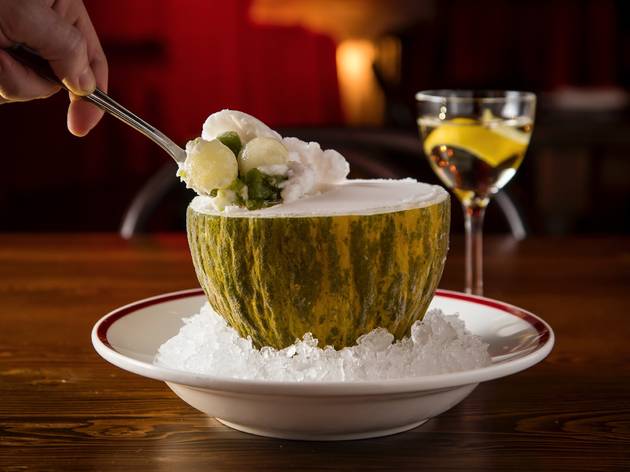 12/17
Photograph: Anna Kucera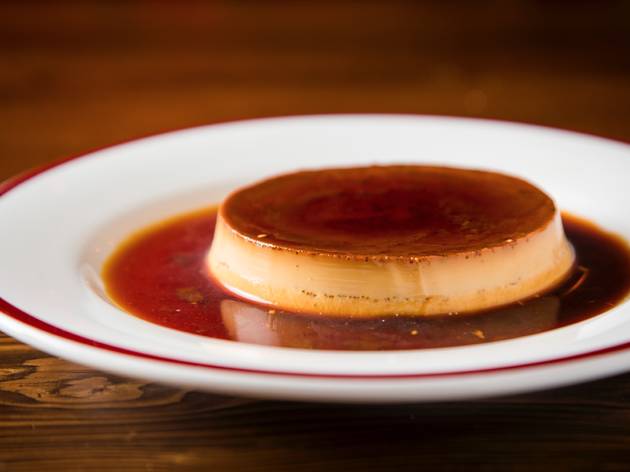 13/17
Photograph: Anna Kucera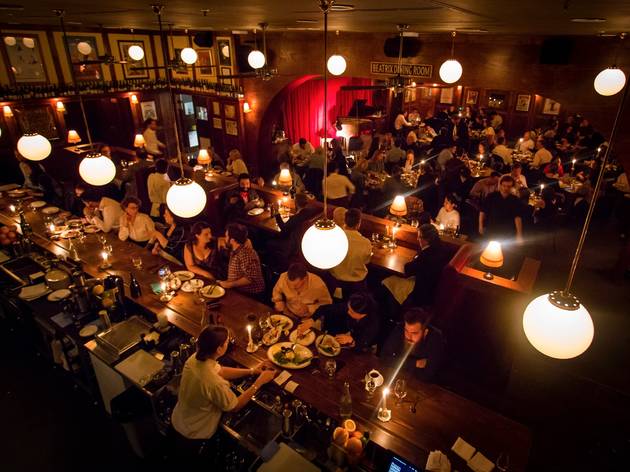 14/17
Photograph: Anna Kucera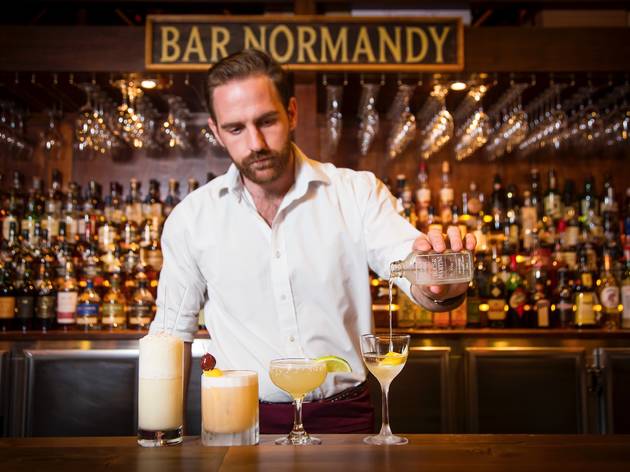 15/17
Photograph: Anna Kucera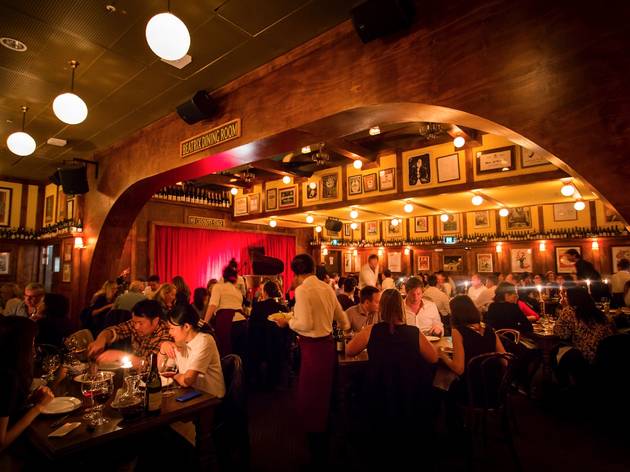 16/17
Photograph: Anna Kucera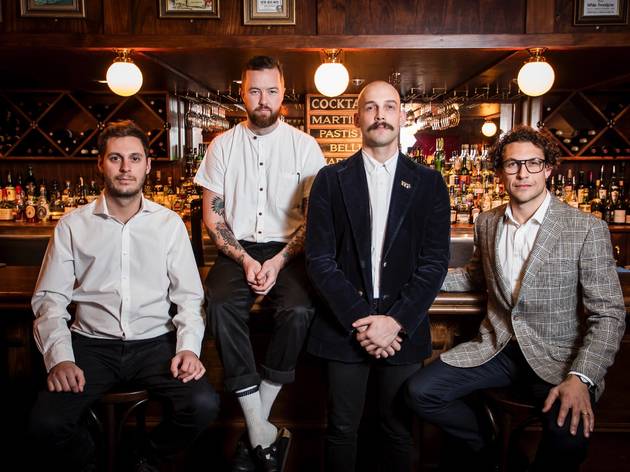 17/17
Photograph: Anna Kucera
It's Sydney's hottest new restaurant. Here's why you need to go
Gone are the days when the chicken was the thing not to order. Back then it often came dry and flavourless. Now, chicken's often the best thing on the menu. We now know how to treat a hen (extensive brining to ensure tenderness is a start). Here at Hubert, the Frenchified first restaurant from Sydney's favourite bar boys, the Swillhouse group (owners of the Baxter Inn, Shady Pines and Frankie's), the chicken is the go-to. That's what you get with one of Sydney's most innovative chefs, Daniel Pepperell (formerly of 10 William Street), in the kitchen.
But first, let us tell you about why this place, apart from the delicious food, is so amazing. As soon as you walk through the big wooden doors, you feel instantly detached from the outside. This is because they have excellent attention to noise control (acoustic ceilings and carpeted floors), which also means you can actually hold a conversation over dinner. Other Sydney restaurants, please take note. As you climb down two flights of stairs into the city's depths, it feels like you're walking back in time (Belle Époque? Post war Paris?). Your destination: a music-filled, candle-lit restaurant buzzing with people. There are wood-panelled walls, pictures everywhere with a Toulouse Lautrec-vibe, a grand piano ready to be played on a stage and two glorious low-lit bars, with intimate booth seating and bar stools to seat you late into the night (they're open till 1am). There's even a 100-seater theatre off to the side. This place has atmosphere in spades, even if the food wasn't good we'd be still be coming here for late-night drinks.
But luckily the food is good. Very good. Not only that, but it's really affordable – you could be in and out for under $50 pp for dinner. Getting back to that chicken (which is corn-fed, free range Holmbrae, by the way), it's served fricassée, but it's not the creamy, gloopy version you might have encountered before. Here you get the entire bird (head, feet and all) sectioned up and drenched in rich, tarragon-infused gravy, with porcini bread sauce, sautéed shiitake and confit button mushrooms. Every cut is soft as butter but the breast is staggeringly good: pillowy-tender and unfathomably juicy. Sure, it's a big serve – better for a group than a couple – but you can always take the remnants home for high class leftovers later.
The steak tartare is served with a pile of crunchy shoestring fries, the meat heady with mustard and ketchup. Or try the reprisal of 'œufs en gelée' – a soft, buttery egg yolk encased in popping trout roe, avruga 'caviar' and an umami bonito jelly that melts on the tongue. 'Le Grand Aïoli' is similarly, gloriously naff: a platter of blanched and raw veggies and some killer-good pickled mussels served with a bowl of garlic aioli for dipping. Or go some spicy, cheesy kimchi gratin, or a serve of the crisp-edged, butter-drenched Pommes Anna. Hell, go for the rabbit rillettes while you're at it – they're topped with Melba toasts, shaped like bunnies. Whatever you do, you're going go nuts for their baskets of soft, warm bread with salt-topped butter.
Cocktails are a must. Try a Pastis Fizz – a gently aniseed-toned number that's somewhere between eggnog and a boozy spider. The wines impress too – we love the Georgian Pheasant's Tears natural amber wine that's fermented underneath the Georgian desert in terracotta pots. It smells of honey but tastes dry and acidic. Try the Principiano 'Dosset' dolcetto from Italy's Piedmont for something juicier. Oh and did we mention that sparkling water is complimentary?
For dessert, the crème caramel is sadly more fudgy than silky, but we love the 'Melon en Surprise'. Remember those lemons filled with sorbet back in the 90s? This is that, but supersized. A half melon is topped with young coconut sorbet and filled with melon balls, sour, popping finger lime pearls and herbaceous, soothing sorrel and pastis jelly. It's an absolute joy.
Which this joint is in general, actually.
Venue name:
Hubert
Contact:
Address:
15
Bligh St
Sydney
2000

Opening hours:
Mon-Sat 5pm-1am
Price:
$$
Rating Breakdown
5 star:

0

4 star:

0

3 star:

0

2 star:

1

1 star:

0
After high reviews of Hubert..we descend the winding staircase to a warm underground candle lit Parisian esque restaurant and bar To a friendly maitre d who informs us kindly no reservations for parties under six, and an hour and half wait for a table for two....... !!
we decide not to spoil our appetites w the waiting bar menu.(against the enthusiastic recommendations from our drinks waitress), we choose only our company to soak up the $20 whiskey sours and the romantic sophisticated ambience for the forecasted long wait..... happy but not too soured we're finally taken to our 'table' at the 'other' bar..as only parties of more than two are seated at proper tables. There are some cosy booths which seem reserved but only for the lucky 'canards'. ....... .so we get to the food....... how do you say raw burger and large fries in French and a combo of minimal tasty dishes. Rich and overpriced but really just ordinary in my culinary experience. Underwhelmed.. oh but the creme caramel ordered by the couple next to us looked exquisite. But I was too damn full at this late hour Next time ..... maybe.....on a Wednes/Thursday night when the musicians are invited
Excellent, love this place. Great food, drinks, service and atmosphere. Been there a number of times, as a couple and big groups. always great.