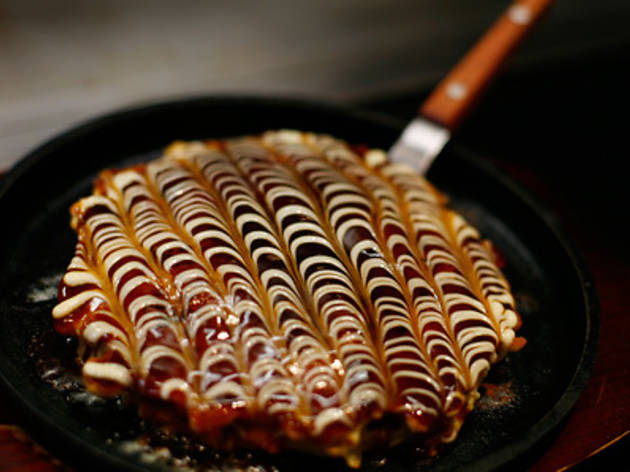 Get ready for a double dose of noodle goodness
There are a pair of sandals at least two sizes too small next to our table. "These aren't for what we think they are, are they?" we ask, eyeing off the little wooden shoes. "Oh yes, the bathrooms are upstairs, if you dare". Clopping proudly up the stairs half crippled trying to keep those little shoes on is one thing. Getting back down the stairs is another.

Welcome to Shimbashi. The restaurant itself is broken into two parts - a soba noodle house and ju ge mu which specialises in okonomiyaki and teppanyaki. But you can also order things from either part of the restaurant. In the soba house, you'll find low tables with a little bridge running along dividing each table - you'll need to take off your shoes and then clamber in as gracefully as you can.

The menu's huge and if you're not confident with Japanese food, the wait staff is there to help. Soba chips - salty, deep fried noodles - are a more exciting offering on the page than on the plate whereas agedashi tofu (that's deep fried tofu in a dashi broth topped with bonito flakes and seaweed) is exceptional. For the most part, the food here is great - eggplant is slow cooked and topped with sweet miso and a smattering of sesame seeds and turns to goo as soon as it's touched with a chopstick and a Japanese pancake (okonomi-yaki) filled with pork and plump prawns is artfully squiggled in Japanese mayo. The fried rice cake, (which we're warned off - "too plain") is delightful in its simplicity. And even if a salad of bacon and baby spinach errs on the sweeter side of sweet, it's still an interesting offering.

They have plenty of Japanese beer on offer by the bottle like Kirin and Asahi but they also have frozen sake - it's incredibly crisp, slightly sweet and perfectly refreshing on a hot day. And the wine list by Michiko Kimura, is excellent.

Then there's the soba. Hot or cold, it's all good. There's even a page at the back of the menu explaining how to eat the soba, down to the last slurp. They make all their noodles in house (check the noodle machine in the front window) and the cold soba in warm duck fillet broth is stunning.

Military road is loud - cars and trucks go barrelling up and down all evening in a dusty haze and if you happen to be early, there's not a lot to keep you busy. A small complaint compared to a great dinner.
Read more about Sydney's best Japanese restaurants.
Venue name:
Jugemu and Shimbashi
Contact:
Address:
246-248 Military Rd
Neutral Bay
2089

Opening hours:
Tue-Sat noon-2pm; 6-9.30pm; Sun 6-9pm. Closed Thu lunch.