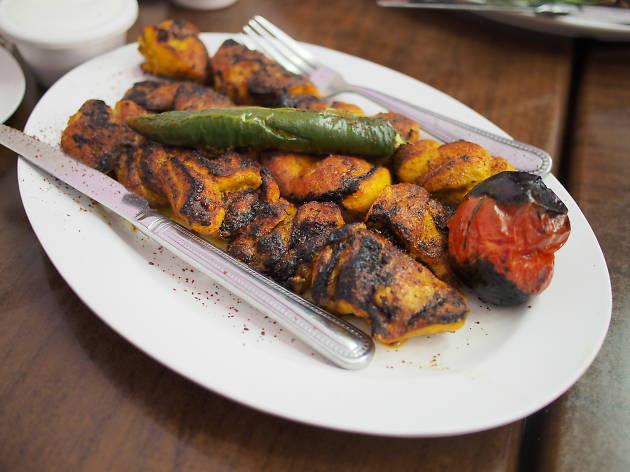 Time Out says
This might just be Sydney's best Afghan barbecue.
Afghan-style grilled lamb loin chops flavoured with salt and sumac, their tiny tails tender with juicy fat, are the tastiest bites you'll get in this small barbecue shop in Merrylands. Make no mistake, tikka kebabs of tender lamb backstrap or minced lamb shami kebabs carefully shaped around a skewer will also fight hard for your attention.
These kebabs aren't the cut-off-the-rotating-meat-stick kind you've scoffed after a big night. Each kebab is made from meat carefully pinioned onto a sharp metal skewer and cooked over blistering hot tubes of glowing charcoal in the front window.
To accompany your meal, a white hot tandoor oven is lined by hand with flat rounds of bread dough, baked to order. Each flat bread looks like a mini lunar surface, raised and pocked with bubbles, and it is the vehicle for the juciy meat, grilled tomato and green chilli on your plate.
It's a simple set up at Kebab Al-Hojat, both in the prep and the eating. All the skewers are prepared fresh and ready to choose from an inside counter. They're taken across to the coals to be charred, tended with more concern for the lamb than for the grillmasters bare hands. Take a seat inside at a brown wood laminate table that has room for two or a compact family unit and wait for your sides to land; plates of hot bread, small individual pots of mint flecked yoghurt, chutney, a thin chilli sauce, and a simple salad of lettuce, onion and red cabbage. Shaker jars of sumac, a lemony spice, sit on each table to add extra kick, and it wouldn't be a Central Asian barbecue without glasses of cold doogh, a minty yoghurt drink that compliments all that grilled meat, which are available on request.
Grilling lamb is what this place does best, but the Bamayan chicken defies the usual dry BBQ chook curse. They marinate the pieces in turmeric and garlic and cook them over the open coals until the outside goes a little crisp but the inside is still juicy.
If you can't decide between lamb or chicken, then get a mixed plate – problem solved – and if eating in doesn't fit your schedule, order the takeaway rolls that wrap up the same meats and salads to go. The sign out front that boasts that this is the 'best Afghani in town'. We aren't about to challenge it.
Details
Best selling Time Out Offers