Kefi Greek Tavern (Closed)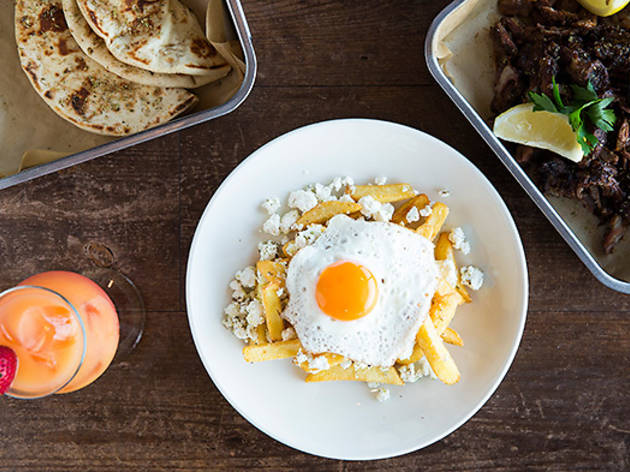 1/9
2/9
3/9
4/9
5/9
6/9
7/9
8/9
9/9
Souvlaki that's as good as a holiday makes itself at home in Kingsgrove
Sometimes a high-end rendition of a simple snack can turn things up a notch – ACME's tiny mortadella sandwich, for instance, is a thing of beauty. But when it comes to Greek street food, the kind cooked over hot coals and wrapped up with all sorts of crunchy, creamy, smoked things, you're best sticking to the original recipe.
After the closure of Westfield's upmarket Xanthi, chef David Tsirekas mined his home-cooking roots for a new Hellenic tavern in Kingsgrove. And the CBD's loss is eastern Sydney's delicious, pita-wrapped gain.

Inside, long wooden tables stretch through the stackstone- and recycled-timber-lined room. They're crammed full of extended families with fleets of prams, post-training packs poised for carb loading and couples who've been seduced by the lazy roll of the 48-skewer souvlaki grills and accidentally ordered enough food for ten. Take a peek into the kitchen and you'll see chefs carving from souvlaki grills and gyro spits for the dining hall crowds as well as the long lines at the souvlaki bar next door.

Yiayia's chips, borrowed from the domestic traditions of Greek grandmothers, are golden potato chips crisp around the edges and soft in the centre. They arrive scattered with crumbled, not-too-salty feta, capped with a runny fried egg for dipping.

Order the gyro special if it's on. A thick dollop of tzatziki on a round of toasted pita is topped with fresh tomato and soft shards of smoky, herb-rubbed lamb. There's a cheeky handful of Yiayia's chips on top, and a zigzag of ouzo-spiked mayonnaise. No late-night wrap was ever this luxurious.

If you prefer to assemble your own perfect meat parcels, order the lamb off the spit. Tear off pieces of warm pita bread dusted with dried oregano and paprika and wrap up pieces of the same soft, rich meat that you get in the gyro special. A squeeze of fresh lemon juice and a tall, frosty Greek lager on the side are perfect foils for all that rich lamb.

Snack options start with the familiar (fried calamari and vine dolmathes) and run to the adventurous – who's up for barbecued lamb's fry?

Save room for dessert. Loukoumathes donuts are little golden fried dumplings that are almost liquid in the middle, and come scattered with crushed pistachio nuts for gentle crunch, as well as a pool of sticky honey-scented syrup.

You won't find the refined Greek food that restaurants like Apollo or Alpha serve up here, but it's still mighty good. Kefi's is the place to go for generous serves of street eats made by a chef with the skills to turn out the kind of fine dining we enjoyed at Xanthi, and a knack for creating charred, smoky, holiday-inspired fare that transports you to somewhere you'd rather be.
Venue name:
Kefi Greek Tavern (Closed)
Contact:
Address:
1/231 Kingsgrove Rd
Kingsgrove
Sydney
2208

Opening hours:
Tue, Wed, Sun 11am-10pm; Thu-Sat 11am-11pm