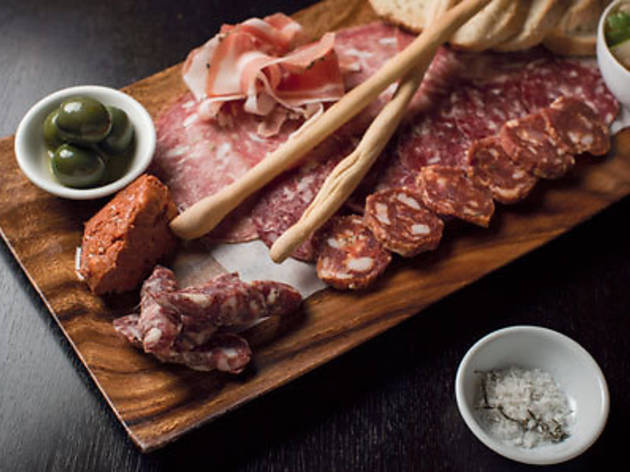 1/12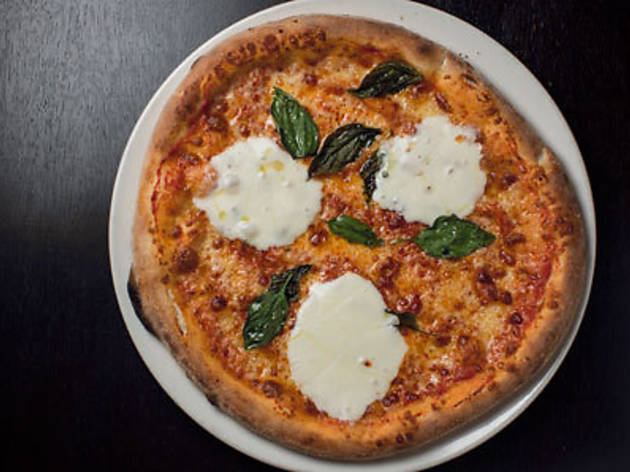 2/12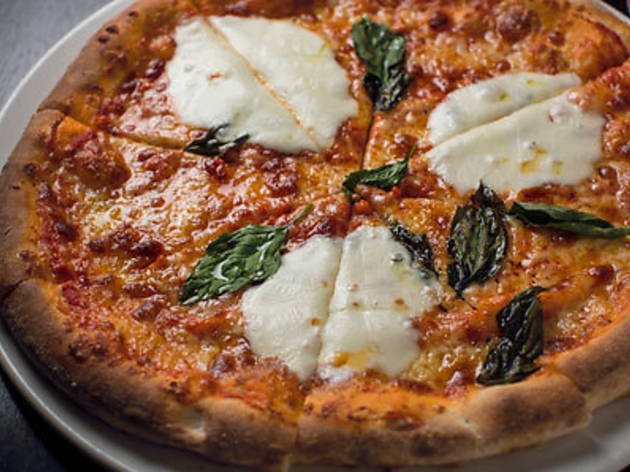 3/12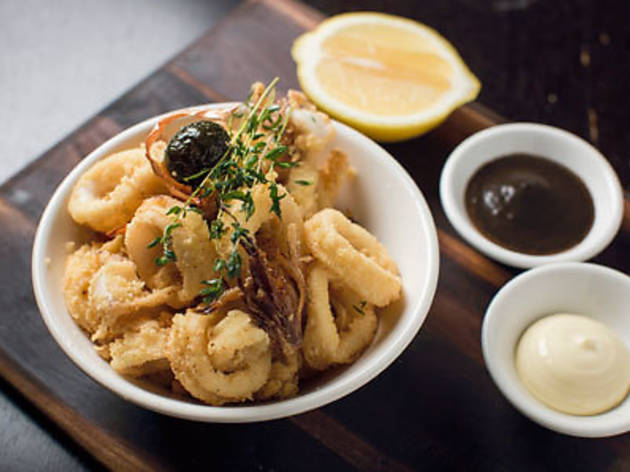 4/12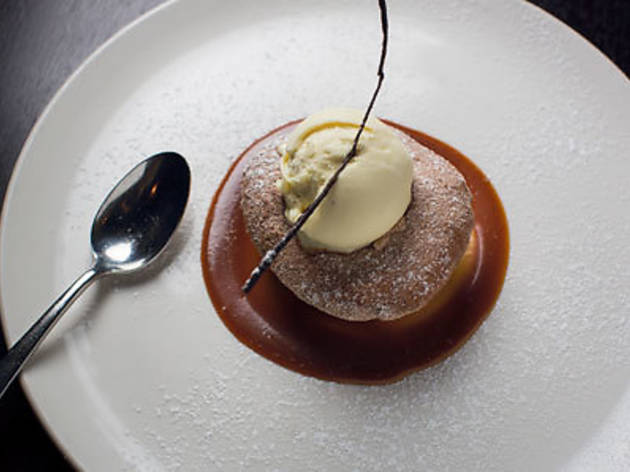 5/12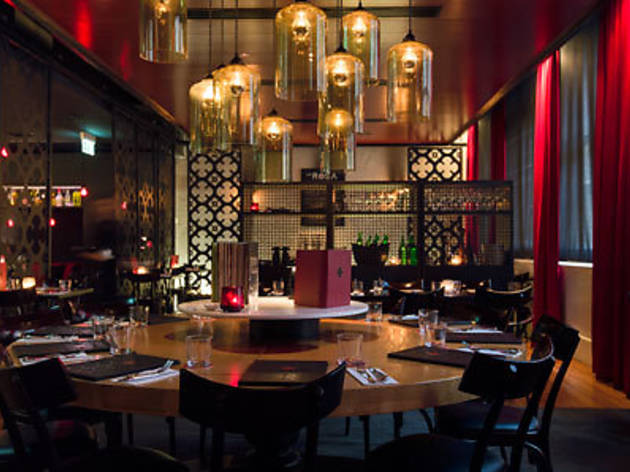 6/12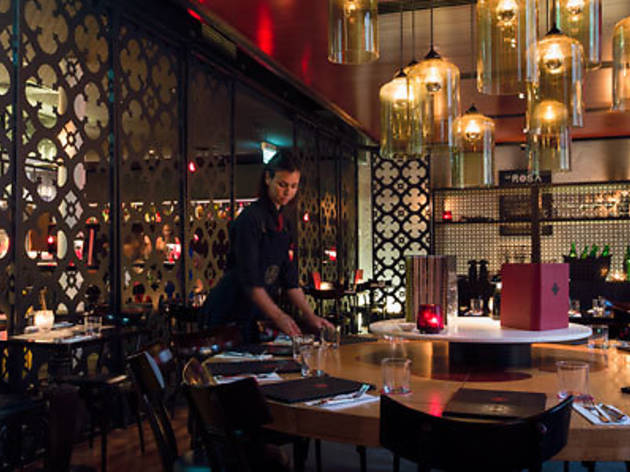 7/12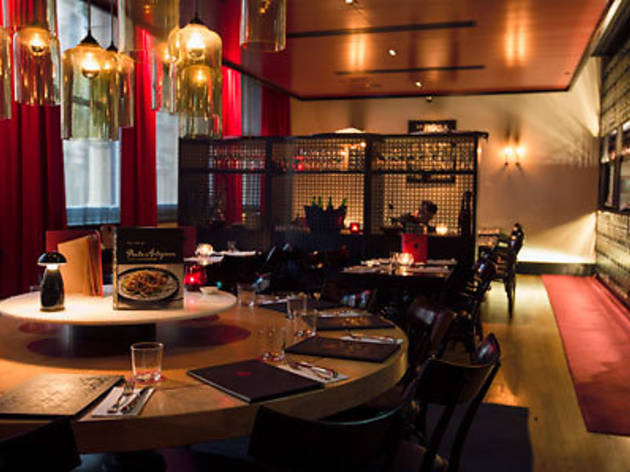 8/12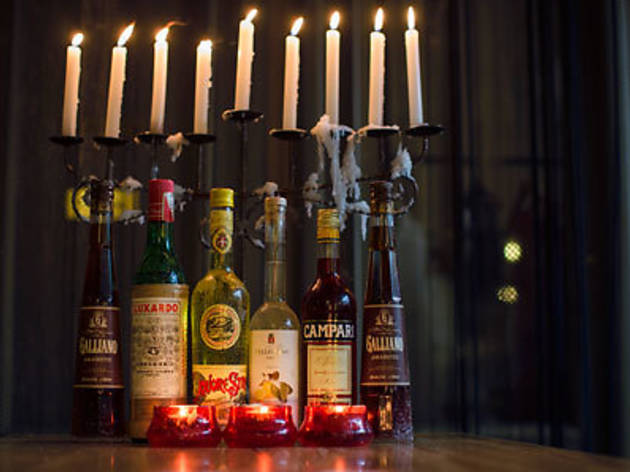 9/12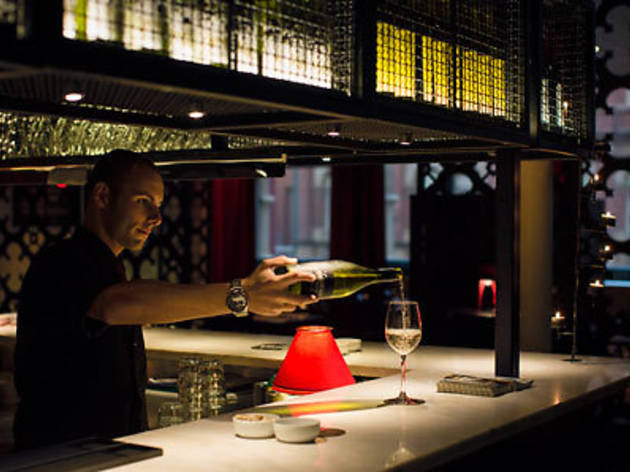 10/12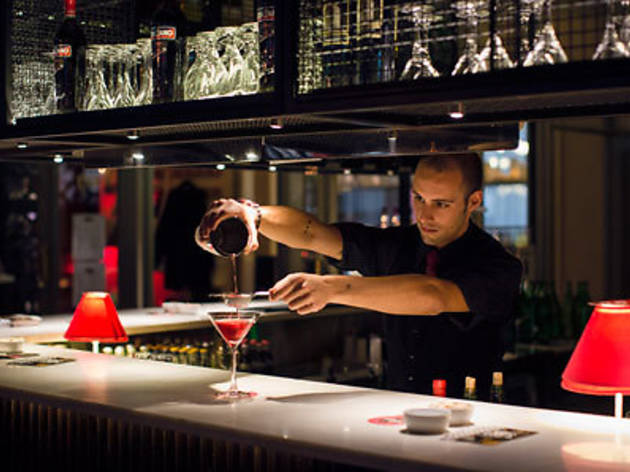 11/12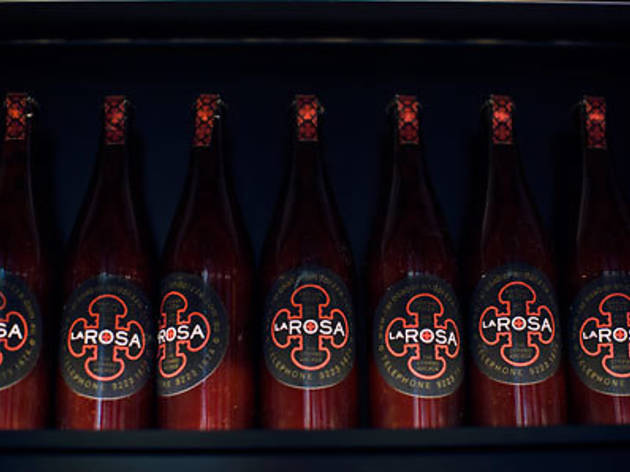 12/12
Spin the wheel Ninja Turtle-style for pizza in dark classic surrounds
There's an Italian lazy Susan (lazy Susanna?) on board at La Rosa. The spinning table wheel is stacked with pizza being spun one way, and then the other by a group of business lunchers. And it's perfect for that. The dark restaurant – decked out in dark rose walls, lacquered tables and Edison globes captured in hanging glass cloches – is in the heart of the CBD, in the Strand Arcade.
La Rosa is brought to you by chef Nino Zocalli, who also owns Italian restaurant Pendolino, up the other end of the mall. There's a big focus on pizza here. The menu describes the method behind the dough, which is given two days to prove before they roll it out. And they describe the bases as "crisp" on the menu. Though we'd probably describe them as hard – sinking your teeth into the Margherita is more like gnawing a big rusk.
Calamari fritti are sort of kitchen-sink-y (in a good way), with whole bust-up garlic cloves, shallots and olives interspersed in the curling deep-fried calamari fronds. Break it up with a squeeze of lemon, and dip at will into a little pot of squid ink. And the salumi, such as the salsicce montenuovo, are definitely worth a poke: try deep scarlet juicy pork sausage spiced with sangiovese and capsicum puree. The house-made 'ndjua – everyone's favourite spicy Calabrian pork paste – is a little blah compared to other spicier, richer versions you'll find at say, Quattro Stelle or Pino's Dolce Vita.
Service is friendly here. They're juggling a full room, even on a Tuesday lunch, and they do it with good grace and a smile. There are daily wine specials printed on the blackboard (is it just us, or does anyone else do a creepy snicker when they read 'falanghina' on a wine menu?) and if you're feeling up for it, you might even order a raisin-stuffed pig's trotter.
Dessert-wise, we go for the zeppola – on the menu it is doughnut(s), so we're expecting lots of little mini guys, rather than one big one. Still, you can't beat fried potato flour dough – especially when it's topped with a scoop of ultra-creamy vanilla gelato. We'll be back to put their tiramisu to the test, too.
Less is more here. Take a little of their house-made salumi, order a pizza, a glass of falanghina (snort) then go buy a few statement pieces from the Corner Shop. Treat yo'self.
---
Venue name:
La Rosa Bar and Pizza
Contact:
Address:
Shop 133, Level 2, The Strand Arcade
193 Pitt Street
2000

Opening hours:
Mon-Sat noon-late
Price:
$10-$150