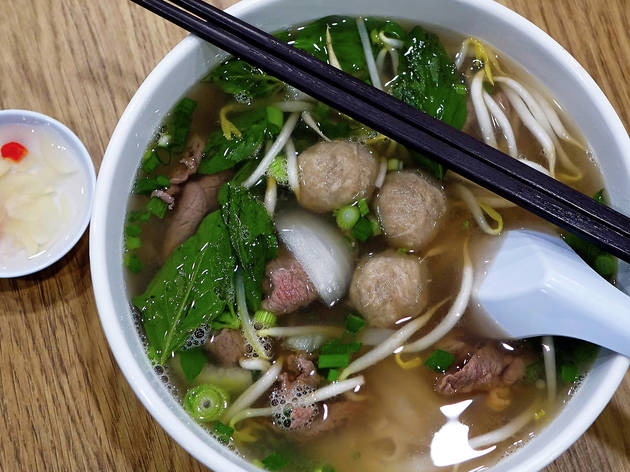 Time Out says
Tasty Vietnamese food in a cool warehouse setting
So this is a bit of a funny one. At first glance this Vietnamese diner looks like a run-of-the-mill Sydney café. There's an espresso machine out the front, brownies, muffins and pre-made sandwiches in a glass display case, a fairly disinterested waitress running the till.
But dig a little deeper and discover some pretty delicious Vietnamese snacking like juicy slices of hot roast pork on a good baguette with lightly pickled carrot, cucumber, coral lettuce and green onion. There's a good showing of classics on the menu, from salt and pepper squid (meh) to a pretty excellent vermicelli salad of sugarcane prawn cake and golden skinned chicken. The dressing on the mix of thin rice noodles, pickled carrot, shredded lettuce and toasted peanuts is light, balanced and bright, pepped up with thin slices of green onion.
Fresh rice rolls come in varying shades of deliciousness from OK (the combination of chicken, prawn and a sort of pink gloopy mayonnaise has the effect of being chalky and creamy at the same time) to pretty damn good (you can't really go wrong with thin slices of roast duck dipped in hoi sin). An anise-heavy pho sees a densely beefy, but nicely clarified stock base warming through thin slices of rare beef, rice noodles, garnished with fresh mint. And sure, we're generally on team basil when it comes to our Vietnamese beef noodle soup, but it's a small price to pay for that broth.
It's about the most design conscious Vietnamese café we've visited: high-concept-warehouse-meets-lo-fi-noodles. There's a magazine rack stocked with Monocle, Smith Journal, Vogue and I-D, and a house-made soda station, too. While they're doling out fancy lemon sodas and pink lemonade, and they'll also serve you a beer (nothing Vietnamese, unfortunately, though there's Asahi which is at least a win for Japan) or a glass of German riesling.
We're not saying this is Vietnamese food to change your life, but if Broadway's your stomping ground, it will change your lunchtime.
Details
Users say