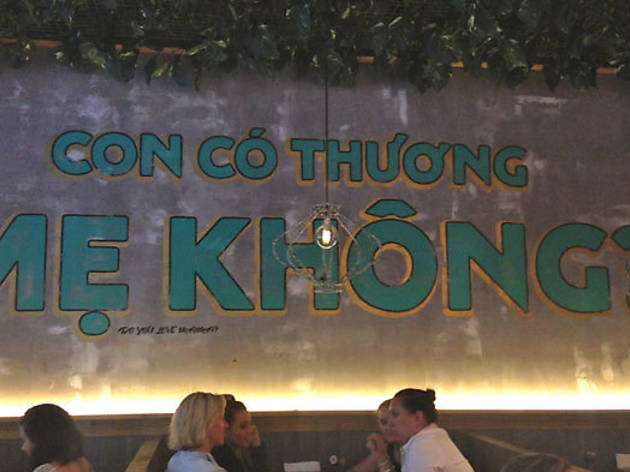 Time Out says
Surry Hills is home to a flashy new Vietnamese restaurant offering buns, rice rolls and more
There's no lemon soda at this new(ish), flash(ish) Vietnamese restaurant. "No," says our French waiter with a shrug, "but there is Solo." That tells you pretty much everything you need to know about Mama's Buoi, a recent Melbourne import that's packed to the rafters with local workers and Vietnamese snack fans.
On the food front, there's a focus on 'big': big flavours from the kitchen, big sounds through the speakers and big pieces of carrot (more barbecue lighter than matchstick) on the mixed skewer plate. That plate of generously sized hunks of marinated chicken, beef, pork and chubby sausages also coolly features two types of mint – Vietnamese and French – along with coriander and lettuce cups for some DIY meat fun.
Our picks, though, are the crunchy little chicken ribs (more batter than bone in some cases, but there are a few meaty bites in the mix) and the vermicelli rice salad with hunks of pork belly and crackling. The salad element is certainly more colourful than your average and the dressing is bracingly acidic.
Service is an issue. They need to look at getting some better systems in place so they remember to do things like bring water, and the bread listed on the menu to accompany the beef hot pot which, apart from the fatberg the size of a child's fist bobbing about, is a fairly delicious mild curry. The missing baguette would go a long way to seeing us eat more than a spoonful of the rich gravy.
Despite the lack of attention on the floor and a few hiccups on the menu, the place is buzzing along nicely – the communal tables in the middle of the room, the booths and spaces at the tiled bar (no handbag hooks, ladies) are all nearly full.

Some folks will always need a Mama.
---
Details
Best selling Time Out Offers