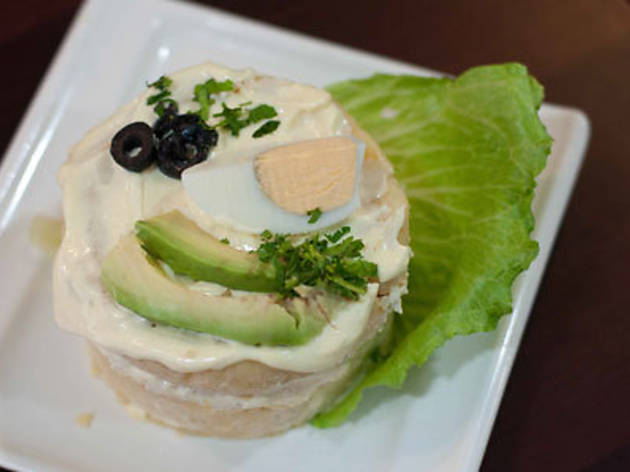 Fairfield boasts an El Dorado of Peruvian cuisine
It looks like a savoury birthday cake, but causa (pronounced 'cow-sa') is much more than that – it's a classic Peruvian dish that is emblematic of early European influences on local ingredients. The three core components are yellow potatoes, avocado and aji amarillo yellow chilli peppers, all ancient ingredients native to Peru. Add Spanish black olive slices, boiled egg and lashings of mayonnaise and you've got a cool and refreshing mashed potato terrine, layered around a filling of pollo chicken or atun tuna (both $8).
Get along to Misky Cravings in Fairfield – it opened in July but has already gathered a loyal fan base, mostly South American ex-pats. Misky means delicious in Quechua, the language spoken by the Incas in ancient Peru. The restaurant can be difficult to find – hidden within the depths of a non-descript arcade – but keep an eye out for the red and white laminated menus stuck to the glass doors on the street. The décor is plain but smart and much more jovial on the last Sunday of every month, with live music at lunchtime.
The all-Spanish language menu can be a little daunting at first, but staff will happily take their time to translate and explain each dish to you. Chinese dishes like arroz chaufa fried rice with five spice and soy sauce ($15) reflect the long history of Cantonese migrants to Peru. "In Peru we have Asian flavours but done in a Creole style," our waitress explains.
Start with the refreshing ceviche de pescado ($15), raw chunks of John Dory fillet marinated in lemon juice, coriander and chilli and garnished with slivers of red onion. It's a generous portion, especially with the steamed white corn, toasted corn kernels and a large nugget of cooked sweet potato on the plate. The pescado frito ($15) is a popular choice among diners, a whole fish grilled until crisp and accompanied by wedges of starchy deep-fried cassava. Lomo saltado $15) is another Peruvian dish with Asian (chifa) influences, a stir-fry of beef strips in soy sauce served with rice and potato wedges.
Skip the usual soft drinks and try the Inca Cola that tastes more like creaming soda. Chicha morada is a purple corn drink that is sweet and spicy with hints of cinnamon and cloves.
Venue name:
Misky Cravings
Contact:
Address:
2/164 The Boulevarde
Fairfield
Sydney
2165

Opening hours:
Wed-Fri 12 noon-9pm; Sat-Sun 9am-9pm
Price:
Up to $60