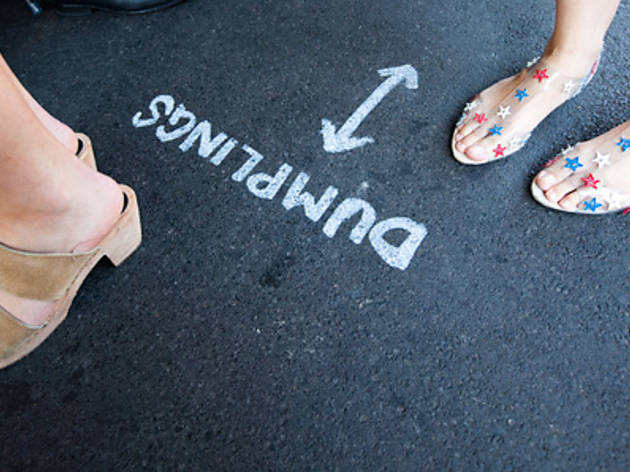 Time Out says
Take a beachside detour for a whisky with a dumpling chaser
Dumplings truly are God's gift to boozing. Being so conveniently bite-sized, concentrating is left by the wayside, leaving all the more mind space to focus on what you're drinking. In this case it's the prodigious whisky selection in the secret bar out the back of Misschu in Bondi.

Toward the back of the restaurant a counter is lined with high bar stools and bag hooks (can we make these a compulsory feature in every bar please?), and behind the bar a wall of drink looms, displaying no less than 80 whiskies to accompany your Shanghai pork dumplings.

The pace is more considered in Bondi – the lone fact that everything is served on actual plates encourages you to linger and order another cocktail. Design-wise, this Misschu is stepping it up a notch. There are still a few strings of beach-hippie paper lanterns out front in classic Misschu style, but as you move further indoors away from the crouched tables and stools of outside, industrial-style pendant lamps appear and an army-fatigue green wall adds a topcoat of camoflage class.

A whisky offering of this size is not easy to tackle if you're a newbie. They've organised the hefty Scottish drinks menu by regions and have included a helpful tasting note to each so you can find your way between "lighter floral notes" (try the Auchentoshan Three Wood) and "faint smoke and pepper" (that'd be something from Arran). Some interesting Japanese single malts are listed too, like a spicy vanilla Akashi 5 Year Old from White Oak, and a swag of bourbons make an appearance like Four Roses (fun fact: it's a known favourite of Japanese writer Haruki Murakami).
Don't like your whisky neat? Never fear: the cocktail list is a fun, less-hardcore way to get the feel of some different styles. You won't miss the smokiness of the Ardbeg 10 Year Old in the potent Callé Pepparcot (Callé 23 reposado tequila and apricot brandy shaken with apricot nectar, orgeat syrup and lemon and served in a brandy balloon). Or skip the whisky altogether and try the Tree Fiddy – a mix of elderflower liqueur, Beefeater gin, pineapple and cardamom – if you're palate needs a refresher.

But if you really want to finish things off right and jump back on the whisky train, the Werther's Clan Secret Dram just went straight to the top of our before-bed beverage list. Served warm and incorporating a super-buttery Werther's Original and cinnamon syrup to Glenmorangie 10 Year Old, it's the perfect nightcap served with a chewy whisky caramel on the side. Liquid dessert just got a whole lot more delicious, and that is absolutely fine with us.
Details
Users say