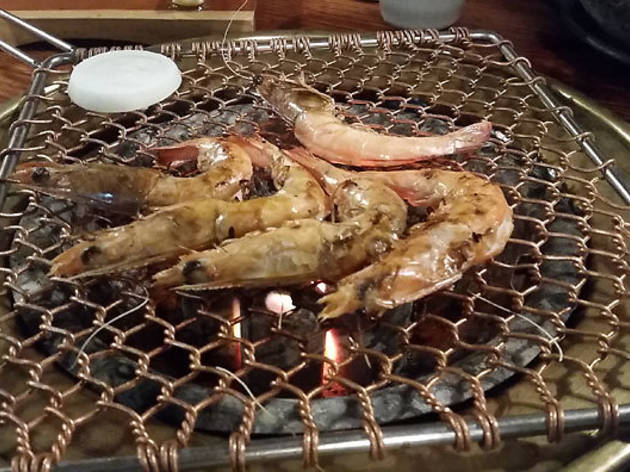 Time Out says
There's even more barbecue action to be found in this fragrant alley in Koreatown
Madang is probably this city's best-known Korean barbecue restaurant – good luck getting a table on a weekend. But tucked into the same little alley off Pitt Street is another venue that is well worth checking out. Downstairs at O Bal Tan they have a series of simple table grills and a replica of the Sydney Harbour Bridge against the back wall. Upstairs things are a little more rustic and spacious, and the tables in the timber-lined room feature big exhaust tubes over the charcoal grills that look like they were inspired by re-runs of the Jetsons.

New to Korean barbecue? This is not the sort of place where they'll guide you through the finer points – lob it on the hot grill, turn when it looks cooked and then go to town is all the instruction you need.

If you're wanting to go all out on the barbecue – the smell, delicious at it is, sticks, so wear something machine washable – they do mixed platters of straight beef cuts and pork belly; or a beef, pork, chicken and prawn mega-combo of land and sea. Mixed platters sit above seventy bucks for two people, so if you've also been eyeing off a bibimbap in a hot stone dolsot, a serve of chewy dduk-bukgi or the excellent, crisp-skinned, peppery pork dumplings, consider ordering your barbecue meats individually.

The skirt steak may not have the silky richness of wagyu, but the flavoursome cut arrives with a sweet marinade that develops a heavy char over the grill. Make sure you cut across the grain to avoid chewiness. Five fat, deveined prawns are an exercise in simplicity, brightened only with a squeeze of lemon juice before being devoured by hand – burnt fingers be damned. A tip for round two of grilling: you may need some fresh coals to maximise the flavour in those king prawn shells.

Whether you prefer an outdoor barbie or an indoor grill, everyone agrees on the necessity for beer. Order up a six-dollar OB in the bottle, a cool half litre on tap for eight bones, or trade a mere fiver for a Hite or Cass to stay on theme.

Our city's Korean star is still rising with more establishments dabbling in bulgogi (beef), pa jeaon (pancakes) and cold noodle soup than ever before. But long before kimchi was trending in Sydney, we had Korean barbecue down pat. Lucky there's no such thing as a bad day for an all weather barbecue.
Details
Best selling Time Out Offers