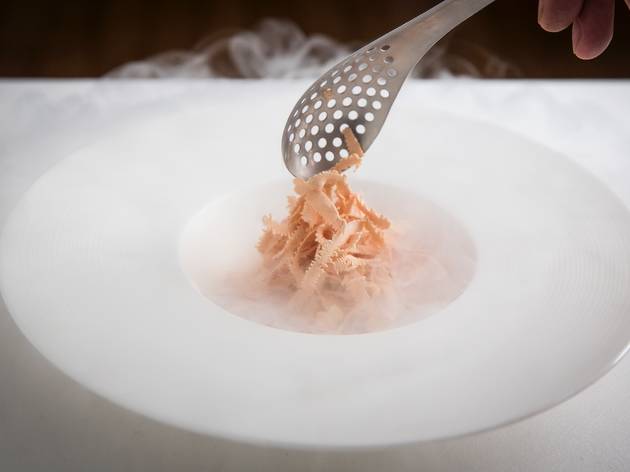 1/10
2/10
3/10
4/10
5/10
6/10
7/10
8/10
9/10
10/10
Sydney's best value degustation is worth every cent
Everyone knows the rock-star fine dining restaurants in Sydney: Quay, Sepia, Momofuku Seiōbo and Bennelong. But there are a couple of neighbourhood fine diners you need to pop on your bucket list, too. Sixpenny in Stanmore is one. And so is Oscillate Wildly, Newtown's teeny-tiny restaurant that sits just next to Black Star Pastry and down the road from the Courthouse.
Completing this quartet of epic places to eat and drink on Australia Street is Continental Deli Bar Bistro. That's where we'd suggest grabbing a quick Martini (here they're called Mar-Tinny's, cos they come in a can) before you start your night. Wandering into Oscillate across the road, it feels like a friendly neighbourhood restaurant. And that's what it is, except it's actually a bit posh. The fit-out is pared-back: white walls, white tablecloths and smartly dressed waiters. Run by chef and owner, Karl Firla, it's degustation-only and there are no menus offered (although dietary requirements are catered to). Many of the world's best restaurants do things this way (including Copenhagen's Noma and Relæ) and it keeps you surprised throughout.
We're started off with little snacks of pork crackling, tiny lettuce leaves filled with Caesar salad-infused mayonnaise and a tumble of shaved Parmigiano-Reggiano; and a truly spectacular slice of sugar cane that has been compressed in gin, tonic and citrus. Sucking and chewing on the crushy baton until it withers away to woody shreds means this isn't exactly first date food, but by God does it taste amazing.
The eight courses that follow arrive in gentle, considered succession. Raw lobster dressed with lemonade fruit and Meyer lemon, poppy finger lime pearls, fresh peas and borage leaves sits alongside a wonderfully minerally Domaine de le Grenaudière Muscadet from the Loire (do the beverage pairing; it's worth the upgrade). Parsnip purée is paired with blobs of savoury Parmesan custard, with Jerusalem artichoke crisps and little wax bean rounds, dressed in hazelnut oil that add satisfying texture to the rest.
Oscillate are known for one element in particular, and that's frozen, shaved foie gras. It's a clever idea to use such a rich, powerfully flavoured (and let's face it, expensive) ingredient in such a restrained way. The night we're in they've shaved it over a bowl of hot, silky cauliflower purée with crunchy nuggets of puffed Job's tears grain. It's a play on temperatures and textures and the pâté, smoking from its liquid nitrogen bath, melts on the tongue like snowflakes. It will make you want to store your pâté in the freezer from now on.
A bowl of shiitake consommé lands next, with cuttlefish noodles bobbing about alongside raw enoki and shitake mushrooms. The matched brown rice sake is inspired; it smells like hops but tastes sweet and full. We're not sure about the pork neck cooked in Coke; the meat is dry and very sweet. But when the slice of 9+ David Blackmore wagyu chuck tail flap comes along with sweet and sour pickled wood-ear mushrooms, all is forgiven. Meat of this quality brings true meaning to the term 'melt in the mouth', and the flavour, thanks to all that marbling – deep like jerky and rich like red wine – is something you need to taste at least once.
A lolly-like pre-dessert combo of carrot purée, blood orange sorbet and bittersweet kumquat paste makes for a stunning palette, and tastes like a sweetened-up Negroni. Then the final dish, a plate of sesame ice cream, caramelised white chocolate, miso paste, meringue and fine black sesame-oil-infused dust, pulls back the sweet and recalls the savoury elements of earlier dishes, tying the whole meal together.
At $120 (plus $75 for seven small, but ample, pours of matched drinks) it's one of the best value degos in town (Quay's is almost double that at $235). And we're talking about food on a very similar level here. Go. Feel smug about the great deal you're getting. And remind yourself of how clever and canny you are on the way back to Continental for your nightcap.
Venue name:
Oscillate Wildly
Contact:
Address:
275 Australia St
Newtown
2042

Opening hours:
Tue-Sat 6.30pm-late