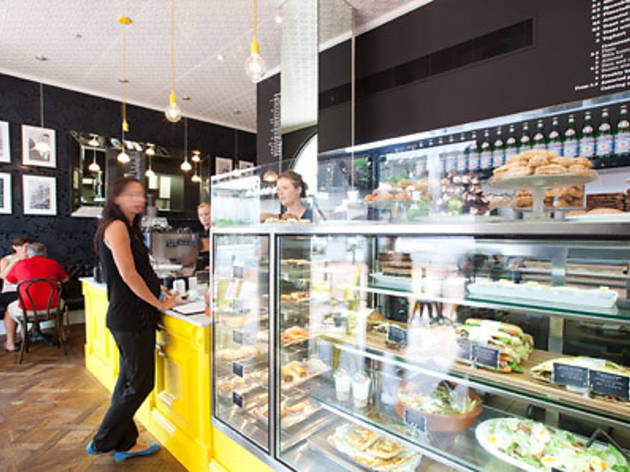 Time Out says
A new French café lights up Milsons Point
According to a framed tribute on the wall, this new North Sydney café is named for Georges Pompidou, France's longest-serving president. Look around the room and you can see why: there is a certain savoir faire in the décor with a chic and breezy vibe. A selection of baguettes is readily available as well as croissants and pastries such as caramel kisses and creamy, chocolatey caramel slice.

Smooth black booths line one side against a black quilted wall, while a giant white communal table sits on the other side and sunny yellow chairs line the perimeter. The whole black-white-yellow colour scheme is very eye-catching and gives the room a very airy feel, despite the small dimensions.

A few choice salads are on display in the glass cabinet including Nicoise and Caesar, replete with impressive shards of parmesan. So while the lunch menu is a pretty straightforward collection of panini, salads and baguettes, the breakfast menu is crazy for eggs, anyway you like 'em. Or how about a few slices of French toast?

Pompidou has only been open a little while and is still working out a few kinks. While there seems to be an abundance of staff, some appear bewildered at times. But there are a couple of strong people on the floor, so be patient and you're sure to get fed and watered. Sitting on a strip that appears to lack in exciting brunch venues, Pompidou eagerly offers to fill the void. It may seem like more flash than substance, but we hope that with time, this café is as well-oiled as its La Marzocco coffee machine.
Details
Users say