Prepare for a feast at Brick Lane with bottomless beer and wine
This hip Indian diner is offering dinner and lunch packages with a real kick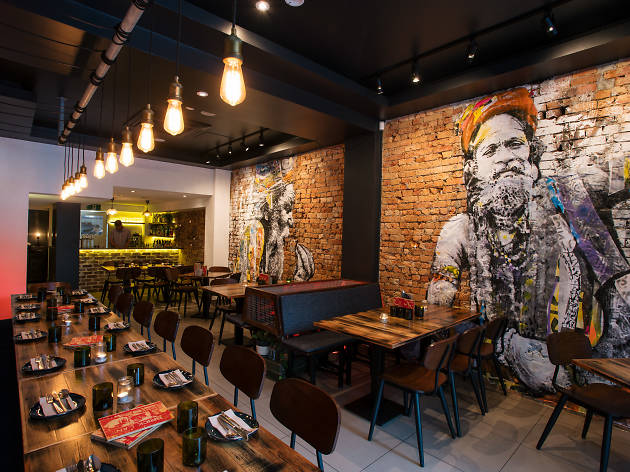 There's some creative, snappy cooking coming out of this Darlinghurst kitchen, which takes inspiration from Australian cuisine and even a few Vietnamese dishes for a delightfully modern interpretation of a classic Indian curry house. They're dishing out shatteringly crisp samosas and fall-off-the-bone lamb chops.
If you're looking for a feast on this side of town, you've come to the right place. For $50 a head, you can sample eight dishes and counteract any extra spicy flavours with an hour and a half of beer and red and white wine. The $60 upgrade will score you an extra two dishes, a cocktail to kick off the evening, and add rosé and sparkling wine to the drinks list. You wouldn't want to miss out on roti bread, so order a batch for the table for $3.50 per person.
You'll get to sample snack-sized dishes – the kingfish tostadas on a crunchy wonton are a surprising and welcome addition – as well as traditional mains with unusual infusions. Try the coconut chicken curry that's flavoured with fenugreek and garam masala, and served with a refreshing cabbage 'slaw and zesty cucumber combo.
Brick Lane's generous dinners are available from 6-11pm, and from August 5 until September 29, the $50 menu is available for lunch on Saturdays for groups of eight or more. You'll want to book and secure your place at the table.
---