Queen Margherita of Savoy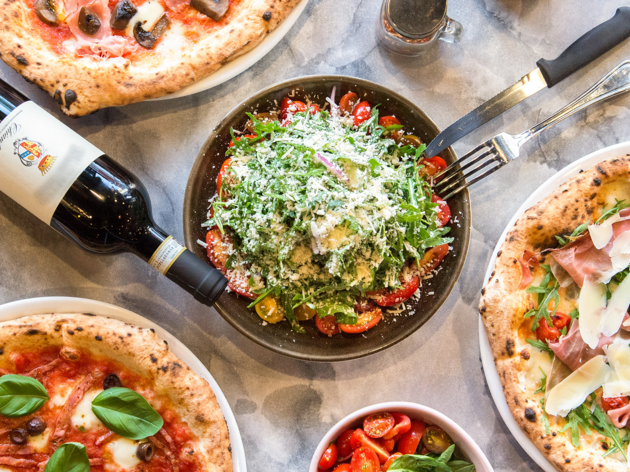 Time Out says
If you like your Italian food like Nonna used to make it, head to this cosy pizzeria
While some Sydney restaurants get flustered over fusion and newfangled cooking techniques, venues like Queen Margherita of Savoy stay steady with the classics. This small Italian joint slings their woodfired pizzas, simple pastas and select antipasto items every night of the week to an adoring crowd of Cronulla locals and wise visitors from the north and west.
The charm here is in the almost kitsch details: the rough booth seats are crowned with hanging baskets of chilli and garlic, there are ageing posters of Naples on the walls and photographs from the mother country on the crowded mantelpiece, and the spicy salame pizza comes out on a stand, so you're six inches closer to the bubbling fior di latte and bitey gaeta olives. The crust could use a millisecond longer in the hearth to avoid the dreaded woodfired pizza flop, but the toppings manage to cling to the dough to satisfying effect.
If you like minimal intervention when it comes to quality ingredients, order the seafood linguini. The cherry tomato and white wine sauce doesn't overpower the seafood banquet that lies within the tendrils of al dente pasta. You'll meet plump pan-fried Aussie prawns (keep an eye out for rogue shell when you top and tail them), soft mussels hiding in their shells, plus clams and calamari to round out the school of salty treats.
Settling in for a propper feast? The most cost-effective way to get serious about eating here is with the Queen's Banquet. Groups of four or more can choose between a $40 and $50 option that will take you from arancini and salt-dusted calamari to ragus, pizzas and desserts.
There's an ever-changing wine and beer selection to accompany these meals, but if you're feeling frisky you can try their house cocktails. The Regina Blush will cut through any rich dishes with a tangy concoction of Campari, Cointreau, pineapple and lime, plus a kick of bitters. The attentive waitstaff will be happy to help you choose a beauty to match dinner.
Details
Best selling Time Out Offers