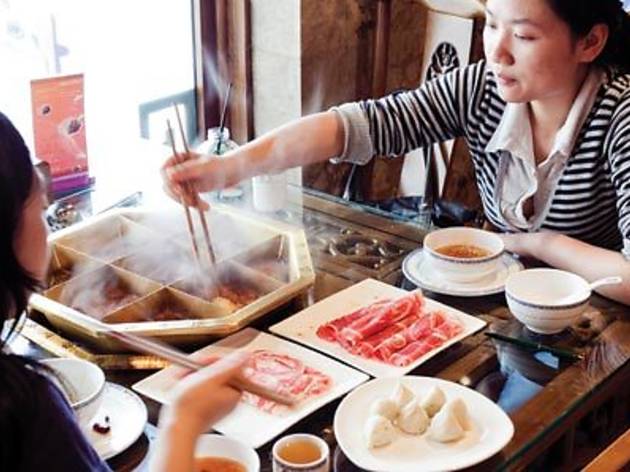 Time Out says
If you've dined at the original Red Chilli on Dixon Street, you'll know that while the space is a little tatty the food is excellent. At this new branch of RC, the space lives up to the food, featuring plenty of the old favourites (deep fried chicken bits buried in dried chilli, squelchy, spicy ma po tofu and their legendary hotpots) as well as a brand new set of dishes.

The new digs are just around the corner from the original (which is still running, by the way) and looks a little like a movie theatre from the outside. Coloured flowers grow in the flower boxes lining the outdoor area - the perfect place to spend a summer evening eating spicy food and drinking beers.

If you're not au fait with Sichuan food, there are pictures for everything and the waitstaff don't try the old 'too spicy' trick - they want you to try their food. Have the crisp stir-fried broad beans with garlic and chilli sauce - great with a Tsing Tao beer - or our favourite, the sliced cucumber and pig's ear with chilli sauce.

Ribbons of gelatinous, cartilaginous ear and gossamer-thin ribbons of cucumber are draped over a wooden deckchair-type thing. The texture of the ears, refreshed by the cucumber dipped in the gutsy chilli sauce, is something else. And check out the you mak choy with chilli and peanut sauce - the raw, leafy, bitter green leaves topped with the light, slightly tangy sauce is a messy but very tasty proposition. It's a bit of a peanut and chilli fest; the spicy dried carrot slices with boiled peanuts scattered with long slender tubes of green onion is better as a side dish. Likewise the stir-fried corn kernels with pine nuts - one of those Chinese sleight-of-hand dishes where the two ingredients look similar until you taste them. Salty, garlicky little chunks of lamb rib make an appearance too, with a tangled nest of carrot and cabbage.

The dining room's brand new (they've only been open a couple of weeks) with dark polished floor boards, ceramic lampshades and some very cheery looking fish in the fresh tanks. There's also a private dining room that seats around ten people. Best to get a crew together to eat here - you'll want to try quite a few dishes and the portions are generous. It's also incredibly well priced and if you stay away from ordering things out of the tanks you could very easily get away for less than $35 a head.

Licensed, around $35pp, not including beer.
Details
Address:
Shop 108-111/25-29 Harbour Plaza
Haymarket
Sydney
2000

Contact:
Opening hours:
Lunch Wed-Mon 11.30am-2.30pm; Dinner Mon-Sun 5-10.30pm
Users say