Relax this Australia Day long weekend dining at The Star
Prepare your palate for an all-Aussie eating adventure at Flying Fish, Sokyo or Black Bar & Grill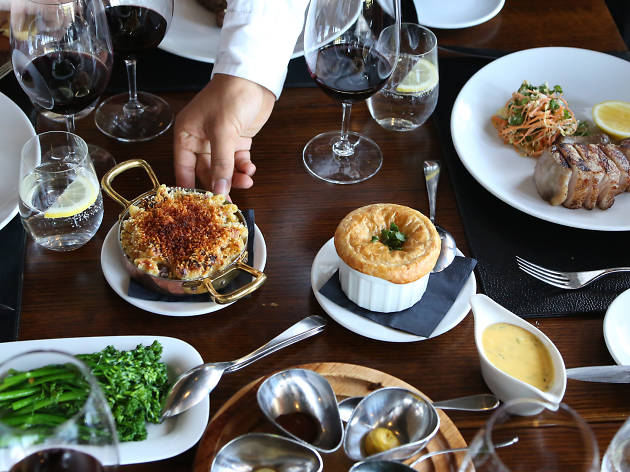 When it comes to January 26, we're pretty practiced at whipping out the barbecue, tossing on some tunes and inviting the whole neighbourhood around for a party. But even the most masterful amateur grillers and backyard cricketers need a break from hosting duties every so often – especially in this heat. This Australia Day long weekend, put your feet up, grab a beer or cocktail and let the culinary wizards at The Star take care of your annual Aussie feast.
To make you feel right at home, the chefs at Flying Fish, Sokyo and Black Bar & Grill have put in the hard yards to create special dishes with an Australiana theme just for the celebration along with their usual fabulous fare.
At Flying Fish, they take fresh seafood very seriously. It's all about flavour over technique frills, and dishes that showcase the finest fruits of the sea. Over the Australia Day long weekend, they'll be serving special mango and macadamia barbecue prawns for just $34. You won't be able to find juicier Spencer Gulf prawns, with these babies coming out sizzling in a zesty glaze of mango kombucha. They're not stopping there. For dessert, you can order a nostalgic Milo chocolate mousse with Vegemite-salted caramel for $24.
In honour of our diverse nation, Sokyo will be adding a little extra Aussie flair to their much-loved Japanese dishes. They'll be sizzling prawns on their robata grill with a kick from a lime and shiso salsa plus a jalapeño sauce for $18 a piece. And for bona fide lovers of the finest beef, they have a 250g Wagyu scotch fillet with a marble score of 9+ – that's as good as it gets – with a finger lime and kohlrabi accompaniment will add that signature Sokyo spark. That one is $280, and will beat any street barbecue in memory, but if you can't have it on this day, then when can you?
Sharing is in order when you visit Black Bar & Grill over the long weekend. Master of the grills chef Dany Karam has prepared an impressive Wagyu meat pie that'll need to be shared between two for $52. He's keeping it classic with sides of smoked potatoes, smashed peas and a rich shiraz jus. Pair it with a refreshing Tassie pinot noir or a Sydney-brewed craft beer and you've got yourself an absolute winner.
All these great offers are available for lunch and dinner from January 26-28, so you can fit in a feast around your busy Australia Day social schedule.