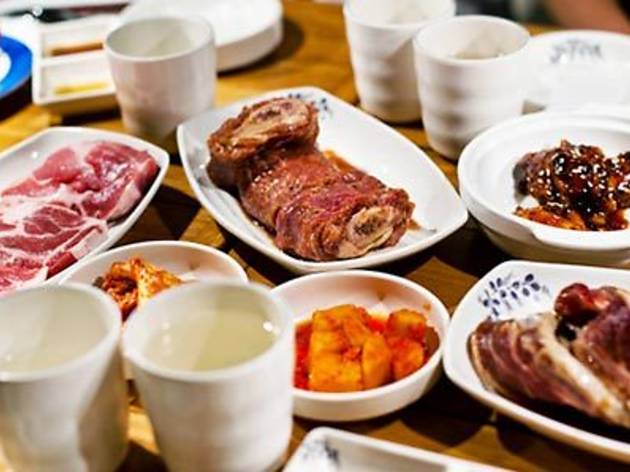 Time Out says
Everything's coming up Korean in Sydney at the moment
If you haven't taken a walk down Pitt Street lately, you really should. From the corner of Liverpool Street down you'll find everything Korean from hairdressers to comic book stores to karaoke bars to beer shops and dumpling houses. Shinara Grill is a new restaurant offering Korean-style yum cha, which pretty much translates to many barbecued meats being wheeled around on trolleys. The best time to go is in the evenings when they offer the barbecued gear, as the menu changes during the day. Just to sweeten the deal they've got an introductory offer going: for $26 you've got an hour to hoe into as much food as you can handle.

The space is pared back - bleached wood everything, cinder block walls and exposed beams - and the service is fantastic, though drinks orders can often go missing while you go thirsty. Press the handy buzzer on the table though, and someone will come over and help you.

Set in the middle of each table is a large, sunken barbecue that gets mighty hot on your legs, so watch your knees, folks. Start with thin slices of pork rib (making sure to cut it all up with the scissors provided to speed up the cooking process) and wrap it in a lettuce leaf. Beef tendon has plenty of flavour but requires a fair bit more time on the grill. There are plenty of interesting cuts of meat on offer here, and the trolleys go around regularly with everything from chicken to pork to beef bits and prawns. There's also a good range of Korean and Japanese beers including Hite, which has a little tag on the side that turns blue once it reaches optimum drinking temperature. There's a hot cart that comes around, too, serving little bitelets including a mince patty and teeny little kimchi pancakes (just one of the many pickles and side dishes you see at Korean restaurants. It's buried in earthenware jars deep underground for months and months and is apparently very good for your insides).

Other exciting stuff among the sides include thumb- sized cylinders of glutinous rice cake covered in a world of chilli, a sweet rice square mixed with date and pine nuts, and some very spicy little pieces of fried chicken. They also have sushi on the trolleys, but we steer away from that in favour of more traditional Korean fare.

Shinara is plenty of fun, the food's great and it's fantastic for a pre-show dinner if you're heading to the Metro or the Capitol, as you can pretty much dictate how long you eat. We were in, out and stuffed in 26 minutes.


Details
Users say