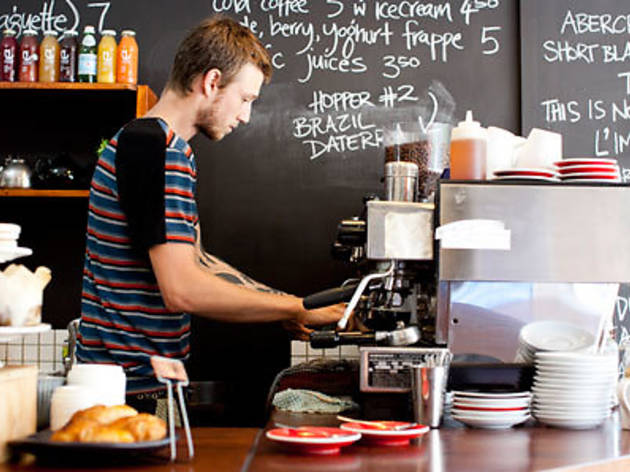 This café is a comfy nook for a lazy day's grazing
First thing each morning Shortlist is a hive of activity, punching out caffeine and Black Star pastries at a furious rate. After the initial rush of nine-to-fivers subsides a steady stream of terrace-dwelling hipsters settle in the sunny courtyard, seeking refuge from the previous night's misdemeanours in bottomless cups of coffee. The menu is kept short and sweet with a well thought out selection of café classics that comfortably traverses the breakfast/brunch midlands. The BLT with aioli is a compact flavour bomb and will put a sizeable dent in even the most robust hangover. The bacon-to-salad ratio is spot-on and the moisture content is ideal for preventing crust-related esophageal injuries. Alternately, if you need to ease your way into the morning then go with the avocado toast with lemon oil. For serious breakfast fans the house-made muesli is amazing. It comes topped with fresh fruit and yoghurt and doesn't skimp on the good bits with huge chunks of macadamia nuts, goji berries and dates. Recently they have expanded operations to include a sandwich menu, so next time we will be having a crack at the smoked ocean trout bruschetta with cream cheese and watercress. They aim to please at Shortlist, and are proving a dab hand at it.
Venue name:
Shortlist Espresso Bar
Contact:
Address:
258 Abercrombie St
Darlington
2008

Opening hours:
Mon-Fri 7am-4pm; Sat 8am-4pm; Sun 8am-3pm
Transport:
Nearby stations: Redfern
Do you own this business?
You may be interested in: