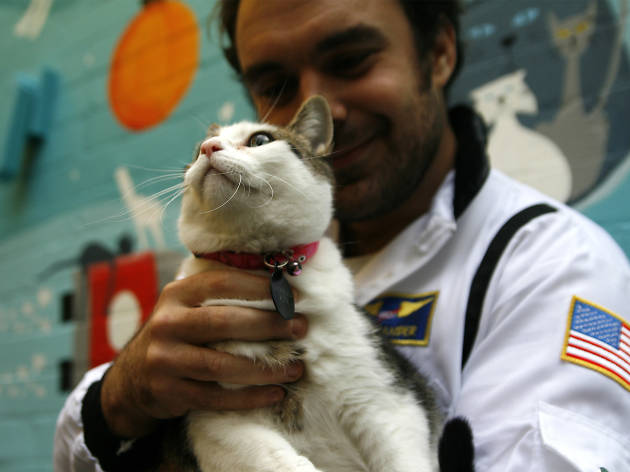 Sydney cat cafés
Pay a nominal fee and spend an hour cavorting with kitties
Cat cafés originated in Taiwan and were taken to new heights in Japan. The premise is simple: Pay a nominal fee and spend an hour cavorting with kitties. It's kind of like renting a pet, or visiting a cat hotel
An extension of veterinary clinic the Chatswood Cat Palace, Café Purrfection is run by vet and cat behaviour specialist Dr Kim Kendall. All cats available for "cuddle time" are rescues, selected for their people-friendly temperaments. Dr Kendall points to research showing that playing with animals can be succesful form of therapy. "The cats don't just offer companionship to anyone who wants it,but also to those who need it, giving comfor t to people who have either lost their cat or can't have one because of where they live." She also notes that the café is a great way for someone who has never had cats to see if they enjoy their furry company before bringing one home. A one-hour 'patting and purring' session for $20 per person includes a free cup of coffee and the chance to play with two or three kitties.
Catmosphere is Sydney's first and only space-themed catcafé. Try Yoga with the Catstronauts, a 45-minute yoga class followed by 15 minutes cuddling the kitties. All cats here are fostered rescues, chosen for their sociable purrsonalities (sorry). Catmosphere works closely with the World League of Protection for Animals, with the aim of eventually rehoming all the cats. Entry to the café is free, and all can enjoy a hot drink and snacks in the café section, but the cat rooms are restricted to paying customers. For $20 you get you a coffee, a cat- shaped cookie and an hour with the 'catstronauts'. Bookings are recommended and children are allowed with super vision by a parent or guardian.
This one's not actually opened yet, but promises to set up in the inner city sometime in 2016. Visit the website to sign up for updates, and to donate to their crowd- funding campaign.
Best selling Time Out Offers