Sydney Olympic Park for foodies
Find hidden culinary delights around Sydney Olympic Park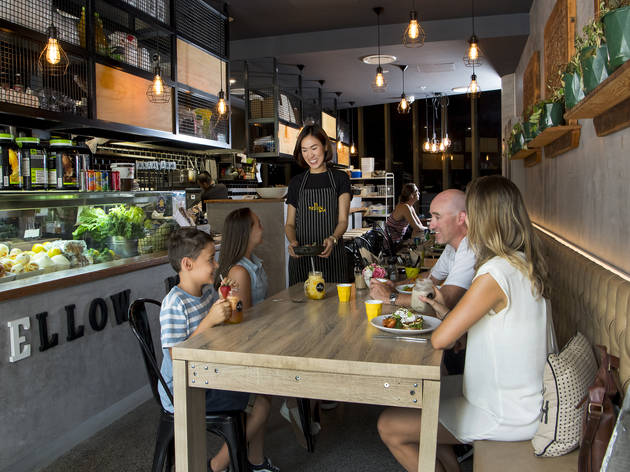 With so many activities and sites to see at Sydney Olympic Park, you might accidentally skip lunch. That would be a mistake. From bean-obsessed cafés to Vietnamese soup kitchens to cocktail havens, there's plenty of places to enjoy a meal or drink with friends at the Park.
Morning
Photograph: Paul K Robbins
Daybreak often brings caffeine cravings. Cure those coffee pangs with a cuppa or fresh juice at Mellow Me Café and Dessert Bar. Their coffee is compliments of the Grounds of Alexandria Roastery, so you'll be supporting local business if you dive into that second latté. You can pick up a naughty sweet treat to go with it, or settle in for a chic healthy brekky acai bowl. It's easy to linger at Mellow Me, with its friendly staff and comfy booth seating making for a very relaxed morning dining experience.
Midday
Once you've managed to tear yourself away from breakfast, you'll want to let your stomach settle and take a stroll around Sydney Olympic Park's beautiful grounds. Explore the Badu Mangroves, staying dry along the timber boardwalk as you spot water birds sheltering in the reeds. If one circuit isn't enough, head over to Blaxland Riverside Park and complete an impressive lap along the Parramatta River and Newington Nature Reserve, through the historic Armory wharf and finishing at the park lookout.
Photograph: Gerrit Fokkema
Stop in at the Armory Wharf Café for a snack – perhaps the grilled coconut and raspberry loaf and a milkshake – before visiting the Newington Armory. Enjoy the art exhibitions and if you're there on a Sunday morning, immerse yourself in the history of the area on the Heritage Railway Discovery Tour.
Afternoon
You've just about earned your late lunch at this point, so spice it up with Vietnamese flavours at Lotus Story. They put a lot of time and care into their traditional baguettes and noodle dishes at this central Sydney Olympic Park favourite. Try a large bowl of the ho doan's pho. They simmer the broth for 12 hours – producing a rich, intense flavour – before adding grain-fed Wagyu and sliced brisket, then giving it some crunch with bean sprouts and mint.
When you've slurped up every last drop of pho, head to Abattoir Blues to follow it up with craft beer in the leafy outdoor dining area or comfy indoor booth seating.
Photograph: Kimberley Low
Nighttime
Ah, the cocktail hour. Switch from afternoon brews to a smoky Margarita at Mexica Cocktail Bar. A fiery combination of oven-baked mezcal and star anise garnish make this a smokin' drink to kick of your evening. Have an impromptu entrée of fresh guacamole and corn chips.
Photograph: James Horan
Make dinner a sophisticated affair with Bacar Bar at the Pullman at Sydney Olympic Park. The seasonal menu is designed by executive chef Ben Nicholls to take advantage of fresh produce and deliver contemporary dishes. Wind down with a glass of wine from the extensive list in the restaurant bar, and if your evening is running late, there are 212 rooms and suites with plush beds upstairs in the hotel.