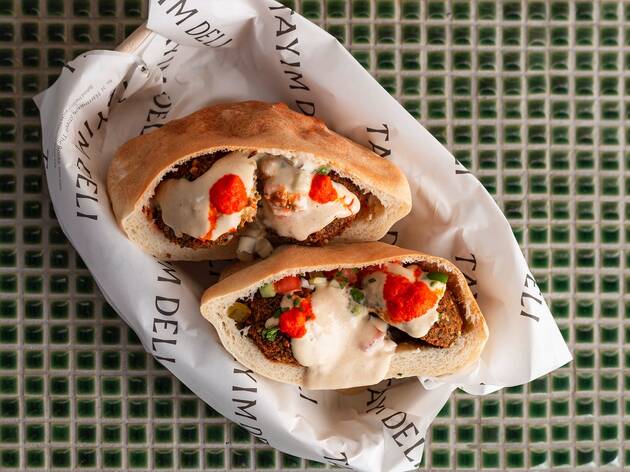 1/9
Photograpg: Supplied/Guy Davies
2/9
Photograpg: Supplied/Guy Davies
3/9
Photograpg: Supplied/Guy Davies
4/9
Photograpg: Supplied/Guy Davies
5/9
Photograpg: Supplied/Guy Davies
6/9
Photograpg: Supplied/Guy Davies
7/9
Photograpg: Supplied/Guy Davies
8/9
Photograpg: Supplied/Guy Davies
9/9
Time Out says
The falafel from this Middle Eastern deli is a lunchtime game changer for this under-serviced area
The Rocks is exactly where you should go for pub meals in sandstone buildings with such deeply embedded colonial histories that the wind sounds like it's playing 'Bound for Botany Bay'. But it's not the first (or even tenth) place you think of when considering a quick takeaway lunch in the city, especially one without chips and gravy. And yet here in the Nurses Walk, a quaint pedestrian alley where you can buy opals and decorative scarves, is where you can find one of the better falafel pita pockets in the CBD.
Tayim Deli is the casual, daytime offshoot of the ritzier Tayim, a modern Middle Eastern restaurant helmed by chef Ran Kimelfeld (ex-Nour in Surry Hills). And you could do worse things than set up in the stripped, bare stone dining room and eat a whole chermoula rainbow trout, filleted at your table, but for cheap, transportable fodder it's the $12 pita pocket next door that's ensuring our return visit.

Have you ever had a very disappointing falafel? The kind that makes a desert of your mouth? Prepare for a rebirth in both fervour and flavour for the humble pulse patty because the falafel here are like an oasis; verdently green, creamy inside their bronze shells and thrumming with whole spices. A little tomato, pickles and a judicious application of tahini and you've two half crescent pitas that are pitch perfect for an inner city lunch hour. We're happy to report they make a good coffee too, so bonus points for office workers nearby.

They keep the operation pretty tight here. A handful of sandwiches, salads and a few baked goods – perhaps a mushroom tart? Or a piece of baklava? It's a sparse room but there are a few stools out on the balcony that allows you sit raised up above the foot traffic holding paper maps and pointing out architectural features as they wander along. You're not here for the decor or views – you're here for the falafel, which is a rare shining light in an area this starved for snappy lunch options.
Details
Address:
34 Harrington St, Nurses Walk
The Rocks
Sydney
2000

Contact:
Opening hours:
Mon-Fri 7am-2.30pm
Best selling Time Out Offers